Over the years many investment strategists have recommended dividend paying stocks. How do you tell which dividend stock is good, better, best, bad or ugly? One way is to back test using historic pricing and dividends. By this method this article reveals the relative strengths of eight stock indexes by yield using eight months of historic projected annual dividend history from $1000 invested in the ten highest yielding stocks in each index. Last month's summary tracked seven indices. An eighth index is added now, the JPMorgan New Sovereign Stocks, which were previously reported on their own in July and August.
As a once per year trading system triggered by yield, the "Dogs of the Index" strategy inspiring the graph and charts below reveals low yielding stocks whose prices increase (or whose dividends decrease) to be sold off once each year to sweep gains and reinvest the seed money into higher yielding stocks in the same index. Two key metrics determine the yields that rank the [Index] dog stocks: (1) Stock Price; (2) Annual Dividend. Dividing the annual dividend by the price of the stock declares the percentage yield by which each dog stock is ranked. Thus investors having selected their portfolios of five or ten stocks in any one index is able to follow, trade, and await the results from their investments in the lowest priced, highest yielding stocks selected. Investopedia explains the strategic concept as:
An investing strategy that consists of buying the 10 dogs of the dow [dogs of the index] stocks with the highest dividend yield at the beginning of the year. The portfolio should be adjusted at the beginning of each year to include the 10 highest yielding stocks. It is estimated that fifteen minutes per year is all the time required to select and trade ten dog stocks per index per year.
Tracking the Bear Market of 2011 by Projected Doggish Dividend Yields
The following graph shows annual dividends projected from $1000 invested in each of ten stocks with the top yields in eight indices (a total of 80 stock investments). The chart plots projected yields as of a specific purchase date near the middle of each month going back to January. Projected yield increases were most frequent as average stock prices within each index fell. In the past five months, for example, yields rocketed upward as each index average stock price declined at rates between 11.1% for the Dow to 21.7% for the Russell 2000.
Relative yield strengths differentiate the indices on the graph. The JPM Sovereigns, Dow (NYSEARCA:DIA), NASDAQ (NASDAQ:QQQ), and Aristocrats show lower yields with less pronounced swings. The NYSE International and S&P 500 (NYSEARCA:SPY) stocks display slightly higher yields than the lower volatility group. The Russell Index and Top Yielding Sectors declare the highest yields and the greatest rate of increase during the past months which they have now leveled out in September.
Annual Dividends Forecast from $1k Invested in each of 10 Top Yielding Stocks in 7 Indices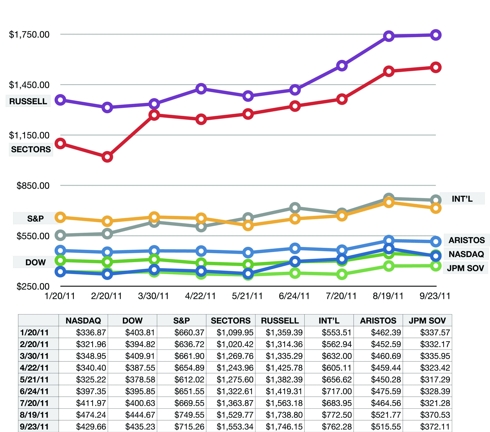 Stocks comprising each Index
The following charts supporting the above graph display the ten stocks comprising each index charted between 9/9/ and 9/23/2011 based on their projected annual dividends. Yield data for the Dow, NASDAQ, & S&P 500 index dividend stocks is from idexarb.com. Russell, Sectors, Aristocrats, JPMorgan Sovereigns, and NYSE International yield data is as from Yahoo Finance.
Any variations in divided projections from identical stocks on separate lists results from the data coming from separate sources with closing prices on different days. For example PBI projected annual dividend is listed as $1.50 at $20.25 in the 9/15/11 indexarb.com database used for the S&P 500 Index but as $1.48 at $18.79 by the 9/23/11 Yahoo Finance data used for the S&P 500 Aristocrats Index.
This month twelve stocks repeat on two lists each: Abbott (NYSE:ABT); Merck (NYSE:MRK); Intel (NASDAQ:INTC); Johnson & Johnson (NYSE:JNJ); Proctor & Gamble (NYSE:PG); CenturyLink (NYSE:CTL); Pitney Bowes (NYSE:PBI); Invesco Mortgage (NYSE:IVR); American Capital (NASDAQ:AGNC); Armour Residential REIT (NYSE:ARR); Frontier Communications (NYSE:FTR); Teekay Tankers (NYSE:TNK).
JPMorgan Sovereign Stocks
These are the top ten September stocks by yield on a list first published in a July 22, 2011, note by Thomas Lee, an equity strategist with JPMorgan, titled "Corporates are the New Sovereigns: 22 stocks to own around sovereign default." The Barron's article covering Lee's announcement defined a Sovereign as an entity that can print money or tax at will. Lee's report listed 22 corporate stocks that show less risk of default than the sovereign U.S. government based on five-year credit spreads, free cash flow yields exceeding bond yields, ratings of overweight by JPMorgan, and showing upside to their target prices. Merck (MRK) tops this list on September 23 at a 4.90% yield.
(Click charts to enlarge)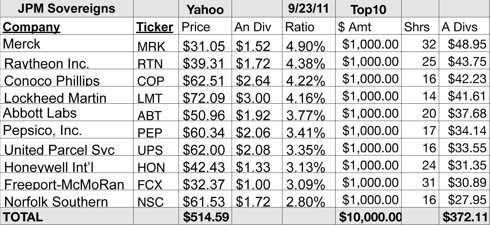 Click to enlarge
Dow Stocks
Below are the current Dow Dogs in which General Electric (NYSE:GE) has replaced McDonalds (NYSE:MCD) by yield and Procter & Gamble (PG) has replaced Kraft (KFT) since December. AT&T (NYSE:T) remains atop this index with a 6.12% yield for September 19.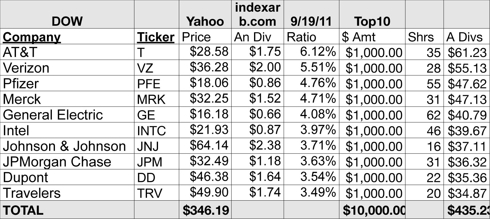 NASDAQ Stocks
Shown are current top yielding stocks primarily from the Technology and Service Sectors. Seagate Technologies (NASDAQ:STX) is tops by yield at 5.99% for September 16 in this index.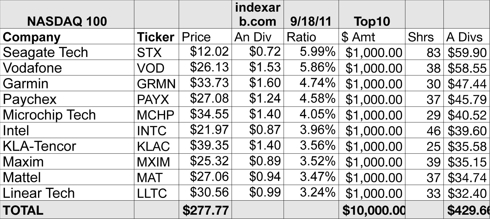 Click to enlarge
Aristocrat Stocks
The ten top yielding stocks from companies paying and increasing dividends each year for 25 years or more on the S&P 500 Index. CenturyLink (CTL) is tops in yield at 8.61% as of September 23 for this index.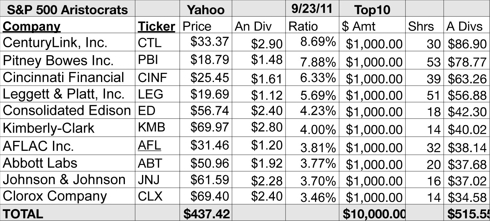 S&P 500 Stocks
Here are the top ten S&P 500 dividend paying stocks without regard to length of dividend payments or increases. Even by that top yield only standard, three Aristocrats make the list. Frontier Communications (FTR) is tops with a 10.67% September 15 yield for this index.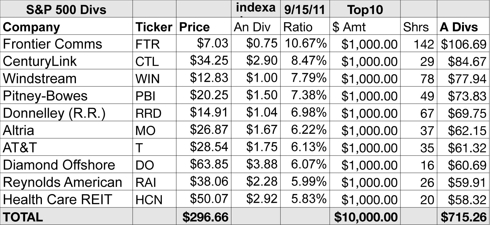 Click to enlarge
NYSE International 100 Stocks
You will not find these stocks in any other index. These are ten European based companies on the NYSE showing the highest dividend yields in September. Telefonica SA is top dog here in with an 8.80% yield edging out August's top dog aptly named (NYSE:YPF) by.05%.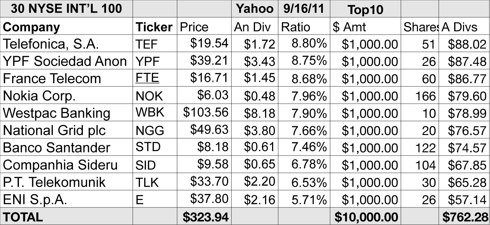 Top Stocks by Sectors
Composed of top dividend payers regardless of index and limited to three stocks from each of nine sectors. Those at the top include three financials (from the Russell Index), three basic material firms, two service companies, and two technology companies (one from the S&P index). Invesco Mortgage (IVR) is tops by a September 9 yield of 23.83% for this index.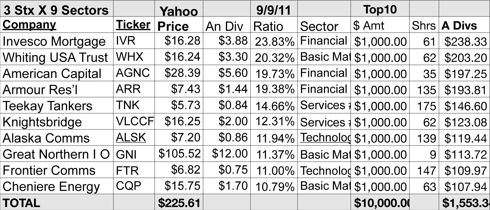 Click to enlarge
Russell Index Stocks
These are eight financial and two service firms paying huge dividends. Again this month Invesco Mortgage (IVR) tops the list with a yield at 23.83% as of September 9. In previous months American Capital Agency Corp. (AGNC) had been the leader with yields between 18% and 20%. For AGNC stockholders the increasing share price is an added bonus to high yield.
Conclusion
Projected dividend yield amounts from eight indexes over the past nine months show a welcome leveling of the stock market plunge that began in May. These eight representative market indices display their relative strengths in top end dividend yield.
For example, two indices, (the NASDAQ and INTERNATIONAL) crossed paths between April and August with rivals (the DOW and S&P) once tracking at higher levels. Now the NASDAQ is back below the DOW in yield in September.
These eight indices and their component stocks have ongoing stories to tell. This graph and list of companies will be updated again for publication in October and each month thereafter.
Disclaimer: This article is for informational and educational purposes only and shall not be construed to constitute investment advice. Nothing contained herein shall constitute a solicitation, recommendation or endorsement to buy or sell any security.