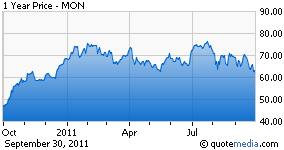 Monsanto Company (NYSE:MON) will be reporting its fourth-quarter and fiscal year 2011 financial result on Wednesday, October 5, 2011.
The current Zacks Consensus Estimate for earnings per share (EPS) is a negative 27 cents, representing an annualized decline of 202.22%.
With respect to earnings surprises over the trailing four quarters, MON outperformedthe Zacks Consensus Estimate in three quarters while underperformed in one. Average earnings surprise was 16.29%, implying that the company outperformed the Zacks Consensus Estimate by the same magnitude over the last four quarters.
Third-Quarter 2011 Highlights
On June 29, Monsanto posted an EPS (excluding restructuring expense) of $1.26 in the third quarter of fiscal 2011 compared with 81 cents in the year-earlier quarter. It surpassed the Zacks Consensus Estimate of $1.11.
The company generated revenues of $3,590 million, up 21% from the year-earlier quarter, exceeding the Zacks Consensus Estimate of $3,374 million. The growth was primarily driven by unit volume increase in the Seeds and Genomics and Agricultural Productivity segments.
During the quarter, gross margin was 54%, up from 47% in the year-earlier quarter, attributed to mix and cost improvements. The growth was driven by a year-over-year increase in margins in both the segments, particularly Agricultural Productivity.
Agreement of Estimate Revisions
In the last 30 days, one analyst increased the company's earnings per share estimates for the fourth quarter. For fiscal 2011, one analyst increased its estimate, and two followed similar trend for fiscal 2012.
The positive views of the analysts are based primarily on the anticipation of volume growth and product mixin the company's portfolio of seeds and traits business and agricultural productivity segment.
Magnitude of Estimate Revisions
Estimates over the last 30 days remained static at a loss of 27 cents per share for the fourth quarter of 2011, representing a year-over-year decrease of a 202.22%.
Estimate for fiscal 2011 remained static at $2.87 over the last 30 days while that for fiscal 2012 marginally increased from $3.39 to $3.41. These estimates represented a year-over-year growth of 19.28% and 18.56% for 2011 and 2012, respectively.
Our Take
Monsanto's continued product development, consolidation of business segments, cost optimization and yield increase tactics are expected to fetch higher revenue and favorable results for the coming quarters. The company's capabilities in biotechnology and breeding research also appear encouraging and are expected to ensure future expansion.
Missouri-based Monsanto Company, together with its subsidiaries, is a leading global provider of agricultural products for farmers in the United States and internationally. Monsanto's biotechnology research and rich product pipeline provide strong competition to its peers, such as The Dow Chemical Company (NYSE:DOW), Syngenta AG (NYSE:SYT), The Scotts Miracle-Gro Co. (NYSE:SMG), and BASF (OTCQX:BASFY).
We currently maintain a long-term Outperform recommendation on the stock. Monsanto has a Zacks #2 Rank, which translates into a short-term Buy rating (1-3 months).