I continue to be amazed at what investors buy and sell among equity closed-end funds (CEFs) in this volatile and dangerous market. In a global market rout this year, the option-income funds have been the best equity CEFs to own since their covered-call index option strategy at least provides some downside offset as well as earning higher option-premium in a more volatile market. So you would think that the most defensive of all of the global option-income funds would probably have the highest valuation. Right? Wrong.

The Eaton Vance Tax-Managed Global Buy/Write Opportunities fund (NYSE:ETW) sells 95% domestic and international index options against its large-cap global stock portfolio while most others sell around 50%. What this means is that ETW is able to generate a lot more option premium and doesn't have to rely on portfolio income or appreciation to pay for its distributions. This also means that ETW is more defensive than other global funds which is particularly advantageous in this market environment. On the other hand, this exceptionally high option coverage can be a limiting factor during a bull market and it hurt ETW during the market ramp-up period from the market lows in March 2009 through April of this year. In fact, like many option-income funds, ETW rebalanced its distributions from $1.80 a share annualized to $1.21 a share during this period when its option income strategy was not optimized. However, I don't look at distribution cuts as necessarily a negative if it allows the NAV to grow in the future. Too many funds continue to overpay their distributions at the expense of the NAV and the end result will be a distribution cut that will be much larger and will have a more pronounced negative effect on the market price. I would much rather a fund sponsor get ahead of the curve and be proactive if a fund's strategy is not able to reasonably cover its distribution.

ETW is now the least likely to have to go through any more distribution cuts because it has the lowest NAV yield of all the global option-income funds at 10.6%. What this means is that it is much easier for ETW to meet its distribution needs compared to other funds in its group, some of which are overpaying their dividends and are in much more danger of a distribution cut. More on that later.

Here are the largest and most popular global option-income funds available to investors. I have included year-to-date Net Asset Value (NAV) total returns and market price total returns (i.e. distributions included) as well as other pertinent information that I thought would be of interest to investors.
Click to enlarge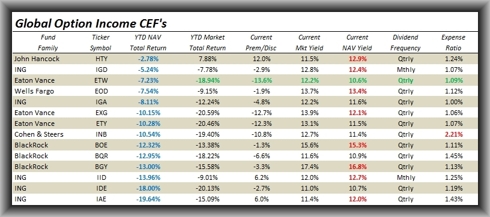 Though in this table, ETW does not have the top NAV performance YTD, its YTD market price drop doesn't make any sense, nor does its discount, considering its relative performance and defensive option strategy. In just about every category, ETW is extremely attractive even though it has the widest discount at -13.6%. It has one of the lowest expense ratios and as mentioned earlier, it has the lowest NAV yield even though its market price yield is right there with the others at 12.2%.

In fact, funds which have NAV yields over 12% (red in the table) are the most in danger of a distribution cut in the future. This includes the Wells Fargo Advantage Global Dividend Opportunity fund (NYSE:EOD) at 13.4%, the BlackRock Global Opportunities Equity Trust (NYSE:BOE) at a 15.3% NAV yield and the BlackRock International Growth and Income Trust (NYSE:BGY) at a whopping 16.8%. In late May, I warned investors that some of the BlackRock CEFs were in danger of distribution cuts because of their high NAV yields and a few days later, BlackRock declared such cuts for three of their option-income funds. BOE and BGY escaped that round but I don't believe they will escape the next one.

But it's when you look at ETW on a longer term basis that its outperformance really shines. The following tables look at ETW's NAV and market price performance over a longer period as well as a one-on-one comparison with another fund in its class, EOD. Both these tables reflect roughly four-year periods from 2007 to 2011, which includes a major down market cycle and a major up cycle. The first table shows that over a longer period of time, ETW's defensive strategy has allowed it to hold NAV value better than any funds in its class. Even its longer term market price performance reflects that so why should ETW's market price get hit so hard now when the current market environment should favor ETW's defensive strategy? The second table compares quarterly NAV performances of ETW with EOD from EOD's inception date of late March, 2007.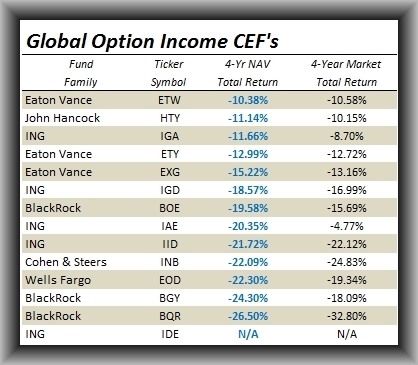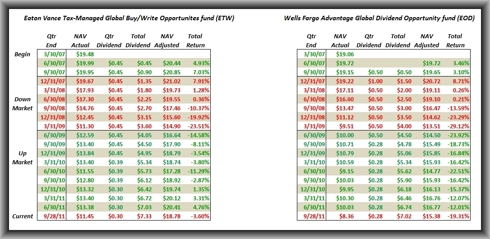 The bottom line is that ETW is a much better fund to own than most others in its class, particularly in a difficult market, and yet many of these other funds trade essentially at par to premiums with their NAVs while ETW is at a -13.6% discount. With ETW's market price now in single digits below $10 and an NAV at $11.45 as of September 28th, I believe the upside far outweighs the downside. ETW can get to wider discounts in a bear market but the downside is significantly less at this point than any of these other global option-income funds and for aggressive investors, I would consider even shorting some of the more overvalued funds as a hedge. If we do go into a more pronounced downturn, I would add to positions on weakness because at some point, the value of this fund will be reflected.

I will be coming out with third quarter statistics for about 60 equity closed-end funds over the weekend and suffice to say that fund families such as Nuveen and Eaton Vance are significantly outperforming other fund families in this more difficult market environment.

Disclosure: I am long ETW.

Additional disclosure: Short EOD, BGY, SPY, QQQ.