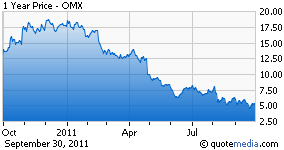 We have initiated our coverage on OfficeMax Inc. (NYSE:OMX) with a long-term Neutral recommendation and a price target of $5.60. The company provides office supplies and paper, print and document services, technology products and solutions as well as office furniture to business firms, government organizations and other retail consumers.
How the Company Balances
As the economy continues to be sluggish, consumers and small businesses remain frugal about big-ticket spending like business machines and other durables. Therefore, we believe that the demand for office products is closely tied to the health of the economy.
Consequently, OfficeMax is repositioning itself to keep afloat in a difficult consumer environment. The company is containing costs, closing underperforming stores and focusing on innovative products and services, which should all contribute to margin improvements. Further, the company also anticipates regaining operating margins of more than 3.8% by 2015.
The company also focuses on optimal store sites in order to boost store productivity. OfficeMax is also committed to improving sales per square foot by increasing customer traffic and converting them into potential buyers by targeted advertising, ongoing sales training and customer-oriented initiatives. The company has initiated control center technology services to assist customers with PC maintenance or removal of viruses.
Past Quarter Better-than-Expected
OfficeMax posted better-than-expected second-quarter 2011 results. The quarterly earnings of 7 cents a share outpaced the Zacks Consensus Estimate of break-even but dropped 41.7% from 12 cents earned in the year-ago quarter. Measures to check the downfall are being taken via cost management.
Total sales fell marginally by 0.3% to $1,647.6 million from the comparable-quarter last year, reflecting a tough macroeconomic environment but came in ahead of the Zacks Consensus Estimate of $1,642 million.
Challenging Economy Neutralizing Efforts
Challenging macroeconomic conditions is making business tough for retailers of office supplies such as OfficeMax, Office Depot Inc. (NYSE:ODP) and Staples Inc. (NASDAQ:SPLS) who are grappling with soft demand.
OfficeMax lowered its third-quarter 2011 sales outlook in the backdrop of sluggish back-to-school sales and soft technology demand. The company now expects third-quarter 2011 sales to be marginally lower than the comparable period, including the positive impact of foreign currency translation.
Earlier, management had guided third quarter sales to remain flat with the prior-year quarter. The company had posted revenue of $1,813.4 million in third-quarter 2010.
However, OfficeMax reiterated that sales for the second half of 2011 will be marginally higher than the year-ago period including the positive impact of foreign currency translation and the gain from extra week in the fourth quarter.
Let's Conclude
No one can predict the future but efforts to combat the tough economy are obvious. Business budget remains tight, consumers remain more cautious than ever before and companies are trying hard to navigate through the challenging environment.
Going by the pulse of the economy and given the pros and cons, we prefer to have a long-term Neutral rating on the stock. Moreover, OfficeMax holds a Zacks #3 Rank that translates into a short-term Hold rating and correlates with our long-term view.