It's not every day that a major national retailer goes out business, but in the middle of this summer, Borders (BGPIQ.PK) announced such a day would be coming. Now, in late September, all offline stores are closed, and the Borders online store finally ceased sales this past Tuesday, September 27. While booksellers can do fine existing solely as online retailers (just ask Amazon), how did the online store fare once physical store locations began to close and shoppers knew the end was near?
Daily metrics for Borders.com provides a close look at not only the impact of the announcement, but also the demise of a major book retailer over the course of two months. Borders made the announcement that it would seek court approval to close all remaining stores after claiming bankruptcy earlier in the year on July 19. Just three days later, on July 22, Borders.com received a daily reach of 0.275% (Daily Reach is a percentage of the US internet browsing population who visit a particular site). This number represents the highest daily reach for Borders.com in the previous 12 months, outperforming the 2010 holiday season.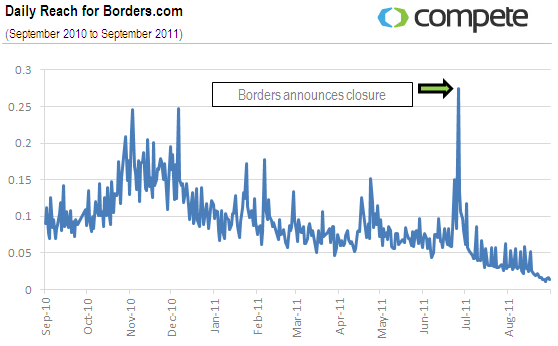 In the following month and a half, daily reach, as well as daily attention (the percent of time on a given site compared to the total time spent online by the US internet browsing population), continues to decrease to rates far below those of the past 12 months. These trends in daily metrics show that the announcement of the end of Borders caused quite a bit of interest among internet browsers, who quickly began writing off Borders as a shopping location.
In the months leading up to the mid-July announcement, traffic to Borders.com continued at a volume that was normal for the time of year. Even the July numbers showed a slight increase over the number of visits in June (although announcement-reaction visits in July likely helped bump this number). However, visitors to the site in August dropped over 50% from July, and over 53% from the previous year.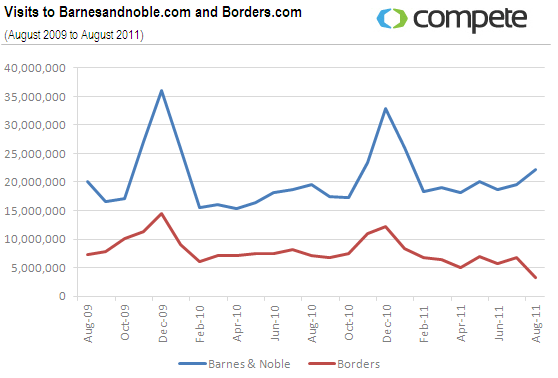 While this clearly spells bad news for the Borders online store, rival Barnes & Nobel may be reaping some of the benefits of Borders' demise. Visits to Barnesandnoble.com in August jumped over 13% from July, marking the biggest month-over-month increase to the domain since December, with a similar sized jump in year-over-year. This would suggest that at least some of the shoppers being lost by a closing Borders.com are turning to Barnes & Noble as an alternative retailer.
A look at the conversion rates of the two sites delves deeper into how Borders plan to close impacted their site as well as Barnes & Noble. From August 2010 to August 2011, conversions on Borders.com fell over 12%, with the month-over-month change for July and August 2011 falling a staggering 44%. Consumers, it seems, did not stay loyal until the bitter end, instead taking their purchases elsewhere. Despite their seemingly large bump in visits after the Borders announcement, Barnes & Noble did not see a similar spike in conversions. Between July and August, Barnesandnobles.com only saw a 2% rise in the number of conversions on their site.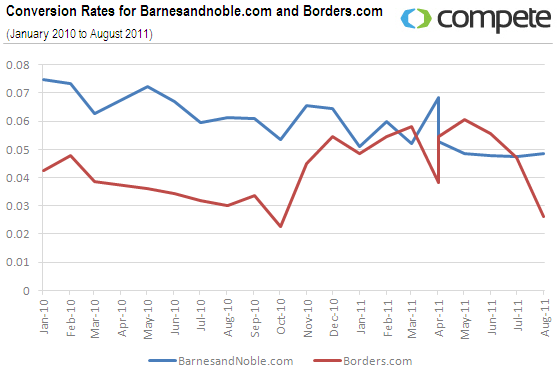 While the announcement that the retailer would soon be shutting down caused a stir of activity to Borders.com, the Borders online store quickly began hemorrhaging visits. Over the next few weeks, visitation would hit yearly lows and sales fell sharply. Interestingly, Barnes & Noble showed both month-over-month and year-over-year increases in visitation for this past August, yet no accompanying significant increase in conversions. However, one can expect this to change as the Borders online store, while no longer allowing purchases through Borders, allows shoppers to browse their selection and redirects them to Barnesandnoble.com to make their purchase.