MARKET MOVERS
Natural Gas is not a new energy source, but has become a more important fuel source going forward as the major economies of the world find solutions to global warming. Its abundance, environmental unassailability and numerous uses spanning many sectors give natural gas a role as a clean energy source, a significant role that will steadily increase. In the United States many utility companies have already or are in the process of replacing coal burning furnaces with cleaner natural gas burning furnaces to produce electricity.
Natural Gas is a combustible mixture of hydrocarbon gases. Mainly carbon dioxide and water vapor. These are the same compounds we exhale when breathing. Coal and oil are composed of more complex molecules containing a higher carbon ratio and higher nitrogen and sulfur content. When combusted (burned) coal and oil release higher levels of carbon emissions, nitrogen oxides, and sulfur dioxide. This combined with the ash produced from burning coal and oil and released into the environment are the large contributors to greenhouse gases. Natural gas though, when combusted releases very small amounts of sulfur dioxide and nitrogen oxides, almost no particulate matter and lower levels of carbon dioxide and carbon monoxide.
Fossil Fuel Emission Levels
- Pounds per Billion Btu of Energy Input

Pollutant

Natural Gas

Oil

Coal

Carbon Dioxide

117,000

164,000

208,000

Carbon Monoxide

40

33

208

Nitrogen Oxides

92

448

457

Sulfur Dioxide

1

1,122

2,591

Particulates

7

84

2,744

Mercury

0.000

0.007

0.016

Source: EIA - Natural Gas Issues and Trends 1998
Considered the cleanest of the fossil fuels Natural Gas is being developed to be used in several ways to help reduce the emissions of pollutants into the atmosphere. This is already taking place in the United States and Europe. Emerging economies while embracing the idea of clean energy are seemingly unable to move forward in adopting policies.
According to PRLOG.com the top 10 worst polluting countries are:
China
United States
Russia
India
Japan
Germany
Canada
United Kingdom
South Korea
Iran
China, India, Brazil, and South Africa have all rejected Danish suggestions to set a goal of halving greenhouse gas emissions by 2050 stating that "rich nations must first set a model by cutting their emissions." So, here we have 3 out of the four BRIC countries (emerging economies) basically unwilling to commit the necessary resources to clean up their "acts."
Much time and space has already been devoted to a discussion of greenhouse gas emissions and global warming. Summits have been held with accords being signed. The growing demand for cheap energy by an ever growing global population continues to fuel the debate on reducing emissions. But until China, Russia, India, and Brazil stop turning a blind eye towards industry and begin to enact policy aimed at those that pollute not only the air, but also the soil and water the overriding economic and demographic factors will not only choke the life out their citizens but the entire planet as well.
The ranking order may surprise some, but as these countries begin or continue to adopt technology and convert to cleaner burning natural gas the potential supply and the growing demand going forward for natural gas may be grossly under estimated by analysts and the markets.
SUPPLY AND DEMAND FACTORS
Supply side factors that can affect prices include variations in production, net imports or storage levels. Higher levels in any of these will usually result in lower prices.
Demand side factors include economic growth, winter and summer weather patterns, and oil prices. Higher demand produces higher prices.
Being cyclical in nature domestic supply and prices are sensitive to economic changes. During 2010 natural gas prices dropped quickly and significantly as the economy again went into a downturn and consumption demand fell. In turn then, economic recovery would lead to increased usage demand and higher prices.
According to the EIA (U.S. Energy Information Administration) Energy Outlook for 2011 the United States possesses 2,543 trillion cubic feet of potential natural gas resources and based on 2010 consumption figures it should be enough to supply (the U.S.) for over 100 years. Does this throw a stick into the spokes of the supply & demand wheel for natural gas? Short term likely yes, longer term probably no. It could be a mistake to be misled into believing that the seemingly "endless" supply of natural gas will suffice the growing unspoken demand.
HYDRAULIC FRACTURING or "FRACKING"
Wikipedia defines fracking as:
"… the process of initiating and subsequently propagating a fracture in a rock layer, by means of a pressurized fluid, in order to release petroleum, natural gas, coal seam gas, or other substances for extraction.

Hydraulic fractures may be natural or created by human activity, and are extended by internal fluid pressure which opens the fracture and causes it to extend through the rock. Natural hydraulic fractures include igneous dikes, sills and fracturing by ice as in frost weathering. Man-made fluid-driven fractures are formed at depth in a borehole and extend into targeted formations. The fracture width is typically maintained after the injection by introducing a proppant into the injected fluid. Proppant is a material, such as grains of sand, ceramic, or other particulates that prevent the fractures from closing when the injection is stopped."
The practice of hydraulic fracturing has come under scrutiny internationally due to concerns about environmental and health safety, and has been suspended or banned in some countries.
There are several sources that link the recent boom in hydraulic fracturing aka fraking to the "poisoning of drinking water, polluted air, mysterious animal deaths, and industrial accidents and explosions."
On August 23, 2011 a magnitude 5.8 earthquake shook the East Coast of the U.S. RT.com ran the following article on August 24, 2011:
"Experts are looking for a reason behind Tuesday afternoon's unlikely 5.8 magnitude earthquake that shook people up and down the East Coast, and some are saying that a recent rise in fracking could be the culprit.

Explicitly, the United States Geological Survey has published a finding confirming that processes like fracking can be to blame for "natural" disasters. "Earthquakes induced by human activity have been documented in a few locations in the United States, Japan and Canada," writes the USGS. "The cause was injection of fluids into deep wells for waste disposal and secondary recovery of oil and the use of reservoirs for water supplies."

Out West, geologists have blamed fracking on earthquakes that unexpectedly shook up the state of Arkansas, which recently saw over 20 small tremors in a single day. Freak earthquakes have also occurred in regions of Texas, New York and Oklahoma that should not be likely sites of epicenters, though those locales have all seen a rise in fracking in recent years."
The final word on hydraulic fracturing is still out. Governments on the local, state and federal level continue to give approval and grant drilling permits to companies that perform hydraulic fracturing. A disruption or shut down of "fracking" operations would initially send natural gas prices higher. Any long term disruptions would likely lead to re-evaluating the natural gas resource figures.
Natural Gas Supply Chain
The Energy Sector breaks down into three sub-sector areas:
Upstream – is considered the first phase of either petroleum or gas production. Included would be Oil/Gas exploration companies as well as companies that provide associated services including seismic and drilling contractors, service rig operators, and engineering/construction firms.
Midstream - Companies engaged in oil/gas gathering, storage, also known as terminaling, and transportation. These companies own the storage facilities and pipelines. Midstream defines the industry processes that occur between the upstream and downstream sectors.
Downstream - Companies engaged in the refining and marketing of petroleum products to end-users. Downstream is the final phase of the petroleum manufacturing process.
Liquefied Natural Gas ((NYSEMKT:LNG))
Liquefied natural gas is natural gas that has been cooled to about -260°F for shipment or storage. Liquefying natural gas gives the ability of transporting natural gas over long distances where pipeline transport is not feasible such as across the oceans. LNG transport is an important link within the supply chain for natural gas.
Even with the mass natural gas reserves within the United States, the U.S. remains an overall importer of LNG. In 2010 the total amount of LNG imported was 431 billion cubic feet which represented approximately 1.8% of total natural gas consumption.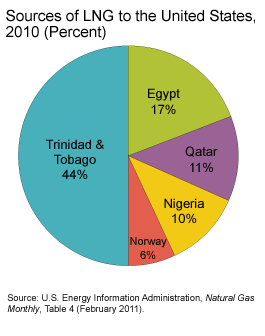 The major news for the LNG sector is the development by Royal Dutch Shell of a floating facility. This is a major advancement in that it will allow RDS to access natural gas fields that would otherwise be either too difficult or costly. The facility will be moored about 200 kilometers off of the northern coast of Australia and once fully operational will service the growing demand coming from Asia.
OUTLOOK & RESEARCH
U.S. Natural Gas Consumption. Projected natural gas consumption for electric power generation fell in August. The EIA expects that total natural gas consumption will grow by 1.8 percent in 2011. Growth in the industrial and electric power sectors accounts for most of the growth in total consumption, with expected increases of 2.1 percent and 2.4 percent, respectively.
U.S. Natural Gas Production and Imports. Marketed natural gas production is expected to increase by 6.4 percent over 2010. The majority of this growth is centered in the onshore production in the Lower 48 States, which will more than offset steep projected declines in the Federal Gulf of Mexico.
Drilling activity has been steady despite lower natural gas spot and futures prices. If drilling continues to increase, production could grow more than expected in 2012. The growing domestic production has decreased imports of natural gas and actually contributed to an increase of exports. The EIA expects imports to fall by 4.1 percent by end of the 2011 and projects an additional 3.8 drop for 2012.
U.S. Natural Gas Prices. The spot price averaged $4.05 in August 2011, 37 cents lower than the July 2011 average. This month the EIA lowered its 2011 forecast by 4 cents to $4.20 and lowered the 2012 forecast by 11 cents to $4.30. The increase in price from 2011 to 2012 continued to reflect some tightening in supply as production growth slows in 2012.
Arguments Pro and Con
Right off of the July highs natural gas prices have declined sharply. Several reports were issued regarding the discovery of new reserves and the market's perception that all these new reserves would be pumped into the market drove prices lower quickly as the weak hands were shown the door and then shown the door again. The news has favored the selling whether it is short or long as the figures continue to show an abundance of natural gas is available. However, there are other points to factor in as well.
Consider this:
1. Shale gas accounts for approximately 22 percent of the U.S. demand. As prices continue to fall, shale producers as well as conventional gas producers are beginning to hold off developing/drilling into proven undeveloped reserves. Some operators that have leaseholds on fields that contain crude oil (natural gas liquids) have turned to drilling for crude to take advantage of higher crude oil prices.
2. Utilities across the United States have been in the process of converting coal – fired plants to cleaner natural gas burning plants. This trend began several years ago and will continue for many years to come. The plants are huge power plants and they (utility companies) are entering the market to negotiate lower priced long term contracts to supply the gas they will burn.
3. Nuclear Power is not a favored power source in the U.S. After Three-Mile Island and then Chernobyl there is not much mention of new construction. The March 2011 Fukushima earthquake and tsunami in Japan again put the spotlight on nuclear power. Several new nuclear power plant construction projects were delayed or cancelled outright around the globe. Germany announced its intent to be out of nuclear power by 2022 and within the U.S. New York's governor has been building support to shut down the nuclear power plant located just north of New York City. These decisions do not stop demand for energy (electricity) and right now and into the foreseeable future natural gas is the source of choice.
4. The true driving force behind higher natural gas prices – Exporter Demand. There are nine gas import terminals in the U.S. Many have applied for the necessary permits to install natural gas liquefaction plants. Currently global demand will push Qatar (the largest exporter) to reach its full export capacity. The disasters in Japan have produced unforeseen demand not only for this year but likely for several years to come. Chinese demand is expected to equal all of Europe's demand by 2015.
5. The demand for Liquefied Natural Gas is expected to triple in the next 20 years. Outside of the United States the availability (terminals to export and receive LNG) for meeting the growing demand is limited.
The arguments for natural gas prices rising are plentiful over the medium to long term. The short term picture continues to favor prices hovering around $4.00 and this may remain the case for the balance of 2011. Winter weather will have an impact on demand which in turn will dictate direction of natural gas prices.
The technical picture argues in favor of prices reaching a tradable bottom within the next couple of weeks. The weekly chart for the Natural Gas Index (XNG) reveals the sharp drop off of the July high at 711.82. The pattern in progress doesn't appear complete suggesting additional downside is needed before the next sustainable rally phase would begin. Support is just below at the 510 area. The stochastic oscillator has dropped into oversold readings and has not turned higher yet which also supports additional downside as well.
There are several choices for investors wanting to add natural gas to their portfolio. All along the supply chain within Downstream, Midstream, and Upstream there are companies worth looking at. Investors need to have a longer term view as the advancements and changes occurring within natural gas will take years to unfold.
Yield remains a concern for many investors and Royalty Trusts remain the area to focus for now. Here is what I term "the starter list" of trusts to check out. As always doing your own due diligence and determining what is correct to meet your objectives remains key.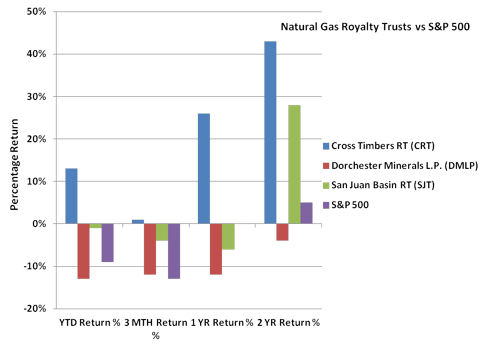 (Click to enlarge)
OIL & GAS ROYALTY TRUSTS
A royalty trust is a type of corporation, mostly in the United States or Canada, usually involved in oil and gas production or mining. However, unlike most corporations, its profits are not taxed at the corporate level provided a certain high percentage (e.g. 90%) of profits are distributed to shareholders as dividends. The dividends are then taxed as personal income. This system, similar to real estate investment trusts, effectively avoids the double taxation of corporate income.
Royalty trusts typically own oil or natural gas wells, the mineral rights of wells, or mineral rights on other types of properties. An outside company must perform the actual operation of the oil or gas field, or mine, and the trust itself, in the United States, may have no employees. Shares of the trust generally trade on the public stock markets, but the trust itself is typically overseen by a trust officer in a bank.
The royalty trusts highlighted below are all involved in holding natural gas assets that are extracted to investors over time. The price of natural gas has declined but these trusts have continued to pay distributions in the 5% – 10 % areas. Making royalty trusts an investment of choice for those investors willing to ride out the economic forces that contribute to the "storm" before the next uptrend begins.
Cross Timbers RT (NYSE:CRT)
Dorchester Minerals L.P. (NASDAQ:DMLP)
Although DMLP has turned higher this past week, the overall pattern remains neutral in that an additional low under 22.91 is not out of the picture just yet. The stochastic oscillator while also turning higher has not given a buy signal to add confirmation of the next rally phase being underway. The MFI, though does make a more compelling statement that the path is up.
San Juan Basin RT (NYSE:SJT)
Same type of situation for SJT as well – the pattern is not totally convincing of the sustainability of any rally. The MFI is also neutral at this point. A break above 24 will add support to the rally with a break below 22.75 suggesting a drop below 21.34 will occur first before the next rally phase begins.
LNG Transportation
The ability to move liquefied natural gas around the globe remains important and a key component in meeting demand. There are only approximately 7 companies that actually provide this type of transport.
Golar LNG Limited (NASDAQ:GLNG) is a stand out within this small sector. Golar is a leading independent owner and operator of LNG carriers and FSRUs. As of March 31, 2011, GLNG had a fleet of 12 vessels, consisting of eight LNG carriers, four FSRUs and a 50% equity interest in another vessel. In April 2011, they placed orders with Samsung for the construction of six LNG carriers with an option to acquire an additional two vessels. They are seeking to further develop their business in other mid-stream areas of the LNG supply chain other than shipping, in particular innovative LNG solutions such as FSRUs and floating LNG production as well the recent creation of their commodity trading business which positions the company for managing and trading LNG cargoes.
Teekay LNG Partners L.P. (NYSE:TGP) is an international provider of marine transportation services for liquefied natural gas, liquefied petroleum gas (LPG) and crude oil. The company's subsidiaries include Teekay LNG Operating L.L.C. As of March 1, 2010, the company's fleet consisted of 15 LNG carriers, eight Suezmax-class crude oil tankers and three LPG carriers, all of which are double-hulled.
CONCLUSION
The global economic outlook continues to worsen almost with each passing day. Granted there have been measures taken to prevent systematic failure, but a sustainable recovery is still years away. What do we do in the mean time as protecting your assets becomes paramount? Reality tells me that it took a lot of blood, sweat and tears to get where I am and to have what I have. Protecting it and insuring its continued growth is key. Utility companies have historically provided safety during economic turmoil because of their higher dividend payouts. Natural gas sits at a critical long term turning point. As the world abandons coal and becomes less dependent on oil, natural gas will begin to gain prominence as the fuel source of choice. It has already started and been underway for over a decade, but understand the long term nature of the process. It is important. Investors who take a longer term view should not overlook the many opportunities within the natural gas sectors. Prices may not get this low again for some time to come.