Tension from the never-ending saga in Greece continues to weigh down our market, but it's coming to a head, and I think those holding the purse strings will blink. Germany and the so-called Troika of the EU, ECB, and IMF have been at this too long for it not to be obvious they are committed to preserving the euro even if it means Europe pays a much larger price in the future. I wouldn't be surprised if the drama ramped up, and upon checking Greece's books, massive fraud and damning revelations are uncovered. It doesn't matter. The deal is going to happen. In the meantime, this week has been like this month -- down no matter what.
In the past 24 hours we got four better than expected economic releases, and in the case of today's data, it was much better than expected. At some point, it matters. Better news next week combined with this week's news could get investors to focus on fundamentals rather than rumors about China and the Greek drama.

Earlier today, a bit of positive news came in from the University of Michigan, as its consumer confidence index ticked higher than previously thought. This final estimate to the index landed better than expected for September, increasing to 59.4 from the initial estimate of 57.8, representing a stronger gain from the 55.7 level posted in August, and landing above the Street's expectation of 57.5. This better than expected result came in a day after initial claims data also showed a better than expected improvement. It was also rather encouraging to see that consumer expectations notched higher. This was reflected by the survey's gauge of consumer expectations as it increased to 49.4 from the prior 47.4 level.

The results appear to be indicating that the consumer may be reassessing its views about the current state of affairs, and may be realizing that it is still better than it was during the recession, allowing the Consumer Expectations and Consumer Sentiment surveys to tick higher. Nonetheless, consumers remain concerned about the lack of job creation and about the fact that prices are rising faster than wages. Moreover, the housing situation is still not getting better, and foreclosures continue to get worse. So while the economic backdrop is not as bad as it was during the recession, consumers remain wounded and are still hurting. Given that consumer spending accounts for 71% of economic activity, it is extremely important that the consumer does not pull back on spending. So far the indications are the retail sales numbers are holding, but not really increasing month to month. They may surprise, but at the moment the situation is very precarious.

Despite the uptick, consumer confidence is still at a very low level, and while it may not get worse, the odds are high that it will not get much better either, as consumers have come to anticipate economic stagnation as the most likely outcome over the longer term. At the moment, consumers appear to be hunkering down in terms of their finances, spending less and holding back from taking on new debt. We're a long way from where sentiment should be, but it held at a point where it could have cracked permanently.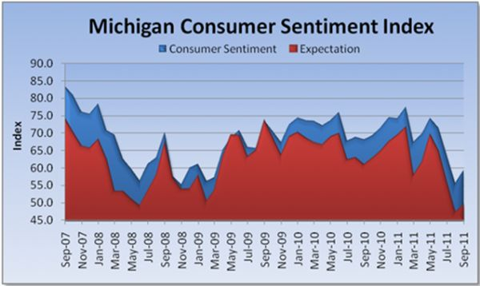 Click to enlarge
Chicago PMI came in at 60.4 from 56.5 month to month; the Street was looking for 55.4 (range 52.0 to 58.0). The direction of key components of the report were all positive:
New Orders: 65.3 from 56.9
Production: 63.9 from 57.8
Employment: 60.6 from 52.1
Prices Paid: 62.3 from 68.6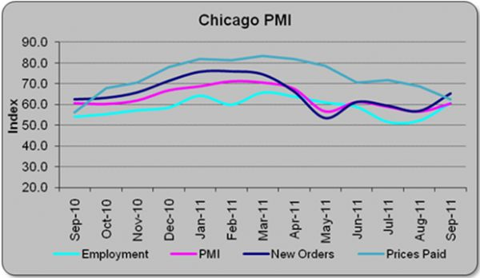 Click to enlarge
Corn Clobbered
Check out the action in crops today. Corn took the spotlight after the USDA estimated supply to be 1.13 billion bushels versus the Street's estimate of 964 million. Corn prices were down 6.3%, hitting the down trading limits on the Chicago Mercantile Exchange. Along with corn, the other crops were trading well lower as well, including a 6.7% drop in wheat and a 3.6% drop in soybeans. Thank goodness food prices are back on the way down after all that horrible weather earlier this year that skyrocketed prices. Corn is almost 30% less expensive than it was at the end of August, and I think that's going to help a lot of Americans put food on the table.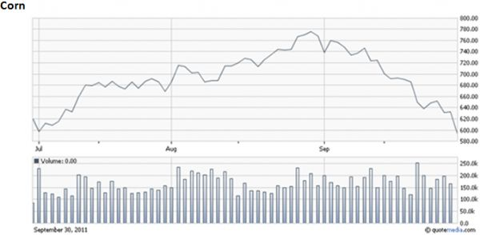 Click to enlarge
Chicago PMI Leaked?

I saw some interesting action in the market his morning surrounding the Chicago PMI. At first, what I saw was the markets falling immediately following the release, which I thought was quite odd considering the huge beat versus consensus. I later came across some chatter that the report may have been leaked about 10 minutes early. If you look at the Dow intraday below you can see that the market spiked higher about 10 minutes early, and then sold off right when the report came out (9:45 a.m.). It seems whoever got the leak ran up the price and then took profits right when it came out. Someone should call the SEC on this.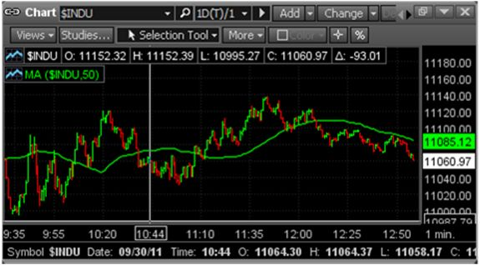 Click to enlarge
Final Note

I think the market is going to be up huge on Monday, but it's going to be a week that could see more gyrations, as there are very important economic reports, including the jobs picture for September.