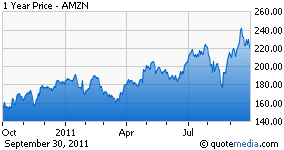 Amazon.com (NASDAQ:AMZN) is the best business in retail, according to the company's valuation and customer loyalty. What's not to love? The company can sell the same goods that a California brick and mortar retailer sells tax free, making the duty free model that Amazon embodies a no brainer for many U.S. consumers. That said, the tax situation and the state government issues in places like California are part of the reason that Amazon is my favorite short in the stock market at current prices. Valuation and a lack of adjusted operating cash flow make Amazon at current prices a better short than Netflix was at $300.
1. Valuation: Amazon is trading for a very rich multiple to earnings for a mature, $100 billion business. There is likely no way for the company to grow into its current valuation (my opinion) without the shareholder taking on a tremendous amount of risk. As Marc Gerstein put it, Amazon has to grow earnings at 55% per year for the next five years and maintain a 25 PE multiple to justify a $300 price tag. If you think a 12X multiple after all of that growth is more reasonable, the stock would be worth $150 a share. The problem for investors is if Amazon grows earnings at "only" 25% per year for the next five years or if the company has to pay sales taxes, but I will get into that later. With a 25% earnings growth rate, Amazon would earn around $6.5 a share. At a 20X multiple to $6.50 in five years, the stock would be worth around $135 a share. Keep in mind that there is a large movement by state governments to add a 9% sales tax to Amazon's top line and that Amazon's net income margin is around 1% right now, meaning that any move to tax Amazon's sales could crush earnings growth and may even destroy their business model altogether.
2. Growth: Earnings growth for Amazon has slowed to a standstill lately and has turned negative. William J. O'Neil investors have to recognize that this is no longer a CANSLIM stock because earnings are falling, despite what Wall Street says about the rising top line. The CANSLIM method requires that quarterly earnings growth (not revenue growth) is rising year-over-year and attempts to find the fastest growing businesses in the market, regardless of valuation. CANSLIM investing would have made you money in AMZN over the years, because AMZN delivered on the bottom line but now earnings growth has slowed dramatically. Eyeballs and mouse-clicks have failed to boost the valuations of AOL (NYSE:AOL) or Netflix (NASDAQ:NFLX), for example, and just because something is Internet-oriented does not mean growth is guaranteed. Speaking of Netflix, Amazon clearly fits every metric of overvaluation that Netflix exhibited before spiraling out of control and losing 60% from the peak in that Amazon's business model is questionable given the tepid consumer and the looming sales tax issues. In fact, Amazon is much more expensive in my view now than Netflix was at $300 given that I expect Amazon to grow earnings at around 15% per year.
3. Catalyst: While there is little in the way of a direct catalyst right now for Amazon to "pull a Netflix," the state sales tax issue is front and center. Amazon is facing "the Amazon tax" across the nation and rightly so - the company is taking market share and jobs from local businesses because they don't have to pay any state sales taxes while their competitors have to pay the taxes. Amazon is a high beta name, which means that with such a high valuation this stock should drop much further than the overall market in a sell off.
4. Macro Environment: The consumer is feeling the blues right now, as consumer confidence is bouncing around at two-year lows. In other words, while Wall Street is rosy regarding the consumer, the consumer is flat broke. Without money, it will be hard for the average consumer to shop for things. Sure, the baby boomers love Amazon right now, but many of them are waking up to the tax issues and the automation trends and how they negatively affect our economy. Maybe they will get off the couch and head to the bookstore again, but either way the global economic backdrop is not favorable for consumer spending and Amazon is not a cloud stock but a Wal Mart (NYSE:WMT) competitor for the most part. You can call a duck a chicken, but if it quacks like a duck and walks like a duck it's probably a duck.
Disclosure: I am short AMZN.