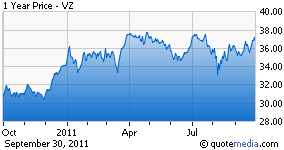 Verizon (NYSE:VZ) is breaking out of its trading range, write the boys at Bespoke Investment Group elsewhere on this site.
Note that it's just Verizon that's done it. AT&T (NYSE:T) remains range-bound. Over the last year, VZ has outperformed T by over 14%, gaining in value while its Bell brother has been stuck in neutral.
One reason might be Verizon's cloud efforts. The company bought Terramark International, which does clouds out of Miami, for $1.4 billion in January. It followed up in August by buying cloud software company Cloudswitch.
Aparna Khurjekar, executive director of the company's business solutions group, says this is a key strategy going forward. "You have to extend beyond cellular," he said.
Investors would be wise to avoid the head fake and expect a return to normalcy, even under-performance, over the next few quarters.
The reason is competition is not Verizon's business. It can't be. It is, at its heart, a regulated monopolist. It makes its money by spending as little as possible on operations, and getting people to pay as much as possible for every bit they consume. After following the company (and its predecessors) for over 30 years I've concluded that's not a criticism – it's the nature of the business.
Cloud won't work that way. Despite all the hype now surrounding the space, clouds are going to be an intensively competitive industry. Infrastructure costs are going to play a big part in cloud success. Verizon will never have low infrastructure so long as it's tied to a regulated monopoly that makes its money from lobbying and lawyering as opposed to engineering.
This movie has played out too many times for it to be any different this time.
Beyond its cloud hype, Verizon doesn't have much for investors to get excited about. Vodafone (NASDAQ:VOD) owns 45% of Verizon Wireless, and despite continuing reports of a pending divorce it hasn't happened. Verizon is currently hiding its annual dividend from Vodafone, claiming it needs the money to do a big deal for spectrum or another wireless company.
All that legal, financial and lobbying maneuvering is far more relevant to results, and your investment decisions, than any revenues or profits Khurjekar could possibly deliver. Which means his own ability to compete for competitive business will always be hostage to those pressures. And that will keep him from being competitive.
This happens every few years. A monopolist decides it doesn't want to be a monopolist anymore, so it buys some assets that make it seem competitive and makes noises that it's about to break out in a competitive market. But the fixed costs of being a monopolist, and the sure profits of running such a business, eventually cause the competitive operation to fail, get spun-out, get sold, or just disappear.
That's the way to bet this time, too. The only reason to possibly buy Verizon is based on speculation of expanding its footprint of captive customers, either by buying more spectrum, buying other wireless carriers, or breaking up with Vodafone.
Don't buy the cloud hype.
Disclosure: I have no positions in any stocks mentioned, and no plans to initiate any positions within the next 72 hours.