Regular readers know that I am seeking, and finding, the biggest and best companies worldwide that are selling at or below their March 2009 lows. Spain's huge global telco, Telefonica (NYSE:TEF), answers that call. Let's look first at the reasons for its current price (the bad and ugly) and then the reasons why I believe it will be a smart purchase in the range (the good.)
The Bad:
TEF is headquartered in Spain. Like most of their counterparts in the rest of Western Europe, Spanish citizens have enjoyed the fruits of a cradle-to-grave system of social welfare services for the 60 years since the end of World War II. At the conclusion of the Great Depression and yet another land war in Europe, the continent was tired of scarcity, deprivation, death and destruction. They all just wanted to enjoy a little coin in their pockets and enjoy the fruits of their labors.
Somehow, along the way, the fruits got bigger even as the labors got smaller. Europe has now received its wake-up call. I believe the situation is bad but, more importantly, that Europe, Spain included, now realizes the folly of working less and less and expecting more and more. In other words, they've hit bottom. I see the pendulum swinging, with hard work being admired and gaming the system being scorned.
The Ugly:
Telefonica "may" have to cut its dividend if their growth does not continue at its current pace or if they cannot roll over existing debt at lower interest rates. Their most recent reporting year, 2010, showed a payout ratio of 89%. (Meaning the dividend payout was 89% of their free cash flow.) That's not out of range for a telco, US or foreign, as long as it is out of free cash flow, defined as the cash flow remaining after paying for all capital expenditures. But any increase in the dividend or decrease in free cash flow just sets them up for trouble. I believe this realization is priced into the stock.
And now for the insanely, stupidly ugly: TEF's union contracts in place require them to pay an average severance package of 415,000 Euros ( $563,000) to every one of the 6,500 Spanish employees they laid off this year. Talk about cradle-to-grave insanity. That's $3.67 billion not available for CapEx, dividends or anything else. Get real, people. I can only hope the company makes the decision to expand its opportunities using the employes still there. When they die, retire, or are fired for cause (virtually impossible in most of Europe), TEF might then select from among the 20% of Spain's citizens who are unemployed and willing to accept reasonable salary and benefits, without being made millionaires just because they are dead weight. (I'm presuming these were the least desirable employees they let go: must really make the remaining employees feel like working harder, eh?)
The Good:
If you're still reading, you may be wondering if I've lost my mind. Why invest in such a company?
(1) It's not really a "Spanish" company, though it is subject to Spain's developed-nation approach to corporate governance, transparency and reporting (a very good thing.) It is, however, a global powerhouse. TEF is the biggest mobile communications provider in Great Britain. It's also the largest mobile communications provider in Brazil, Peru, Venezuela, and Chile, and the second largest in Mexico (and closing in on #1 as we speak.)
TEF also owns 10% of Telecom Italia (NYSE:TI). You may think, "Whoopee. Another of the PIIGS." But if you've ever been to Italy, you know that Italians would sooner give up their sports cars than their mobile phones. Most of them appear to have one surgically attached as they talk non-stop. In addition, TI provides entrée to other markets, including more market share in Brazil and Argentina, as well as Italian TV and the venerable Olivetti, now a manufacturer of computer peripherals. Ditto for TEF's 10% holding of Portugal Telecom (NYSE:PT) which effectively adds to TEF's market share in Brazil and gives them entrée to Africa. Finally, TEF owns 10% of China Unicom (NYSE:CHU), which provides wireless, mobile and land-line services in China.
In the aggregate, nearly 2/3rds of Telefonica's revenues come from outside Europe. That also means that, if the euro continues its decline, TEF actually enjoys a currency conversion benefit.
(2) Having traveled or lived in more than 80 countries, I see many people willing to give up their children for adoption before they are willing to part with their cell phones. While the phenomenon baffles me personally (I don't want to be available 24/7 or talk to people 6 hours a day) this may be a generational and a cultural thing. Certainly residents of Asia, Latin America and the Middle East prove me wrong every time I'm there! So, despite its heavy debt, dumb labor contracts and choice of domiciles, TEF is sitting in the catbird seat of a massive global trend; people in many cases need and in even more cases simply want to be able to communicate with each other. TEF allows them to do so.
(3) Speaking of debt, with the world's central banks artificially depressing rates, it will be easier for TEF and other debt-heavy firms to roll over maturing or retire existing debt by issuing lower interest-rate obligations; who wouldn't take advantage of the ability to refinance / recapitalize at these rates? So while debt is high, it doesn't worry me as much as it might if we were already into the inflationary spiral many of us see as the inevitable result of Mr. Bernanke and his global cohorts' heavy hand over the pressure cooker.
(4) Finally, while I may respect a lot of companies, to consider purchasing, their stock has to be cheap.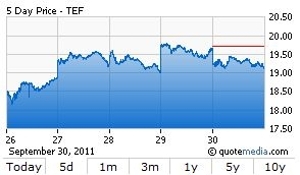 TEF is cheap. The stock currently sells just below its March 2009 price, with a PE ratio of 6.8, a dividend yield of 8.9%, and a price/sales ratio of 1. Return on equity has been 40% for that period with a profit margin of 14.9%. Revenue for the past 12 months has been $89 billion, with net income of $13 billion. Is the dividend guaranteed? Of course not. But I believe it is sustainable and believe further that, if it has to be cut in a particular period to meet corporate needs, it will be reinstated with a vengeance.
(PS – My yield calculation is lower than you may see published elsewhere; they are using the trailing 12 months, while I am discounting whether the increase scheduled for May 2012 will actually take place. Even though TEF is NYSE-listed, they follow the European custom of semi-annual rather than quarterly dividends.)
For those who share my affinity for buying really cheap, TEF has $17.50 March 2012 put options selling for $1.55. It's a small premium, as befits a stable company, but in any euro-panic it may widen. Even at the current price, it makes our effective purchase price $15.95.
Don't be put off by the current euro-crisis. Europe is always in some sort of crisis, just as the US is. Buy quality. Buy it when its cheap. And Telefonica is cheap.
Disclosure: We, and/or those clients for whom it is appropriate, are long TEF.
The Fine Print: As Registered Investment Advisors, we see it as our responsibility to advise the following: we do not know your personal financial situation, so the information contained in this communiqué represents the opinions of the staff of Stanford Wealth Management, and should not be construed as personalized investment advice.
Past performance is no guarantee of future results, rather an obvious statement but clearly too often unheeded judging by the number of investors who buy the current #1 mutual fund only to watch it plummet next month.
We encourage you to do your own research on individual issues we recommend for your analysis to see if they might be of value in your own investing. We take our responsibility to proffer intelligent commentary seriously, but it should not be assumed that investing in any securities we are investing in will always be profitable. We do our best to get it right, and we "eat our own cooking," but we could be wrong, hence our full disclosure as to whether we own or are buying the investments we write about.