The U.S. stock market is the last one standing.
It's been three months now since the end of QE2 on June 30. At first, it looked like global stocks might actually be able to hold their own following the removal of aggressive monetary policy support, as they traded sideways for the first few weeks.
But that all changed starting in the last week of July, when global stocks cascaded -18% lower from July 25 to August 8 amid concerns that the U.S. economy was tumbling back toward recession and the European sovereign debt crisis was about to unravel. By August 9, stirs of hope stemmed this market bleeding, as investors turned their wishful eyes to the Fed and the notion that a new round of monetary stimulus would soon be on its way. And for the next six weeks, these hopes helped support global stocks above their early August lows.
But both Jackson Hole and the Fed's September 20-21 meeting came and went, and the long anticipated QE3 stimulus never arrived. Global stocks outside of the U.S. quickly and decisively broke to new lows. But somehow, the U.S. stock market managed to hold its ground through the end of the quarter.
click to enlarge images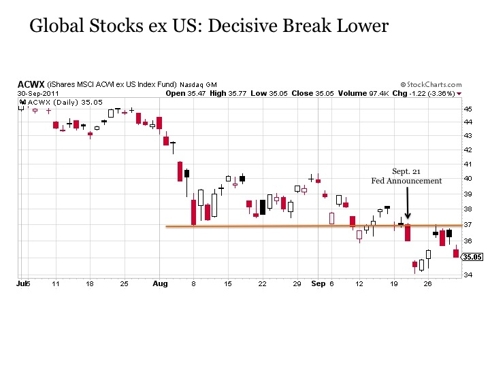 As we enter into the new quarter, the question remains. How much longer can U.S. stocks manage to hold the line above its early August lows? Unfortunately, the outlook is far from promising.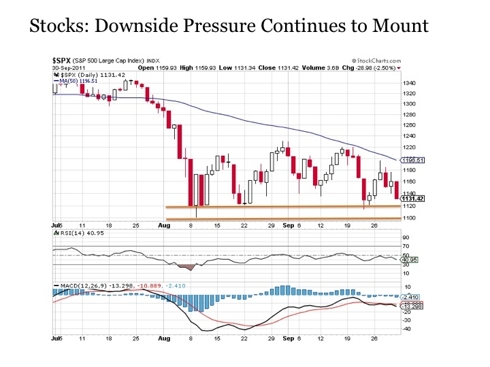 First, the technical picture for U.S. stocks is looking increasingly challenging. Stocks as measured by the S&P 500 Index have mounted four rally attempts since its early August lows. But since the second rally attempt, they have been setting lower highs while continuing to retreat back to test support at 1120. And after the third rally attempt, the momentum that had been supporting previous rally attempts began to rollover and has been drifting lower since.
Stocks are far from oversold following the last decline to close out the quarter. Furthermore, the rapidly descending 50-day moving average resistance line (the blue line on the chart) is increasingly closing in on stocks and adding pressure to the downside. To say the least, stocks have their work cut out for them as we head into the new quarter.
Unfortunately for stocks, very few indicators are signaling any meaningful support to help turn things around. To the contrary, many critical readings for stocks continue to crumble.
The following is the latest update on a series of indicators that I have been monitoring in previous posts with some new readings added to the mix. Virtually every reading is signaling a most difficult road ahead for stocks.
Greece 2-Year Government Bond Yields
September 1: 43%
September 30: 62%
Conclusion: Yields nearly tripled during the third quarter and rose by nearly half in the past month. Markets are signaling that a default in Greece is a near certainty. At this point, it's not a question of "if" but "when". The bigger question is whether financial institutions across the region and throughout the globe will be ready to stem contagion when it finally happens.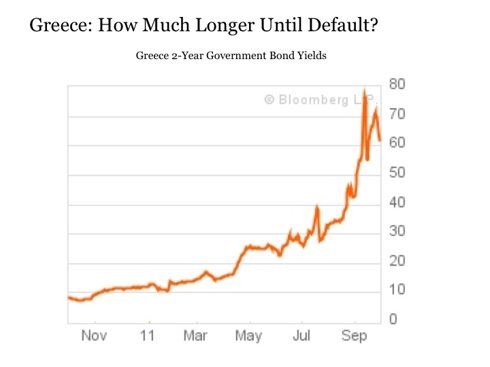 Italy 10-Year Government Bond Yields
September 1: 5.15%
September 30: 5.54%
Conclusion: The European Central Bank (ECB) has tried in vain to contain Italian bond yields. After the ECB briefly pulled yields back from the +6% brink in August, they have been steadily drifting higher in September. Whether the Italian government will maintain the conviction to carry out required austerity measures remains at the core of market concerns. And while European policy makers may have the resources to bail out Greece, doing the same for Italy (or Spain) presents a far greater challenge.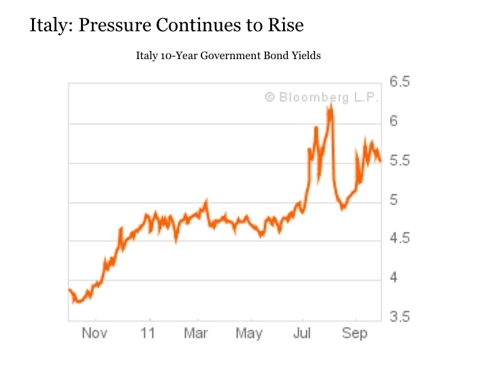 iShares MSCI European Financials Index (EUFN)
July 1: $22.93 per share
September 1: $17.38 per share
September 30: $15.27 per share
Q3 Return: -33%
Conclusion: European financial stocks declined by one-third during the quarter. Although they have bounced from their September 22 lows, European financials remain under heavy pressure amid concerns that many lack sufficient capital to sustain the damage from potential sovereign defaults that are threatening the region.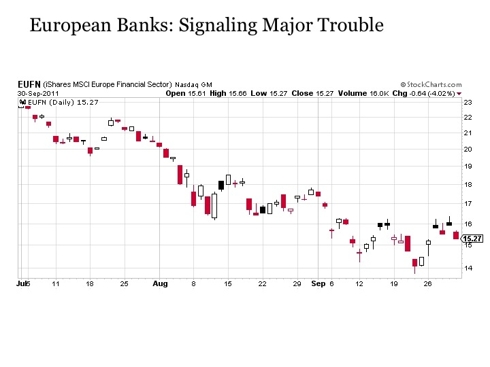 Bank of America (BAC)
July 1: $11.08 per share
September 1: $7.91 per share
September 30: $6.12 per share
Q3 Return: -45%
Conclusion: Not even Warren Buffett could stem the hemorrhaging at Bank of America. The stock lost -45% during the quarter due to the persistent overhang of mortgage related problems. And Bank of America was not the only major U.S. financial to plunge lower, as the stocks of Morgan Stanley, Goldman Sachs, JP Morgan Chase and Citigroup also sustained considerable losses during the quarter.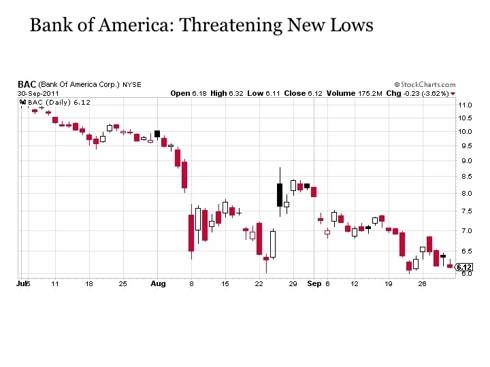 iShares S&P U.S. Preferred Stock Index (PFF)
July 1: $39.04 per share
September 1: $37.59 per share
September 30: $35.61 per share
Q3 Return: -9%
Conclusion: The preferred stock market consists of roughly 85% financials. And during normal conditions, the stock prices in this market remain relatively stable. Thus, a -9% quarterly decline is notable, as it signals that solvency concerns are building for major global financial institutions. Although preferred stocks remain well above the lows reached on August 8, they recently broke through critical support and are slowly drifting lower back toward these levels.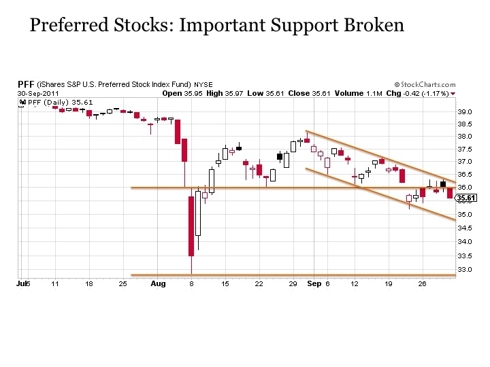 iShares iBoxx $ High Yield Corporate Bond ETF (HYG)
July 1: $90.08 per share
September 1: $87.41 per share
September 30: $82.83 per share
Q3 Return: -8%
Conclusion: The High Yield Corporate Bond market is highly correlated with the U.S. stock market. Thus, the increasing deterioration in this market bodes poorly for the stock outlook, as it is signaling that the access to capital through lending markets is becoming increasingly impaired for all but the highest quality companies. A continued break through August 8 lows would be particularly worrisome.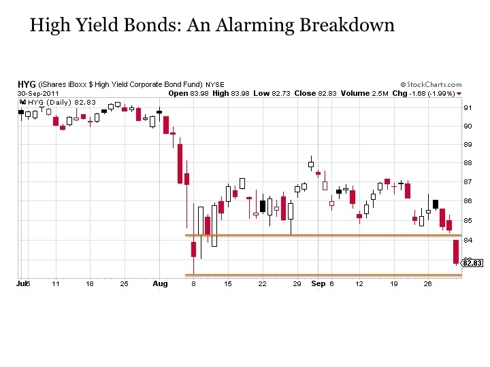 iShares iBoxx $ Investment Grade Corporate Bond ETF (LQD)
July 1: $108.90 per share
September 1: $112.00 per share
September 30: $112.31 per share
Q3 Return: +3%
Conclusion: This is a critical contagion signal to watch. And so far, so good, as the LQD gained +3% for the quarter. But this included a virtually flat September. Moreover, the price action in Investment Grade Corporate bonds has become increasingly volatile since early August, signaling that not all is necessarily well in this segment of the market. A sharp drop lower in Investment Grade Corporate bonds, such as a -5% to -10% over the course of a couple of days, would be a decisive signal that contagion risks are about to explode. Thus, the LQD should be watched closely going forward for such an event.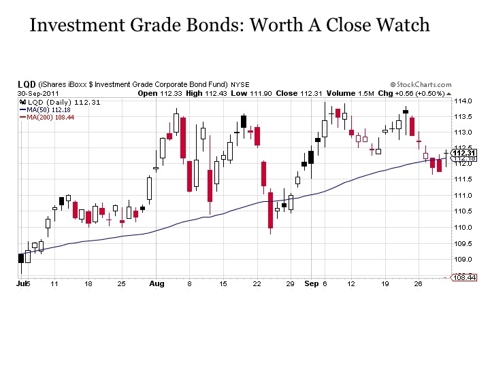 iPath Dow Jones-UBS Copper Subindex Total Return ETN (JJC)
July 1: $56.61 per share
September 1: $53.93 per share
September 30: $40.21 per share
Q3 Return: -29%
Conclusion: Copper had been holding up reasonably well for much of the quarter. This was one of the few positive signals suggesting global growth may remain resilient and supportive of stocks. But this all changed in the last two weeks of the quarter, as Copper plunged dramatically off a cliff. Given the high correlation between stocks and Copper since the market bottom in March 2009, this recent price collapse in Copper bodes ill for stocks looking ahead into the coming quarter.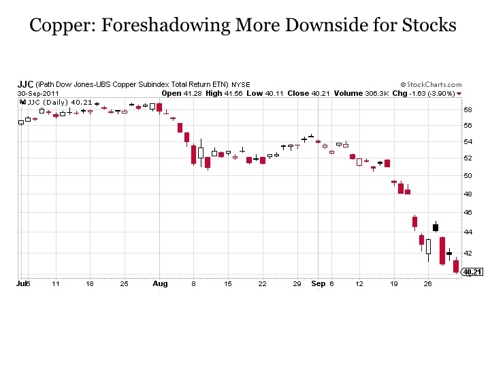 SPDR Gold Trust (GLD)
July 1: $144.93 per share
September 1: $177.87 per share
September 30: $158.06 per share
Q3 Return: +9%
Conclusion: Gold endured a drubbing during September, as mass liquidation selling and increased margin requirements helped fuel an -11% sell-off during the month. But even with the poor September showing, Gold still ended the quarter up +9%. Moreover, it continues to hold support above its major long-term support at the 150-day moving average (blue line on chart). These facts coupled with persistent global pricing instability and currency instability implies the safe haven demand for Gold remains in tact and further potential upside for Gold in the coming quarter.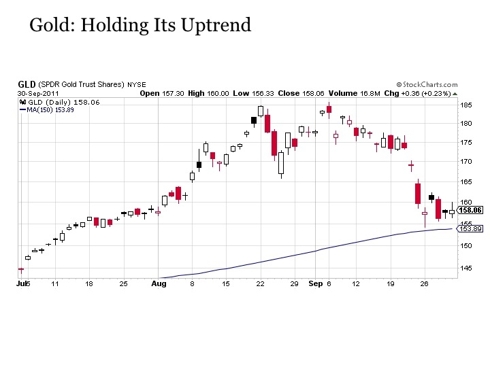 iShares Barclays 20+ Year Treasury Bond (TLT)
July 1: $93.04 per share
September 1: $108.97 per share
September 30: $120.80 per share
Q3 Return: +30%
Conclusion: As bad as the quarter was for stocks was as good as it was for U.S. Treasuries. Gains were particularly pronounced on the long end of the yield curve. The heavy demand for U.S. Treasuries given already low yields suggests that investor nervousness is running as high as ever as we enter a new quarter.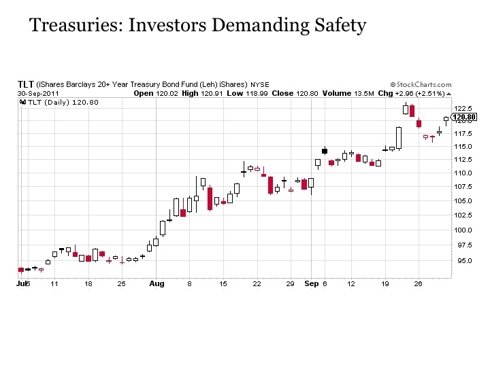 Bottom Line
U.S. stocks just endured a difficult Q3, but worse may be yet to come in Q4. While stocks have managed to hold above August 8 lows, pressure is mounting to the downside. Moreover, a broad variety of indicators for the stock market are almost exclusively signaling that underlying conditions for stocks are set to deteriorate even further in the weeks ahead.
This post is for information purposes only. There are risks involved with investing including loss of principal. Gerring Wealth Management (GWM) makes no explicit or implicit guarantee with respect to performance or the outcome of any investment or projections made by GWM. There is no guarantee that the goals of the strategies discussed by GWM will be met.