Among the leading sparkling beverage companies are Coca-Cola (NYSE:KO), PepsiCo (NYSE:PEP), and Dr. Pepper Snapple Group (NYSE:DPS). As for the third: even its name suggests a company with a confused identity, buoyed up in value perhaps only by the strong brand portfolio. The stock currently trades at 16.4x and 13.1x past and forward earnings, respectively--higher multiples than its peers.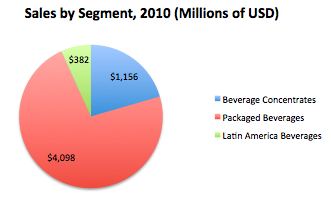 Dr. Pepper, Sunkist, 7UP, Canada Dry, Crush, A&W, Snapple, Mott's, Hawaiian Punch, Squirt, among others--these are strong product lines that have not been fully capitalized on. Although the soda maker is the US leader in the CSD market, it suffers from poor margin improvement and scale limitations. The company is currently poorly diversified, with only 7% of its sales coming from developing markets. And of this 7%, the company is only targeting one country: Mexico. The United States and Canada comprise the other 93%, with United States having the lion's share at 89%. Management at Coca-Cola, on the other hand, has strongly diversified abroad, improved margins, and is sustainably growing ROIC.
Analysts currently rate Dr. Pepper around a "hold" due to anemic growth in the top line and little improvement in margins. Over the next five years, I anticipate margins improving no more than 41 basis points, far above consensus estimates. The company will grow market share from a growing Hispanic population, which have been loyal consumers of Dr. Pepper. At the same time, the market has already properly accounted for much of this passive way of growing shareholder value.
There are several catalysts that the company should use to improve scale and diversify. One would be to acquire other brands and unlock revenue synergies. PepsiCo may pursue strategic alternatives, which gives Dr. Pepper a possible opportunity to add to its attractive product portfolio. The firm should also consider spinning off lower profit margin products, as beverage concentrates make up the majority of revenue (56%) but not even a plurality of operating profit (21%). Gaining international exposure with higher margin products would help to generate value creation in the long-term.
Over the last decade, soda consumption has declined per capita. As the pie decreases in size, I foresee the top firm, like Coca-Cola, gaining market share, while the rest struggle for growth. Even though Dr. Pepper is the the third largest provider of liquid refreshments, supplier and customer control is relatively limited compared to the top two firms. Moreover, most of the soda maker's brands are licensed to other competitors, like PepsiCo.
Going forward, I find that productivity savings and strategic actions to grow international appeal will tremendously benefit Dr. Pepper, which has been held down by a sleepy market more interested in leading competitors. Consensus estimates for EPS are that it will grow by 14.2% to $2.74 in the next year and then by 8.4% and 10.8% in the following two years. I find these estimates fair and forecast that the stock will trade at 7.9x 2012 EBITDA, should it not pursue the above recommended actions. This base multiple makes the company slightly overvalued, while optimistic actions by management make it slightly undervalued. With a dividend yield of 3.3%, the stock is relatively safe and has a moderately attractive upside.
Disclosure: I have no positions in any stocks mentioned, and no plans to initiate any positions within the next 72 hours.