On Tuesday, September 27th, Research in Motion's (RIMM) stock soared 4.5% after a rumor surfaced that Carl Icahn has taken a stake in the company.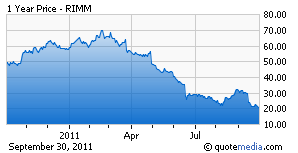 If true, Research in Motion's stock is likely to finally reward some courageous investors. Icahn has a track-record of success in getting what he wants out of companies, or at least providing a short-term selling opportunity for impatient investors (i.e. Clorox (NYSE:CLX)).
Icahn would certainly push for a sale, or at least a partial sale: Icahn created a big stir this summer when he pushed Clorox to seek offers, and even went as far as throwing in his own bid for the company. Additionally, Icahn successfully got Motorola to split up into two separate companies, and eventually got Motorola Mobility (NYSE:MMI) to sell itself to Apple (NASDAQ:AAPL).
But even if he has initiated a position, is a sale going to even be possible? Many analysts have pointed to the fact that RIMM doesn't have a very desirable patent portfolio, and with a dying product line, it may be difficult to find someone willing to pay a price tag that would likely be more than $15 billion. However, RIMM's BlackBerry does still own about 22% of the smartphone market share.
Here's what a prospective buyer would be looking at:
$8.8 billion in gross profits
$1 billion in cash
No debt
Market cap roughly equivalent to book value (the business is effectively free)
A takeover would likely result in the buyer paying about 80-90 cents on the dollar for every dollar worth of sales that Research in Motion currently makes
$3 billion in free cash flow
Quarterly earnings decreases of 60%
Rapid loss in market share (~4% yearly pace)
Patent portfolio likely worth only $1-$2.5 billion
The financials look good, and the trailing valuation looks good, but the business prospects look downright horrible. Let's take a look at who our potential buyers might be if RIMM goes on sale:
Google (NASDAQ:GOOG) (Not likely, or even legally impossible, given its recent acquisition of MMI)
Apple (A lot of cash, but what need does it have for BlackBerry? Apple's iPhone and iPad are clearly superior to RIM's BlackBerry and Playbook lines)
Microsoft (NASDAQ:MSFT) (Again, a lot of cash, but it's working on its own technologies, and the large investments it's made in that area are unlikely to be simply forgotten by management.)
There may be other possibilities, but the risk isn't worth it.
First off, the rumors are unconfirmed. Secondly, who knows what Icahn is thinking? If he's really in, he's in it for himself, and you may not be able to ride his coat-tails. Lastly, if he really took this alleged stake, he could be wrong. It's happened before.
Even a 20-30% potential (and unlikely) gain is not worth the stress that would go into an investment in RIMM. It's a gamble at best, and the fundamentals simply don't back the story.
Disclosure: I have no positions in any stocks mentioned, and no plans to initiate any positions within the next 72 hours.