After reading Wayne Gorsek's article '7 More Reasons I Am Short Simon Property Group' which recommended shorting Simon Property Group (NYSE:SPG), I saw that it did indeed look like a good short candidate.

All the bearish fundamentals are there for SPG: a declining business model (shopping mall owner), more competition (online retailers), a high PE (39), high debt ($17B), dwindling consumer confidence, low yield for a REIT (3%), a global economic crisis and low investment activity.

Still, I was skeptical. It's also a large cap stock with a $32 billion market cap. Companies of that size are usually looked at up and down by top analysts that work for big institutions. They must know something I don't. Then I realized after seeing the institutional ownership, that that might be exactly why SPG is overvalued.

Looking at SPG's Yahoo Finance page, it shows that although only 1.9% of the company is owned by insiders, a whopping 96.5% is owned by institutions! This means that Joe Investor only trades about 2% of the float. I have never before seen a stock with that much institutional investment. Also, the short percentage is only 4.6%, and that's about the highest it has been in the past year. This looks like it could be a case of the emperor not wearing any clothes.

Since a lot of big investment firms are holding SPG as a consistent, safe play, they haven't been wanting to sell. It gives them a consistent dividend income of 3%. However, once it becomes obvious that 3% is the biggest return these firms are likely going to get, as any growth is already priced in, they are likely going to lighten up on their position. Increased selling pressure will push the stock price down.

Once SPG starts correcting to the downside, it will be swift and deep. Shares won't be dropped in the hundreds of thousands, but in the millions within a few weeks. None of these big-time portfolio managers wants to be the last one out or stuck holding the bag.

Simon Property Group Has Much Higher Valuations Than Its Tenants

On SPG's website, it lists its malls on the property page. There, in the retail anchors and major tenants column, are listed well-known retailers. The spreadsheet below compares SPG's valuation ratios with some of these tenants. Click on all charts to enlarge:



For every single ratio with a "P" in the numerator, SPG is at least is double all of its tenants. EPS growth is expected to get a little better for SPG in the next 5 years, but not that much better.

If the tenants of Simon Property Group continue to struggle with their earnings, they are going to play hardball with the property manager. Why should they keep paying high rents with declining profits? Naturally, their rent should decline as well. Many of the struggling retailers are planning to close up shop on their less profitable stores, and unless Simon Property Group gives them good deals, they are going to walk out of those malls.

Many investors like SPG because of the high end malls. Luxury retailers have done very well this year - until just recently. Now high end retailer stocks are also gettting hit. Simon Property Group luxury tenants Coach (NYSE:COH), Tiffany (NYSE:TIF), and Louis Vuitton (OTCPK:LVMHF) are all quite a bit lower than their 52 week high. Below is a one month chart for those stocks and SPG. As shown in the chart, SPG hasn't quite felt its luxury tenants' pain yet.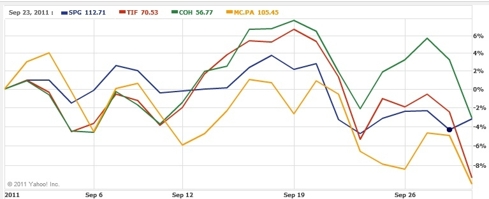 What About Expansion?

Is Simon Property Group worth so much because they are spending a lot towards expansion and revenue growth? Nope. On page 5 of the company's Q2 2011 earnings report, it shows cash flow from investing activites increased, not decreased, by $147 million. This means that the company sold more of its properties than it bought last quarter.

Although in 2010 $1.2 billion was spent in investing activities, SPG's CEO, David Simon, said in the 2010 annual report introduction, that there will be no new regional mall development in the US for at least a few more years. He wasn't just talking about Simon Property Group, but about every mall development company. This is a clear indication that mall shopping isn't doing so hot. If it was, more malls would be developed this year.

David Simon states that all SPG will do this year in the US is redevelopment projects and fill up vacant spaces. Not much growth there at all. He mentions expanding Premium outlets in Japan and South Korea and other Asian countries. However, Japan isn't doing so hot. South Korea seems to be the only developed Asian country that's thriving, but it's a small percentage of SPG's revenues.

Also in his introduction, Mr. Simon mentions how online buyers aren't paying sales taxes, and how it isn't fair to brick and mortar retailers. Putting this in the introduction of the annual report adds an exclamation point to the reality that online retailers are hurting brick and mortar retailers. The success of online retailers like Amazon.com (NASDAQ:AMZN) is directly taking value away from shopping malls like Simon Property Group.

With no growth and probably a contraction of Simon Property Group's growth this year, I see no reason to have a PE of 39. Declining businesses usually have single digit PEs. However, since apparently Simon Property Group has an all-star management, a PE of 15 might be appropriate, which would put the stock at $43 a share and that's only if earnings stay the same.

The way I see it, there is high downside risk to owning SPG, and small upside potential. If one bought SPG today, and held for a year, the best case scenario is a gain of about 10%. And that's if the economy rebounds and gets back on track. The worst case scenario, is if there's a huge global recession. If this happens, SPG could fall 75% a year from now. While there will most likely be a return in the middle of 10% and -75%, I'd much rather take my chances being short than long SPG.

Bullish Point Of View

The only bullish view I can think of is if Simon Property Group is a far superior shopping mall property manager than its competitors. In that case, it's possible that the large institutions that own SPG are holding for the long term: 5-10 years out when the global recession will have ended. By then, maybe SPG will have taken market share from its competitors and be the dominant landlord for brick and mortar retailers.

Even if this is true, however, this is already more than priced into the high PE. Also, it could be that in the near term, i.e. this year or the next, some of the major holders will forgo their long term plans of holding SPG, and liquidate some positions. It's rare, even for a high profile value money manager, to commit to holding a stock for 5+ years.

Disclosure: I am short SPG.