2011 has not been kind to equities and commodities with the S&P 500 off 18% from its late April peak and the CRB Index off 20% from its early May peak. Truth be told, these declines put equities and commodities well past the official correction territory of a 10% decline, with each asset class flirting with the official bear market territory of a 20%+ decline.

To make matters worse, it's been a relatively long and slow "bleed" from those spring peaks comprised of many up and down whipsaws within a sideways trend formed of lower highs.

Such lower highs were punctuated by the cruelest part of the correction to take place in August, when the S&P dropped nearly 20% within two weeks and the CRB Index 10% during that same time period. Both indexes rebounded a bit in late August, only to be pummeled again in September with the S&P approaching this year's intraday low of 1101 and the CRB Index having carved out a new low on the year just on Friday.

Driving this sort of volatility is investor uncertainty around the eurozone's cobbled together approach to the sovereign debt crisis, and uncertainty around the state of the global economy with some signs pointing to the possibility of another global recession. Not helping the situation in the U.S. is the gross politicking taking place in Washington, with the country nearly going officially bankrupt in August and almost shutting down just this past week.

Until investors have a greater degree of certainty around these issues, it is very likely that sideways trading will continue. Neither buyers nor sellers have the conviction to overwhelm the other side, while a true bear market is not very far off considering the degree of fear accompanying this spate of uncertainty, with many people waiting for the other 2008 shoe to drop.

This will drive the bulls to look for certainty in the form of improving ISM and payrolls numbers for September, with housing largely considered a foregone drag on the economy, while the bears looking for the opposite case. Such data-searching from both sides comes in the context of the sovereign debt crisis overhang, with there being some possibility that the "wound" has been treated enough for the near-term through an expanded EFSF with greater powers that has basically been approved by even Germany and Finland.

Until all such data comes out-- with ISM manufacturing and services due this Monday and Wednesday, respectively, and nonfarm payrolls on Friday-- it's impossible to know how the sideways trend will be resolved, or if it will be at all, with perhaps the data coming in mixed.

Ahead of this data coming out, however, I would argue that the charts of the S&P, CRB Index and the EURUSD show us that the bears will be in complete control briefly for a few days – as in the bulk of this week – to perhaps a few weeks, until the bulls win the bigger battle; first on a temporarily weakening dollar and then on an economy that finds firmer footing after skidding on the recent soft patch.

In other words, it seems the cruel correction to hit the risk assets in 2011 may be about to hit its final crescendo, and one that could take equities and commodities down by about 10% in the days ahead only to find a real technical bottom, and one that will sustain a "real rally" for most of Q4 and perhaps into 2012. Relative to that possible fast drop down this week, it will feel like a painful Band-Aid rip, but once it is over, it will be over, and could be followed by a strong and lasting rebound.

Detailed charting on this potential Band-Aid rip – the final phase of this year's cruel correction – in the risk assets can be found at peaktheories.com, but I think it is important to show the charts of the S&P 500, the CRB Index and the EURUSD around this potential scenario here.

First, the daily chart of the S&P shows a fulfilling Bear Pennant pattern with a target of 1075.
Click to enlarge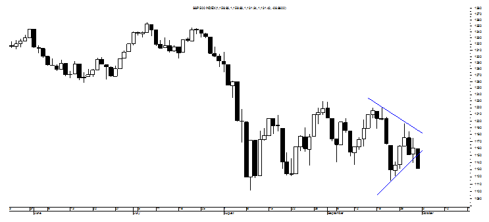 Without getting into a long technical discussion behind this possibility, there is good reason to think support will be found at that level to support a bounce back up.
Second, the weekly chart of the CRB Index is showing a bearish Rising Wedge that calls for a decline to some level between 250 and 275, with the bulk of that drop likely to be driven by gold, silver, the grains and then crude.
Click to enlarge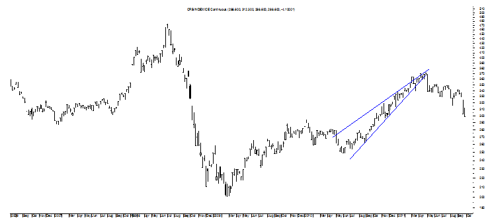 After it fulfills potentially, the CRB Index should stabilize and perhaps trade up modestly off of crude, the grains, copper and perhaps a few soft commodities that may start to trade more off of the fundamentals rather than a weak dollar while there is good reason to think that gold and silver will remain sidelined or even drop further.
Third, the chart of the EURUSD shows that it is likely to trade toward 1.3200 this week only to then reverse course sharply due to the near-term bullish Falling Wedge it is trading in.
Click to enlarge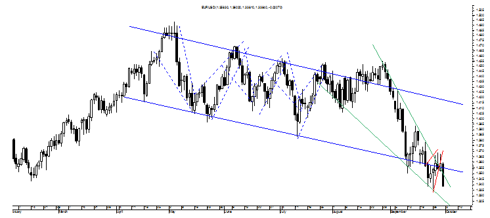 This near-term chart probably most reflects expectations that the ECB will cut its key rate this Thursday, and then the fact that the rate will not be cut -- or it will have been priced in by investors by the time it is cut. It may also reflect the potential and relative strength around the ISM Manufacturing and perhaps Services data and then possibly an in-line or weak payrolls report to come out this week.
Considering the S&P has been trading with the EURUSD for months, there is good reason to believe that if the Falling Wedge fulfills and takes the EURUSD up, so too shall the S&P go up as the dollar index drops. It is a simple connection but one that has been working very well for a while now.
Should the EURUSD rise later this week and cause the dollar index to fall, it will give equities and commodities a tailwind in the weeks to come, and one that may boost psychology and confidence and help create the early stages of a virtuous cycle of increased consumer spending and business hiring. It will also provide some time for lower crude and other commodity costs to trickle through the economy that could create a positive feedback loop for stocks as uncertainty around the economy and a double dip recession are eased.
In turn, investors may have a greater degree of certainty, aided by "Operation Twist" and certainty that will help buyers overwhelm sellers in an uptrend after the potential and painful final stage of this year's correction is ripped off.

Disclosure: I am long FAS, FAZ, GLL, SDS, SSO, TNA, TYP, TZA, ZSL.