I recently contributed an article on 4 compelling BUY ideas in the coal sector that attracted a huge number of page views.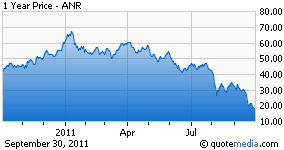 In this piece, I focus on 1 of the 4, Alpha Natural Resources, (ANR). First and foremost, investors are asking what has sparked the severe beating in the stock. A combination of company specific factors and fears of a global double-dip recession are the main reasons. Yet ANR is down 74% from its January 11th high, and 62% from July 25th. Is all the bad news priced into the stock? Investors should Buy ANR stock, not necessarily because it's down so much, but because it's trading well below the fundamental value of its assets.
Recall from my previous article that pro forma for ANR's acquisition of Massey Energy (NYSE:MEE), Alpha is now the 3rd largest producer of coking coal in the world. The combined company has 5 billion tons of coal reserves, of which 1.7 billion tons are coking coal. Alpha is the most diversified producer in the U.S. with significant coal production in the PRB, northern and central Appalachia. The company also has access to the most export capacity of any U.S. producer at 25mm-30mm tons. On paper, ANR is a powerhouse in the coal arena.
Yet to repeat, ANR stock is down 74% from its January, 2011 high. To put that in perspective, during the financial crisis ANR stock was down 85%. Since then, ANR acquired Massey Energy. MEE was a troubled company after a tragic mine accident in 2010. Did ANR make a big mistake by buying MEE? Perhaps. Clearly ANR paid too much for MEE. But Massey had some good and bad coal mines. The good ones will remain open, the bad ones will be shut down. According to management, the combined company will capture synergies worth $250mm-$300mm by 2013. On an NPV basis, the synergies are probably worth $1 billion, which is a lot compared to the current enterprise value of $6.8 billion.
The fear in the market is that not only did ANR pay too much, but that they also bought a barrel of rotten apples that's destroying shareholder value. I feel that the acquisition was poorly timed, but that once it's fully integrated, ANR will be a stronger company. A mitigating factor to the integration mess is that by rationalizing the combined portfolio of coal assets, there will be less coal production in central Appalachia going forward. The reduced supply should be supportive of coal prices in the region.
Of course, that doesn't change the fact that the integration will be both more costly and take longer than has been communicated to investors. This is a dark cloud hanging over management. The significant 3rd quarter earnings warning served to refocus everyone's attention on the integration. As bad as all of this is, I argue that the news is largely priced into the stock price.
Analysts have weighed in with lower price targets and reduced EBITDA estimates for 2011-12. It appears that the average reduction in 2012 EBITDA is about 11%-12%. According to Bloomberg, the consensus for next year's EBITDA is now $2.065 billion and the EV/EBITDA multiple is 3.3x. Unless one thinks that the new consensus is still way too high, ANR is trading at a fundamentally cheap valuation. If EBITDA estimates are cut a further 15% to $1.755 billion, then next year's EV/EBITDA multiple would be 3.9x. 3.9x is not a multiple that's difficult to defend.
To wrap this up, if the global economy is headed for a double dip recession, then an investment in Alpha, (or for that manner hundreds of other natural resource and cyclical names) will be a poor one. However, given the magnitude of the sell-off in ANR, I believe that it could outperform the market on a relative basis. On an absolute basis, ANR could rebound substantially if global tensions regarding Europe and China subside somewhat in the 4th quarter. In that event, a one-third point recovery from the July 25th level does not seem unreasonable. That would take ANR back to $27.5 per share and generate a return of 55%.
Disclosure: I'm long Jan-2012 $22.5 call options. I am long ANR.