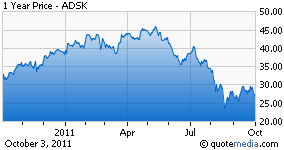 With all the talk about a second potential global slowdown it may be no surprise that the market has punished shares of design software provider Autodesk (NASDAQ:ADSK) lately. ADSK is down 28 percent compared to the S&P 500's (INX) drop of 10 percent this year.
Analysts know, after all, that the 2008 recession took a cleaver to Autodesk's sales as building and infrastructure projects were among the first capital outlays to be put off or canceled completely. Competitors in design automation software like Adobe (NASDAQ:ADBE) and Synopsys (NASDAQ:SNPS) were not spared either. Engineering design software is clearly not a recession proof industry.
But fears of a repeat are overblown mainly because Autodesk is less vulnerable to a slowdown this time and in a stronger position to weather another drop in sales, should it happen.
Deja Vu all Over Again?
At one particularly painful point in the 2008-2009 downturn Autodesk's quarterly revenue plunged by 30 percent. The company was unable to cut costs nearly as quickly and so operating margins were swamped and ADSK had to book a loss. Are investors risking a repeat if another recession should take hold? In a word, no. As far as Autodesk is concerned, this time really is different.
This Time Around
1) Happier Customers - Several months before the bottom fell out of the market customers were telegraphing their weaker balance sheets. Autodesk's subscription renewal rates dipped, multi-year renewals disappeared, and business in the U.S. market slowed down. Customers apparently did everything but scream "recession!" at Autodesk's sales staff.
Given that history, management has been busy looking out for similar signs of an impending collapse in demand and has found nothing.
None of the metrics that we saw go down last time have we seen evidence of yet. -- CEO Carl Bass
There may be a lot riding on the word "yet" in that quote from the company's last conference call. But not only are sales failing to register any portentous weakness, Autodesk's renewal rates are actually at a record high, with multi-year renewals and attachment rates rising too. If customers are supposedly feeling another pinch, someone should tell them about it.
2) A Stronger Cost Posture - Autodesk went through several rounds of restructuring in response to the previous dip in demand and is now operating from a leaner cost position. About 50 leased facilities and 1,300 salaries were removed from Autodesk's books in FY's 2010 and 2009, significantly reducing expenses as a percentage of revenues. So if another demand dip does hit, Autodesk will have more flexibility in its costs and should find it easier to maintain margins.
3) A More Stable Revenue Base - The company has made progress at improving the quality of its revenue base in the years since the recession. By developing and selling suite packages over one-off solutions and by expanding its sales footprint to compete for large enterprise clients, Autodesk has strengthened the diversity and stability of its customer base. So, any new demand shock shouldn't impact revenues nearly as negatively as before.
Of course, if another global slowdown comes, Autodesk would not be immune from the fallout. But with greater operating efficiency, record customer engagement, and a stronger revenue base, the company is well positioned to protect margins and market share. And what if a recession doesn't come? I can think of three reasons Autodesk's future could see expanding margins and greater market share (see above).
Disclosure: I have no positions in any stocks mentioned, and no plans to initiate any positions within the next 72 hours.