Kodak (EK) shares were slammed last week as a result of three events the market viewed as negative. I think the selloff was overdone. Here's my take: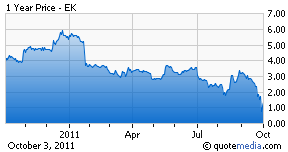 One: The $160 million drawdown doesn't concern me. 70% of Kodak's business is overseas, as is much of their cash, and at times the best strategy is to simply tap the company's line of credit. Corporations do this all the time.
Two: The ratings agencies downgrades could create problems for Kodak if it needed future financing.
Three: As to the talks with Jones Day, I tend to side with the Kodak statement:
It is not unusual for a company in transformation to explore all options and to engage a variety of outside advisors, including financial and legal advisors. Jones Day is one of a number of advisers that Kodak is working with in that regard.
The market read this as an indicator of imminent bankruptcy, but I see it as simply a preemptive move by Kodak to intelligently evolve their strategy.
When we look at all three negative catalysts together, it's easy to understand how they created a panic situation on Wall Street. But individually, none of them signal the death of Kodak. Kodak could certainly self-destruct in the future, but that hasn't happened yet as the market seems to indicate.
Given investors' dire predictions of Kodak's demise, they are ignoring the fact that Kodak's assets are worth much more than its $200 million market cap. For example, investors are discounting Kodak's $6.5 billion a year in revenue. That's too much money to ignore.
The simplest way to value the relationship between annual revenue and share price is to use the price to sales ratio. It is calculated by dividing the company's market cap by the last 12 months revenue. If you have a price to sales ratio of 1, that means you are paying one dollar for every dollar of sales the company makes. If you have a price to sales ratio of .5, that means you're paying $.50 for every dollar of sales the company makes. In general, the lower the price to sales ratio the better. Here are some price to sales ratios of well-known technology companies:
Microsoft (MSFT): 3.06
IBM (IBM): 2.03
Salesforce.com (CRM): 8.4
Intel (INTC): 2.4
Kodak (EK): .03
Kodak's incredibly low P/S ratio of .03 is worth looking at. I like the idea of paying $.03 for one dollar's worth of revenue, especially for a company like Kodak, with valuable assets, and debt that could be mostly offset by its year-end cash position. Kodak expects its year-end cash to be $1.6 billion to $1.7 billion.
Let's take a look at some of Kodak's other assets:
Number 1: the 1,100 patents that Kodak is selling have an estimated value of $3 billion according to Christopher Marlett, founder and CEO of MDB capital group.
Number 2: the 10,000 patents that Kodak will retain should be worth at least as much as the 1,100 patents they are selling. After speaking with Kodak, I learned that only 5% of these patents relate to its declining film business, so there is some real value here. I just met with a CEO whose company owns numerous patents, and he told me that the rule of thumb for valuing a large portfolio of technology patents was to give each patent a value of $500,000. Nortel (OTC:NRTLQ) 6,000 patents just went for $750,000 each. At $500,000 per patent, that potentially puts Kodak's 10,000 patents at $5 billion.
Number 3: proceeds from the RIM (RIMM) and Apple (NASDAQ:AAPL) lawsuit are estimated at $1 billion. Kodak told me it was very optimistic about the outcome of this lawsuit.
Number 4: the Kodak name is worth at least $1 billion. Many believe it is worth double that.
Number 5: Kodak's real estate could probably be sold for at least $600 million.
Number 6: Kodak's film division should be worth at least $500 million, after all it is still profitable, even with record silver prices. Even though this division is in decline, it should have some years of profitability left. Kodak is in the process of converting this division into a "coating" business, which could also prove profitable down the road.
Do you get the picture? There is a huge gap between Kodak's $200 million market cap and the company's asset value. At some point the market should recognize this discrepancy and bid the share price up to a more reasonable level.
Kodak's future could play out in a few different ways:
First, another company could simply buy them. If a big company that sold the same product line as Kodak could buy Kodak for $5.50 per share, or about $1.4 billion (a bargain), they could instantly add most of Kodak's $6.5 billion in revenue to their top line. But $1.4 billion is probably too low of a price tag for the whole company. Ken Luskin, CEO of Intrinsic Value Asset Management, which owns 1.7 million Kodak shares, believes Kodak's commercial and consumer printing businesses and the digital camera unit are worth at least $2.5 billion, or $9 per share.
If the acquiring company eliminated all redundant costs and hopeless business divisions, their Kodak asset could quickly become profitable, simply by incorporating Kodak into their existing infrastructure. The company could pay off that $1.4 billion acquisition cost within a few years. Business doesn't get any better than that!
I would bet that Kodak is being looked at as an acquisition target, and any reasonable offer would be positive for shareholders. At this point, even a rumor would drive the share price up.
If a raider could get his hands on Kodak, the assets could be liquidated for at least $1.4 billion, or $5.50 a share according to Fitch Ratings. Given Fitch's negative outlook on Kodak, I think their estimate is low.
Another possibility is that Kodak could actually convert themselves into a profitable business. It's happened before with other companies in Kodak's position. Remember when Apple was selling for $7 a share in 2002? Its future looked bleak. I can remember talking to a store manager in 2002 about buying an Apple computer, and we we both felt that Apple could definitely go bankrupt. We never dreamed it could orchestrate such an amazing turnaround.
20 years ago when IBM (IBM) faced bankruptcy, it was able to turn its patent portfolio into a $2 billion a year revenue stream. It wasn't that long ago that Ford (F) shares were trading at $1. Companies do successfully reinvent themselves.
Kodak is in an even better position than IBM was. It is selling relevant, high-quality products, and with Hewlett-Packard (HPQ) recently announcing it was getting out of the hardware business, Kodak should benefit in both the consumer and commercial printer market.
There are some other catalysts that could drive the share price up. For example, what will happen when Kodak sells its 1,100 patents, especially if it gets anywhere near the estimated $3 billion? The share price would probably double instantly.
How about the Apple and RIM lawsuit? Any positive outcome on this front would drive the share price up.
An interesting anecdote comes as a result of my visit to one of the big box stores the other day. I was chatting with the technical expert behind the counter, and he told me that Kodak printers had become their number one seller. According to him, consumers really like the idea of lower cartridge costs.
Wall Street hates Kodak right now, and is blind to many of Kodak's assets and potential catalysts. Don't get me wrong, I am not happy with the way this company's been run. Drastic cost-cutting and reorganization is needed now, and I don't know if management is willing to do the job. But with a $200 million market cap, and assets that are worth many times that amount, Friday's selloff provided an excellent buying opportunity, and I increased my long position.
Disclosure: I am long EK.