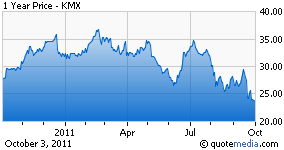 Mr. Market is giving you a good opportunity to own a solid long term growth company at a reasonable price, in CarMax Group (NYSE:KMX), the largest retailer of used cars in the U.S.
On September 22nd, CarMax reported earnings that were a bit below expectations, at $0.49 vs. consensus of $0.51 for its second quarter. The retailer of used cars explained the shortfall by the 2% decrease in used unit comps. It was largely due to the weak economic environment and lower consumer confidence, according to the management and I believe them. Depressed consumer confidence is impacting car sales.
Anyway, the stock was down 10% on the news giving you the opportunity to buy a solid company, with a proven business model and a lot of growth ahead.
As of September 22, 2011, CarMax operated 106 used car superstores in 51 markets. The retailer plans to open 8-10 stores in fiscal 2013 after 5 in 2012, regaining a more normal rhythm after being forced to suspend store growth in December 2008 because of the weak economy. CarMax is in only 27 states and the company estimates that it is only in markets representing less than half the U.S. population. I estimate that it has the potential to double its number of stores in the next 10 to 15 years.
Also, despite being the biggest, its share of the late-model used vehicle market is less than 3%. It gives you an idea of the long term potential.
In addition, CarMax is one of the nation's largest wholesale vehicle auction operators, based on the 263,061 wholesale vehicles it sold through its on-site auctions in fiscal 2011. Growth continues strong in this operation, as wholesale unit sales increased 23% in its latest quarter compared with the second quarter of fiscal 2011. Similar to the last several quarters, wholesale volumes benefited from a strong increase in appraisal traffic and a continued strong buy rate.
CarMax main competitive advantage is the ability to provide a high degree of customer satisfaction with the car buying experience. Low prices; breadth of selection, and quality of the vehicles are the important variables there.
The company is proud of saying that every car they sell, they do so at a low no-haggle price.
The retailer has replaced the traditional "trade-in" transaction with a process in which a -trained buyer appraises a customer's vehicle and provides the owner with a written, guaranteed offer that is good for seven days. An appraisal is available to every customer free of charge, whether or not the customer purchases a vehicle from us.
Also, they can provide financing through third-party or through their own finance company CarMax Auto Finance (CAF). In fiscal 2011, CAF financed around 30% of CarMax retail vehicle sales. As of February 2011, CAF serviced more than 380,000 customers in its $4.33 billion portfolio ($4.6 billion as of August 31).
At around $24, you can buy the stock at around 12 times its expected fiscal 2013 earnings (February), which is quite interesting. CarMax earned $134 million in 2006 ($0.63 per diluted share) and $380 million ($1.67) in 2011, a 23% annual compound annual growth. I expect CarMax to make at least $2.75 in 5 years. At 20 times earnings, the stock can reach $55, my long term target.
I also like that Thomas Gayner, money manager for Markel Asset Management and a great investor, has 9.1% of its portfolio in CarMax. Lou Simpson, before his retirement, also liked the company.
Regarding the risks, we must not kid ourselves: a recession would bring some pain to CarMax as they would obviously sell less cars. In such an environment, we should monitor closely the performance of its finance operation.
Disclosure: I am long KMX.