Hewlett-Packard (NYSE:HPQ) has made a string of questionable acquisitions at inflated prices. I've been cheering Larry Ellison, Oracle's CEO, for his telling it like it is. Ellison slammed H-P for buying Autonomy at an outrageous $11.7 billion price, calling it "absurdly high." Oracle (NASDAQ:ORCL) should know. Autonomy shopped itself to Oracle before approaching H-P. You can see Autonomy's stats here, courtesy of Oracle, in a posting entitled: "Please-buy-Autonomy." After reviewing the slides, I can tell you, at 24 times EBITDA, H-P got no bargain.
Autonomy is not the first time H-P has paid through the nose.
H-P has a long history of overpaying for acquisitions. According to H-P's quarterly and annual reports, $33 billion was spent acquiring companies from FY 2006 through 2010. Of that amount, $23 billion was logged as goodwill, about 70% of the total price. For those unfamiliar with the term, goodwill refers to the difference between purchase price and fair value. When the Autonomy deal closes, we'll probably see a hefty chunk of that $11 billion allotted to "goodwill."
During the same period, Oracle bought $30 billion worth of companies. A far smaller share of the purchase, 42%, was apportioned to "goodwill," suggesting Oracle is better at managing its bids. H-P could learn a thing or two from Oracle.
So how have H-P's acquisitions panned out?
Great takeovers should produce future cash flows.
Compare H-P and Oracle's free cash flow. Oracle's free cash flow rose steadily between 2006 and 2010, signaling that the company, and probably its purchases, are working. H-P is less convincing. H-P's average yearly FCF of $8.9 billion didn't budge from its 2006 $8.8 billion FCF. Investors have to wonder whether H-P's acquisitions made sense, especially considering the heavy goodwill component of those buys.
Carly Fiorina, Mark Hurd, and Leo Apotheker are gone. My advice to Meg Whitman and the H-P board: look long and hard before making any further acquisitions. On second thought, Meg, call me. I have a great lemonade stand to sell. One more ill-thought-out takeover shouldn't matter. Perhaps we can squeeze one more lemon in at a juicy price.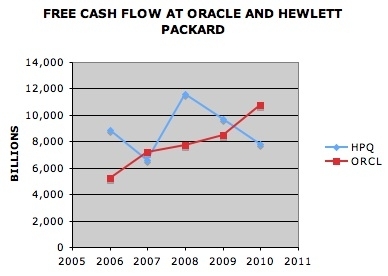 Disclosure: I have no positions in any stocks mentioned, and no plans to initiate any positions within the next 72 hours.