Almost nothing stirs up the media more than an oil spill. Value investors looking to profit from behavioral economics should consider investing in energy companies following an accident. Although investors are rational for the most part, we should not forget that the market as a whole is susceptible to emotional anomalies. BP plc's (NYSE:BP) negligence has been unduly scorned by both the media and investors. In the process, the stock has become tremendously undervalued in much ignorance to corporate fundamentals.
To be sure, BP is partially to blame for the Macondo accident, but so are other parties, like Halliburton (NYSE:HAL) and Transocean (NYSE:RIG), both of which continue to trade at higher multiples than BP. Since the spill, however, BP has been singled out as an archetype for reckless energy production, a company that cuts corners. A recent joint ruling by BOEMRE and the US Coast Guard found that the company was not grossly negligent, that the main cause of the spill was poor cementing, and that BP was not solely at fault. The company will likely face a fine of $4.5B, which is less than one-tenth the loss of shareholder value irrationally attributable to the incident. Since the start of the year, the stock has lost nearly 20% of its value.
The problem is not so much that BP faces mounting litigation, but that it has too generously caved in as a means of protecting brand image. As one example, it agreed to pay $20B to a Gulf oil fund to compensate victims, much more than what was likely necessary. Management should have consulted more with shareholders to determine if this was the right action to take. While having a great brand image is never disadvantageous, the reality of the situation is that oil customers just want lower prices and are not going to be swayed by PR relief campaigns.
Let's briefly take a look at the current valuation and then turn to whether this is in line with future opportunities and fundamentals. The stock trades at 5.7x and 5.2x past and forward earnings, respectively, offering a tremendously high dividend yield of 4.66%. Enterprise value is also trading at 4.3x current EBITDA and 3.2x my projection of 2013 EBITDA. These multiples are at a significant discount to peer competitors, which provide lower dividend yields.
BP produces tremendous value creation at the same time. The differential between ROIC and WACC will increase by approximately two times over the next few years. The average was 6.7% in 2009 and 2010 and will be 13.4% from 2011 to 2013. I forecast revenue decreasing by 9% in 2011 and then skyrocketing by 75% and 12% in the next two years.
The energy company is also expected to increase free cash flow considerably going forward. It is also well-positioned to benefit from vertical integration and tremendous increased demand for natural gas. BP is known as a first mover in an industry that has few barriers to entry, albeit with intense competition.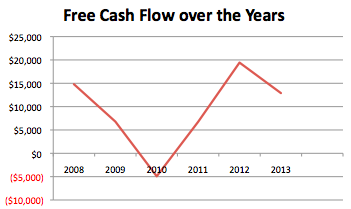 Analysts currently rate BP a solid buy, given the irrational loss in market value coupled with strong corporate fundamentals. Consensus estimates for EPS are that it will grow by 3.1% to $6.75 and then by 2.1% and 14.5% in the next two years. With the incident coming to a close, the market will soon correct itself and close the tremendous discount. Investors who buy now stand to benefit from the tremendous upside, while remaining patient (if necessary) with high dividend yields.
Disclosure: I have no positions in any stocks mentioned, and no plans to initiate any positions within the next 72 hours.