I recently read an article from this summer and felt compelled to re-examine the current global state of affairs. What is going on in the global financial community? I mean seriously, there are a lot of concerns, many crises, but what is the basic question investors are asking?
The question surrounds the issue that is causing extreme correlation and heightened volatility, and that is whether or not slow growth in developed countries can be resolved by next year or the following, or whether we are in a period of prolonged slow growth. This is, perhaps, the wrong question to be asking. Assuming one scenario, you buy gold, treasuries and hold cash. In the other, you buy just about every equity in sight, with a strong weight to financials. Many are choosing to flip the coin on this one, but I feel there is a more prudent question to ask and answer: Is there a sector or industry that will outperform regardless of these scenarios?
The answer lies in two buzzwords the market adored during the lead up to the financial crisis: Energy Crisis
We are experiencing an energy crisis:
China has many provinces that still have significant power deficits. While the focus is on a housing bubble, this is far from certain.
A second term for Obama means more pressure on long-standing relationships with African dictators. Hillary Clinton's handling of the revolt in Egypt was abysmal. There is a good chance of the Muslim Brotherhood gaining power, and they will most certainly deal with the US in a much different way than Mubarak did.
European politicians are increasingly unwilling to make nuclear a viable energy source.
The concentration of close to 24% of global reserves in Canada (oil sands) and Venezeula (tar sands) represents an immense support for crude prices above $80. Companies operating in this segment cannot be profitable much farther below, the market will maintain these prices. In addition, 18% of reserves are in Saudia Arabia, which although stable, carries understated risks.
Natural Gas is our best soltuion, yet the risks in fracking are only now being fully discovered. Governments globally will need to make big policy moves toward natural gas soon, and there is no indiciation of a move (of appropriate scale) in the near term.
We all know this. The supply/demand profile for crude in particular has not changed short term, yet it recently tested and briefly broke through $80 a barrel. Energy stocks are reeling - is this justified?
(Click charts to enlarge)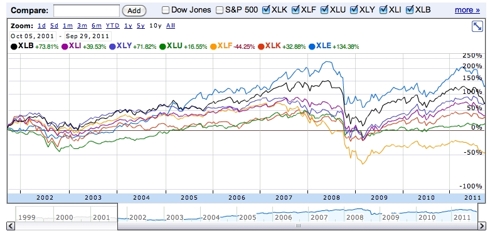 XLE - Energy Select ETF has been the strongest sector of the decade, returning over 134%.
Graham said that in the short term the market is a voting machine and in the long term it is a weighing machine. So how has the market been voting the past 3 months?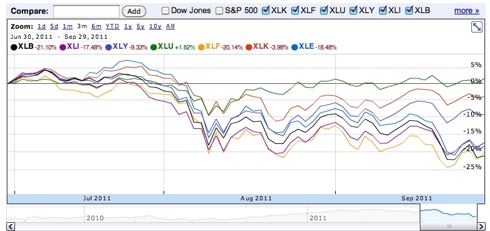 Energy has performed almost as poorly as XLF - financials! We are dealing with a eurozone debt crisis short term, and an energy crisis long term. Recognize the opportunity here.
It looks likely that another broad market sell-off in October will create an unprecedented buying opportunity in energy stocks. The safest play would be to buy XLE, but I will be following up with an in depth fundamental comparison of large-cap energy stocks. Check back later for Part 2.


Disclosure: I have no positions in any stocks mentioned, but may initiate a long position in SU over the next 72 hours.

Disclaimer: The views presented are solely my own and not reflective of the investment strategy of any employer past or present.