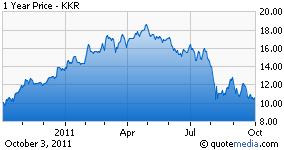 The legendary asset management firm KKR & Co. (NYSE:KKR) has strong fundamentals and opportunities that have, in my view, been unreasonably discounted by concerns over market volatility. Poor returns in public holdings, such as Nielsen Company and NXP, have led to analysts cutting back expectations while still maintaining an overall strong "buy" rating. Although a difficult stock market makes for poor IPO exits, we can still expect strong returns through M&A strategies. Given the market dislocation, this shift toward consolidation will actually, in my opinion, result in tremendous value creation for the portfolio companies. In the process, KKR stands to reap tremendous upside.
With the stock trading at 5.7x and 5.4x past and forward earnings, respectively, while maintaining a PEG multiple of 0.45, I find that the company is undervalued compared to peers and to the market overall. Yes, difficult capital markets and a poor GDP environment will compromise revenue expansion and liquidity, but KKR's management has always rightfully stressed a focus on the long-term. And for KKR, the company has a history of not just weathering storms, but actually excelling in them. The firm has experienced some of its highest returns in environments relatively similar to the current one.
Many investors are also concerned about private equity losing its glory, fearful about too much leverage and poor incentives. I find KKR positioned favorably in terms of incentives and growth opportunities. Over the next two years, while incentive fee returns are expected to increase at an annualized rate of more than ~25%, management fee returns are expected to increase at an annualized rate of only ~7.2%. This is strong progress for a firm whose ratio of management fees to performance fees is 9.2:1.
In addition to improving incentives, the firm has also been successful in raising capital. In the June quarter, KKR raised an impressive $750M for natural resources, which will offer a hedge against inflation and stable returns. KKR has also raised $2.5B for mezzanine and special situation funds during the last two years - highly impressive given the difficult fund raising market. The asset management also has a healthy 40% equity protection in these funds in the event of default. Lastly, KKR recently closed its $1B+ Mezzanine Partners I fund, which has gone a long way in making analysts more confident about the firm's ability to grow during economic volatility.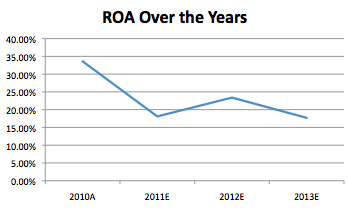 With over $61.9B of AUM, KKR also is well diversified in financial services, infrastructure and renewable energy. My main concern is that much of the portfolio companies are operating in the European market, particularly in France, Germany, Denmark and the U.K. - nations that most economists believe will experience economic stagnation over the next few years. Analysts are expecting further deployment in Europe. Even still, the firm has holdings in Beijing, Switzerland, Taiwan, China, Singapore and India, which I find will have bullish economies over the same time period. All told, the portfolio companies are generating strong top-line growth and have successfully exploited cost saving opportunities. Going forward, I forecast solid secular growth and safe returns in mezzanine investments.
Finally, KKR has more than $13.7B worth of dry powder, which can be used to diversify even more in undervalued companies. There is plenty of correctional value to be found in many publicly-traded companies. Given increased regulatory pressures, going private may enable even more transformative results. Consensus estimates for EPS are that it will decline to $1.44 in 2011 and then increase by 37.5% and 3.5% in the following two years.
For my bullish analysis on other financial companies, click here for one on Goldman Sachs and here for one on Barclays.
Disclosure: I have no positions in any stocks mentioned, and no plans to initiate any positions within the next 72 hours.