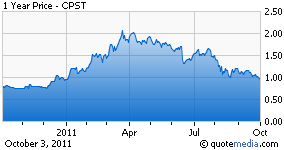 It's been quite a year for Capstone Turbine (NASDAQ:CPST), as the company's popular microturbines products have made significant headway on the international front, revenue has been on the rise, and potentially lucrative markets have been tapped.
Even President Barak Obama couldn't help but give the company a shout-out earlier this year while on a high-profile trip to Brazil.
On top of all that, the nuclear vulnerabilities displayed by the earthquake and tsunami in Japan earlier this year have also put the spotlight on companies such as Capstone, as many foreign governments - including industrial powerhouses such as Germany - are looking to move away from nuclear energy.
So where does all that get a company that has yet to turn a profit and has a heavy short interest on its stock?
Right back to trading for less than half its 52-week high, that's where.
Without a doubt, the holy grail yet to be achieved by Capstone is profitability. Until that time comes, then the share price is going to be played with in the same volatile fashion that it has been played with for years.
With that in mind, those that are willing to load up on the dips and sell a few shares into the spikes have been able to do very well trading this thing, but where does that put the long term potential?
For all the reasons outlined at the opening of this article, Capstone still retains a positive long term outlook, in my opinion.
The backlog is growing, as demonstrated by numerous large orders this year, and its popularity in numerous oil and gas plays around the globe has been gaining increased attention.
Internationally, Capstone has placed repeated orders to Russia already this year, and last week a deal was announced that will send three C100s to Canada to be installed at a natural gas processing plant.
Needless to say, the brand is growing, but brand alone won't be strong enough to lure in new investors or propel Capstone to profitability. Improving margins and increasing revenue will, and it's worth noting that the company has been able to make solid progress on both of those fronts through the past few quarters, so we'll be looking for more of the same in the upcoming quarterly earnings report.
The broad market has taken a dive over the past few months, and that undoubtedly contributed to some of CPST's downturn - along with the aforementioned heavy short interest - but a new quarter that boasts some solid earnings will make this one a candidate to rebound.
This company, in my opinion, might also be primed to become a takeover candidate. While investors may be waiting for CPST to bring in profitability on its own, larger, more established companies such as General Electric (NYSE:GE), Caterpillar (NYSE:CAT) or Cummings (NYSE:CMI) won't let Capstone get that far, if they indeed are looking for a possible acquisition.
After all, any company would be getting a pretty solid deal - even with a premium attached - while the CPST share price is trading for a buck.
By the time Capstone is a profitable company, the share price will be trading for significantly higher than it is now as a speculative green company - and the potential for that to happen is why the current prices are again attractive for the long termers.
Sticking to a pattern of peaks and valleys, CPST is back in a valley.
Disclosure: I am long CPST.