The thought of recession -- even the slightest hint of it -- will bring down the price of shares in the consumer goods sector. At the start of the year, Ford shares peaked at $18.79, and has been on the decline ever since. Shares closed recently at $9.67, down nearly 50% from their peak.
With a long position in Ford, I belong amongst investors asking if it time to give up on Ford shares. When it was last covered, Ford traded at $5.60, after bottoming out at $1.43 in 2008. Ford's turnaround was due in part to the leadership of Alan Mulally, who streamlined the company's offering by selling off Jaguar, Volvo, and Mercury. In addition to cutting jobs and reducing the number of Ford models, Mulally limited the design of Ford Focus from multiple regional versions to one version.
Ford moved from generating $17B in 2006 to making $6.6B in profits last year. In all of that time, I held a long position in Ford.
Ford shares are now trading under $10, after initially failing to break that price over the last two months. Ford trades at a P/E of 5.76, has a book value of $1.39 per share, and $4.60 cash per share. With market sentiment negative, Ford becomes a more compelling buy as shares fall. The company is leaner and more capable in adjusting its supply. Previously, Ford bled losses from Volvo and Jaguar, in addition to seeing unit sales declines for its flagship models.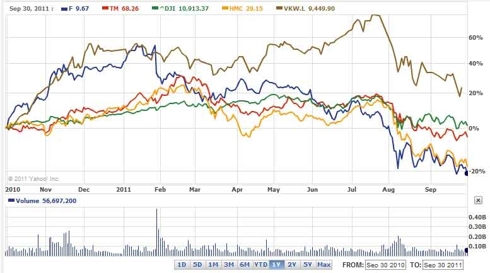 In a recent interview, Mulally said:
The consumer has pulled back. We're ready with the products and services that people really do want, but we're going to match our production of goods and services, cars and trucks, to what the real demand is. We're very disciplined about that. The worst thing you could do is make more than what the market wants, which our industry has done sometimes in the past. The demand is still very, very low.
Ford's earnings may face pressure as Japanese automobile makers ramp up production, but Ford's brand is more appealing for Americans. The downturn is a global one, led by problems in Greece. America's economic problem is its debt level. The appeal for Ford's flagship products has not been lost in light of what is going on from an economic perspective.
Ford's product transition towards small and medium-sized cars will support continued profit growth for the company. In the near term, Ford shares will be pressured by the threat of strike. Some workers point to Mulally's compensation of $26.5 million as a reason for striking.
Ford shares are not a sell. If prices fall further, it would make sense to accumulate a larger position. If Ford shared a multiple similar to Honda Motor (NYSE:HMC), shares would trade north of $11.55.
Disclosure: I am long F.