I've been covering Netflix (NASDAQ:NFLX) for some time now. While I made several bad short-term calls, the long-term story I - and others - have told appears to be playing itself out.

Before I speculate as to what's next for Netflix, consider the major events, in no particular order, that have contributed to the company's recent implosion:
As this turn of events dominoed, Netflix's stock price began to crash. The freefall from a 52-week high of $304.79 made Research In Motion's (RIMM) tumble look tame.

Click to enlarge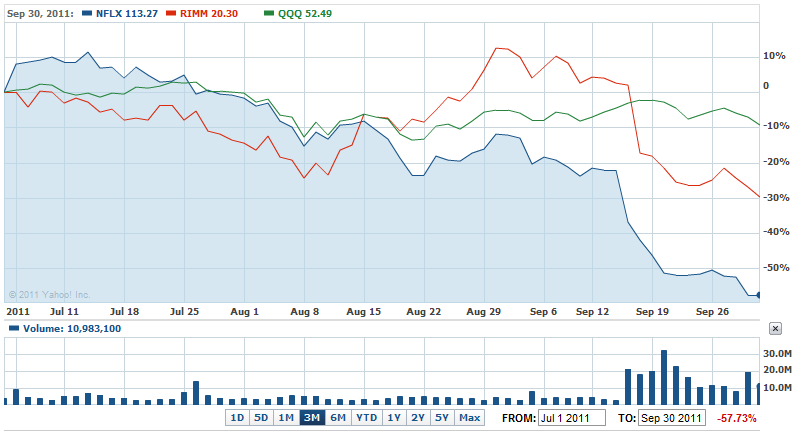 (Chart courtesy of Yahoo Finance)
So, what's next?

Netflix Sells Netflix

Michael Pachter of Wedbush seems to think that this will go down with Amazon.com (NASDAQ:AMZN) the buyer. I disagree.

Why would a company like Amazon, or any other for that matter, buy Netflix only to inherit billions of dollars worth of content obligations? A potential buyer could rack up these expenses just fine on their own. Netflix streaming really doesn't have enough of a leg up on any prospective suitor. Or at least not enough of a leg up that prevents the Amazon's of the world from duplicating it, with ease, from their respective cash war chests.

Before CEO Reed Hastings drove it into the ground, Netflix had a brand. With that gone, I cannot see the sense in shelling out billions to buy Netflix. The brand was probably never worth that much anyway.

One possible alternative - some sort of partnership in which Amazon or another doesn't buy Netflix outright, but somehow integrates its remains into a current streaming offering. I consider this scenario doubtful as well.
Netflix Sells Qwikster

This would make the prediction I made after the pricing scheme change complete. Thus far, half of it has come to fruition. As of its Q2 letter to shareholders, Netflix denies it will sell the DVD unit. I asked Hastings what could change the company's stance in this regard, but he refuses to talk.

If Netflix sells Qwikster, Hastings will explain it away by citing the rapidly changing conditions of the company's respective businesses or some such. A few weeks ago, we did not consider divesting the DVD segment, but now, all of a sudden, it's the best move for the future of Netflix. That would be typical Netflix doubletalk.

It's hardly a secret that Hastings believes streaming is the future. And there's no question that if he can find a sucker to sell out a billion bucks or so for Qwikster, he'll jump at the chance because if he doesn't ...

Bankruptcy

Yes, bankruptcy. Well-known bear Len Brecken predicted this fate for Netflix in a Seeking Alpha interview back in May. Looking back on what he said five months later is nothing sort of awe-inspiring:
RP: Where do you see the stock by year's end and into 2012?

LB: Subscriber adds will begin to slow this quarter and continue through 2011, especially domestically. As this occurs, and amortization expense accelerates (unless management continues its accounting gimmicks through under-amortization), it will create negative leverage on earnings, causing (them) to decline. With over $10/share in off-balance sheet expenses for the next three years to hit earnings (at) $3.00/share in 2011, you figure out what will occur.

Ultimately, the accounting will catch up and the entire streaming effort will be labeled a ruse and the stock will be under $5 per share or bankrupt by the end of 2012. In my view, NFLX will not be able to meet its obligations to Hollywood, as by 2012, I expect the combination of churn and competition will result in negative cash flow and declining subs.
Now, do you really think the notion of speculating about a Netflix bankruptcy is crazy? What Brecken said is essentially playing itself out. Without a lifeline of epic proportion, the numbers just do not add up. To that end, here's the burning question that I wanted Hastings to answer, but, alas, he refused:
In the past, you have referred to a "virtuous cycle," whereby Netflix achieves rapid subscriber growth, which allows it to fund the costs of streaming content, which fuels even more rapid subscriber growth, which allows the company to license even more digital content.

In light of the subscriber shakeout from the price increase - the impacts of which have not yet fully played themselves out, particularly in light of the Qwikster news - is this cycle broken? To that end, how will Netflix cover the cost of not only the billions it's already on the hook for ($2.4B, as of the last 10-Q), but the cost of more digital content, not to mention the expenses associated with an aggressive international expansion? If subscriber growth slows, stalls or reverses course, where does the cash come from?
With the "virtuous cycle" now officially vicious, exactly where will the cash come from? The rapid subscriber growth Netflix once enjoyed is a thing of the past and it ain't coming back.

Of course, other scenarios could come into focus. Some bearish. Some bullish. I always count on the readers who do such an excellent job commenting on my Netflix articles to move the conversation forward, so have at it.

Disclosure: I have no positions in any stocks mentioned, but may initiate a short position in NFLX over the next 72 hours.