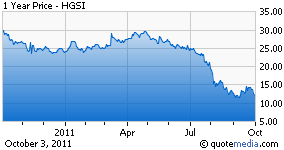 The good news didn't last long for Human Genome Sciences (HGSI). Barely a week after announcing a positive trend in Benlysta sales that resulted in a subsequent price spike, an announcement hit the wires stating that the British medial regulators did not find enough 'bang for the buck' to approve the newly-approved lupus drug for national coverage.
Benlysta was approved earlier this year to treat lupus, the first approval in over fifty year to treat that indication. Global expectations are high for the product, especially since it is licensed to the British powerhouse GlaxoSmithKline (NYSE:GSK) for commercialization. Although the sales numbers in the United States have been encouraging thus far, last week's news on the British front led to a swift decline in price, as shares dropped nearly eight percent on a day that saw the third quarter close with a dud.
But was the news from across the pond worthy of an eight percent price drop?
I'd say hardly. It's more likely, in my opinion, that the drop was more a reaction to the broad market dip than it was to fears that the British regulators would not pay for the drug.
Glaxo has experience in dealing with these issues, and it's likely that the two sides will reach a negotiated settlement that will conclude with Benlysta coverage. It's no secret that the government's coffers in the U.K. are looking as empty as those in the U.S. - if not more empty - and moves such as this one are an opportunity for a government to feign oversight of the taxpayer dollars.
While a responsible action on the surface, I wouldn't expect such scrutiny when it comes to the regulators' personal expense and travel accounts. Benlysta has already established a positive trend in sales, and there's no reason to believe that the U.K. issue is going to sidestep this company from prosperity.
The market turmoil may lead to some volatility, but the coming quarters are likely to see HGSI approach the price targets set by analysts, which come in to the north side of twenty bucks. Additionally, Human Genome - with a recently-approved product and more to come in the pipeline - could look like a decent takeover candidate, as many such companies in the biotech sector are these days.
There's a plethora of revenue-builders coming off label from big pharma over the next few years, and the little guys such as Amarin (NASDAQ:AMRN), Avanir (NASDAQ:AVNR) and even Dendreon (NASDAQ:DNDN) could look like an attractive boost to a big pharma's resume.
Don't ignore the buyout potential, but consider the U.K. news a non-factor - at least for now.