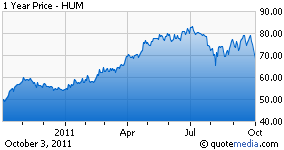 Last November, we wrote an article on the pages about Humana, Inc. (NYSE:HUM). Humana provides health insurance and related services to employers, individuals, and beneficiaries of government programs. Of its 10.9 million members, more than 70% are in government programs, including Medicare Advantage (the private managed-care alternative to original Medicare), Medicare prescription drug plans, Medicaid for low-income families, and TRICARE for the families of military personnel.
In our first article, we described some of the obstacles facing Humana, including changes to the healthcare environment expected from the Obamacare reforms. The administration's reforms have since run into roadblocks themselves. Court after court has ruled aspects of the reforms to be unconstitutional. Most recently, the administration chose not to appeal a court ruling thus opening an opportunity to seek a ruling from the U.S. Supreme Court. Ultimately, the outcome of these legal appeals will only have a tangential effect on companies such as Humana. At the end of the day, the plutocrats in Washington will take a stab at reducing government expenditures. These efforts will extend the trend we have seen for many years, i.e. reduce payment rates to service providers, tighten eligibility requirements and change the benefits package available to consumers.
We recommended Humana back in November when it traded, for the month, in the $54-$61 range. The closing price on September 30th is above $72 per share. It seems like a good time to re-evaluate our position on Humana.
The company's strategy for these times appears to be two-pronged. They are broadening their consumer base by acquiring health maintenance organizations around the country. These acquisitions provide Humana the opportunity to spread their costs over a larger base. Secondly, Humana is better able to control costs.·
The company acquired Arcadian Management Services, a California-based Medicare Advantage HMO with approximately 64,000 members in 15 states. Arcadian had $622 million in revenue in 2010.
Humana expanded its RightSource mail and specialty drug business by hiring 200 new employees.
Humana subsidiary, Concentra acquired NextCare Centers in Atlanta GA. NextCare operates four urgent care medical centers. This acquisition adds to Concentra's 15 urgent care facilities in the Atlanta market.
The company agreed to buy a Medicare Advantage HMO called MD Care. MD CARE is also based in California and adds another 15,000 members to Humana's roster of consumers. MD Care posted 2010 revenue of $155 million.
Humana has a current market value of about $12.147 billion. Sales have been growing at the rate of 15.7% over the past 5-7 years. In the last twelve months, sales growth slowed to 9.1%. For the quarter ending 06/30/11, sales increased 8.1%, year-over-year. The long term EPS growth rate is about 24.2%. Again, growth slowed substantially for the past twelve months, decreasing to 11.4%. For the most recently reported quarter, EPS grew to $2.71 as compared to the year-ago quarter $2.00, a 35.5% increase.
Earnings per share for the last twelve months totaled $7.53 indicating a trailing PE of 9.7X. EPS estimates for 2011 range from $6.96 to $8.00. The consensus is $7.64. Analysts forecast FY 2012 EPS in the range of $7.10 to $8.38, averaging $7.82. The analyst estimated 3-5 year EPS growth rate is 8.6%.
Operating margins have ranged from a low of 3.1% in 2005 to 6.0% for the trailing twelve months. Over the years, margin expansion has been fairly consistent with 2008 representing the only year of decline. The five year average operating margin is 4.8%. We see a similar pattern for gross margins. Gross margins have ranged from a low of 18.1% in 2008 to a current high of 20.5%. The five year average gross margin is 19.3%.
Humana reports a return on equity of 17.8%, consistent with its five year average of 17.2%. Return on Invested Capital is 13.4% as compared to the average 13.2%. The company has a solid balance sheet. It reports a long-term debt to equity ratio of 21.9% and a long-term debt to total capital ratio of 18.0%. Times interest earned is about 19.8X. The company does not pay a dividend. The company carries $9,177.5 million of cash and cash equivalents on the books and long term debt of $1,664.0 million.
On a valuation basis, the Humana still looks undervalued. The company is trading at 9.7X trailing earnings; 9.5X estimated 2011 EPS; 9.3X estimated 2012 earnings and 8.3X estimated 2013 earnings. Historically, the company has traded at an average multiple of 13.9X. Applying the historic average multiple to the FY 2011 EPS estimate of $7.64, we get an implied market value above $106. The current PB ratio is 1.6X, below the seven year average of 2.06X. Humana's enterprise value to EBITDA ratio is a low 5.45X. The median EV/EBITDA ratio for accident and health insurers is 5.72X; the average is 6.66X.
In our opinion, Humana continues to be an undervalued growth opportunity among health insurers. They have a clearly defined niche in this market and they are executing a plan that enhances their position. Though they are making numerous acquisitions, they do so without incurring crushing debt. With stable, if not expanding, operating and gross margins, they appear to be successful in controlling their costs. Though future growth is not assured and the growth rate may remain below previous levels, it is growth in the face of strong headwinds.
Disclosure: I am long HUM.