Stock market volatility showed no signs of abating last week. In a volatile week the Dow Jones Industrial Average ended roughly flat, with the S&P 500 and Nasdaq ending in the red. The third quarter ended with volatility the likes of which we haven't seen since the 2008 financial crisis. Below is a graph comparing the three major index ETFs, SPDR Dow Jones Industrial Average ETF (NYSEARCA:DIA), SPDR S&P 500 ETF (NYSEARCA:SPY), and Powershares QQQ Trust Series 1 (NASDAQ:QQQ) over the last quarter.
A Picture of Volatility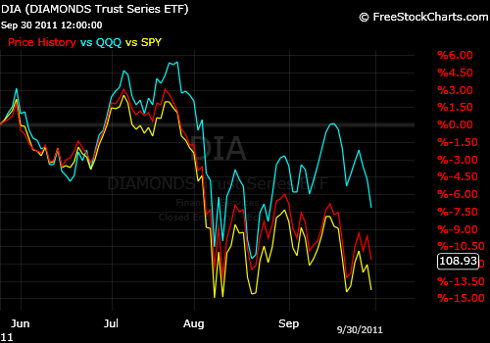 Click to enlarge
(Click to enlarge)
So where should investors turn when the markets turn this volatile? I am looking for cheap stocks with strong earnings. I also like solid dividends, although that isn't a requirement, as you will see. This is the third article in a series exploring cheap stocks, particularly those reporting strong earnings quarter after quarter. Last week's article focused on Chevron (NYSE:CVX) and AT&T (NYSE:T). This week's are really two unlikely candidates, but their ability to earn money cannot be contested.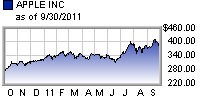 Apple Inc. (NASDAQ:AAPL)
No company has dominated the technology world in recent years like Apple. The company's ability to keep selling more iPhones, iPads, and Macbooks is astonishing. Not until recently did sales of the company's ever-popular iPod line start declining, only as consumers opted for the higher priced iPhone instead. What's even better is than Apple continues to update its current offerings and develop new, innovative products that consumers rush to get their hands on.
I must admit I was late to the Apple parade. I personally started buying shares just under the $300 mark. What made me a believer? Once I analyzed the company and realized just how cheap shares were, I was sold. "Apple? Cheap?" you may ask. The answer is yes. Rarely does a company with such earnings power trade at such a low price to earnings. The fact that Apple has approximately $75 billion in cash and equivalents on its balance sheet make it that much cheaper. If you take out its approximately $80 per share in cash, Apple trades at a current P/E ratio of 11.9. Including its cash on the books, Apple has a forward P/E ratio of 12.23.
Apple has grown earnings at an astonishing rate of nearly 58% annually over the last five years. Cash flow has increased 58% annually over the last five years as well. As the world's largest technology company, Apple has a market cap of $353 billion. The company has no debt. Over the last twelve months, Apple earned $23.6 billion on more than $100 billion in revenue.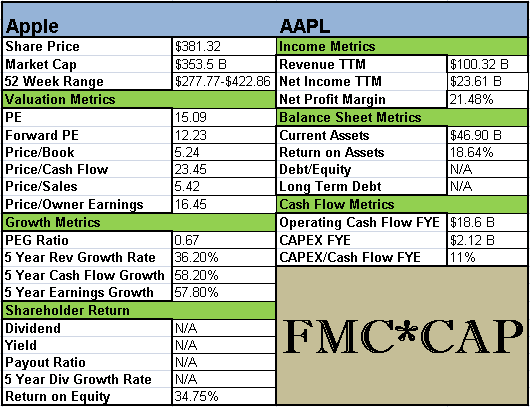 Click to enlarge
(Click to enlarge)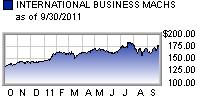 International Business Machines (NYSE:IBM)
IBM isn't often referred to as International Business Machines, probably for good reason. The word "Machines" doesn't really describe this software giant. IBM spent much of the last ten years transforming itself. Now, it is reaping the benefits. IBM doesn't make computers anymore as it sold that low margin, commoditized business to Lenovo (OTCPK:LNVGY) several years ago. IBM is a worldwide software solutions company. The company has a very successful management team led by CEO Sam Palmisano. IBM is one of the few companies with a published five year plan and earnings projections. Thus far, IBM has executed almost flawlessly.
IBM trades at a P/E ratio of 14.24 and a forward P/E of 12.88. With a market cap of $209 billion, the company is technology giant. It is one of few tech firms paying a dividend. At 1.72%, the yield is small but there is plenty of room for increases. IBM pays out only about 24% of cash in the form of dividends. The company has increased earnings 18.6% annually over the last five years. It has increased cash flow 8.3% annually over the same period of time. IBM is expected to earn $13.31 billion over the full year 2011, a 15% increase over 2010. IBM has earnings power at a good price.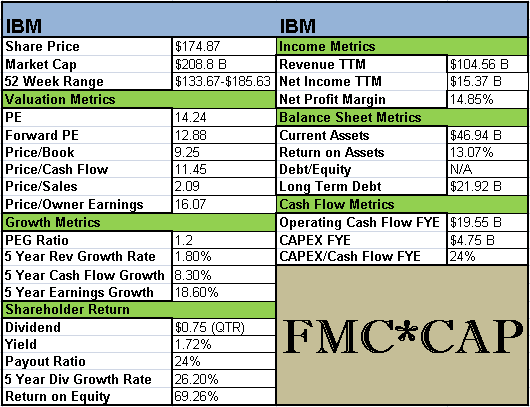 Click to enlarge
(Click to enlarge)
Apple and IBM aren't your typical "cheap" stocks. What makes these stocks "cheap" is there earnings power. Investors often forget the "earnings" component when looking at P/E ratios. Both of these stocks have the potential for higher earnings well into the future. They are currently being priced along with the rest of the market, but will likely experience both earnings growth and multiple expansion - that's investor talk for higher share prices.
There are two articles left in this series, so look for number four next week.
Disclosure: I am long AAPL.