One of the things I do every week is to give the 100 stocks on my watchlist a technical score based upon the relation of their short-term 10-day moving average (10dma), intermediate-term (50dma) and long-term (150dma). One of the things I have noticed over the past 12 years of doing this is how rare it is that a stock will stay in an extreme position for more than 13 weeks. In April, when the market was peaking, 20 of the names had enjoyed the highest score for 13 weeks (i.e. the 10dma had remained above the 50dma, which had remained above the 150dma), which was rather extreme. Typically, it is less than a handful, perhaps none. This weekend, I noticed that 9 names have been in the negative extreme for more than 13 weeks.
A contrarian investor should be interested in this technical indicator, as a potential reversal can follow these extended runs. In the case of these nine stocks, investors can buy with the goal of seeing the stock return to at least the 50dma. With that in mind, I wanted to take a closer look at some of these suffering stocks to see if they might offer a potential entry for investment (if not a trade). With the recent strengthening of the dollar and concerns of slowing emerging markets, I decided to focus on companies with a primarily domestic focus. Let's look at the 4 names that meet this requirement alphabetically.
First up is Apogee (NASDAQ:APOG), the high-end commercial glass company. What a terrible business it has been, but the company has been able to avoid burning cash. It did recently expand to Brazil with an acquisition, but most of its business is in North America. The company recently brought in a new CEO from Honeywell (NYSE:HON). It reported its FY12-Q2 ending in August a few weeks ago and has $24mm cash net of debt. While the stock is certainly cheap on a price-to-tangible book basis and pays a fat dividend out of its considerable cash reserve, this is the least interesting to me of the stocks I am profiling. It might make sense to hear what the new CEO, who just started in August, has to say after a full quarter with the company. Also, the dividend policy needs to be clarified.
Cullen Frost Bankers (NYSE:CFR) is a great Texas institution, a hybrid bank and investment management company. It has been struggling with strong deposit growth but weak loan demand. The company has demonstrated its conservative nature in many ways for many years, including an exit from the residential mortgage market years ago. While the PE ratio is somewhat elevated, the dividend yield (not included in the chart but currently 4%) is at an extreme. The company increased it in each of the past five years. In fact, it has increased it every year since 1993. With a payout ratio of just over 50%, I would be surprised if the trend doesn't continue. I like the stock here at 9% below the 50dma and pretty oversold. Longer-term, Texas banks are a scarce commodity, and there could be acquisition interest. Of course, longer term, loan demand will increase and earnings growth will accelerate again rather than plateauing.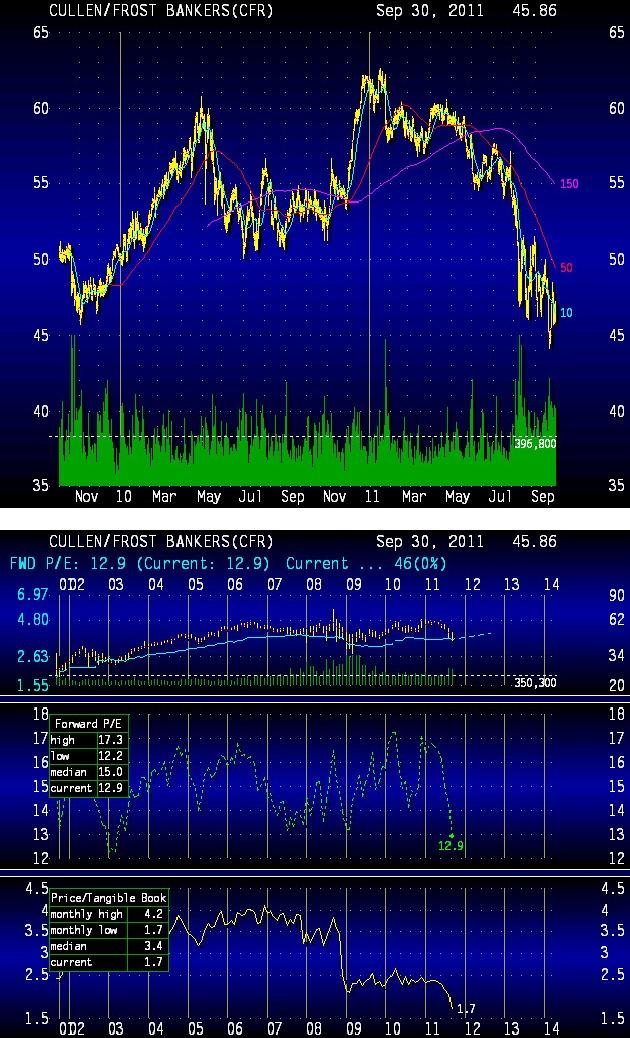 Lowes (NYSE:LOW), which is in both my model portfolios, sure has been been a disappointment. I can't say it any better than Barron's did this week when describing the appeal. The main driver will be better store-level productivity. It's hard to believe, but sales are actually at all-time highs. Since it continued opening stores, though, the per-store sales are well below the prior peak. The company, rightly in my view, has been aggressive on repurchasing stock given the very low borrowing rates and strong free cash flow. While the stock isn't too far below the 50dma, I like that it has been showing some improved relative strength lately (hanging in a bit better than the market).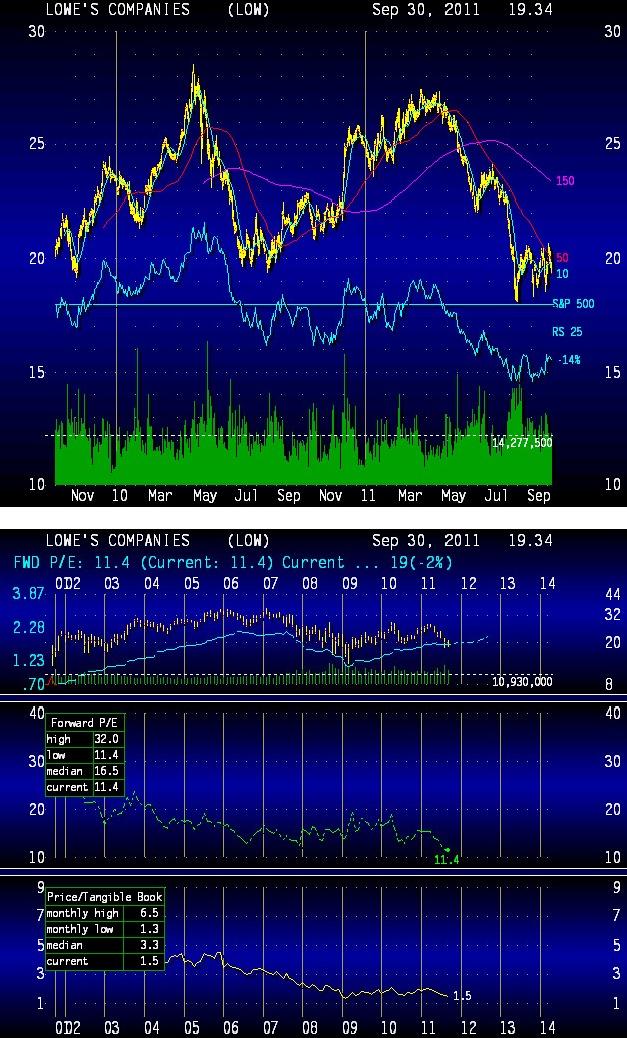 The last one, Orion Marine (NYSE:ORN), is one of the most interesting to me, perhaps more from a trading perspective, at least for now. This is a company that had attracted me last year after I visited with management and learned of the opportunities regarding the Panama Canal expansion (to widen U.S. ports), but the tough economy has decimated its margins in front of the new business. The stock has entered deep-value territory, trading below tangible book value despite having positive cash flow. As of Q2, the company has almost $1 per share of cash and no debt. Tangible book value is close to $8 per share, and the company has some very unique assets. At just 4X trailing EV/EBITDA (maybe a better way to look at it is 9x 2011 but 5X 2012), the stock is priced pessimistically after an almost 80% decline over the past 2 years. I had first learned of ORN when it was blessed (cursed) by a front-cover appearance in Forbes. The company recently announced a port-widening project, and this type of business should become more prevalent in 2012 and beyond.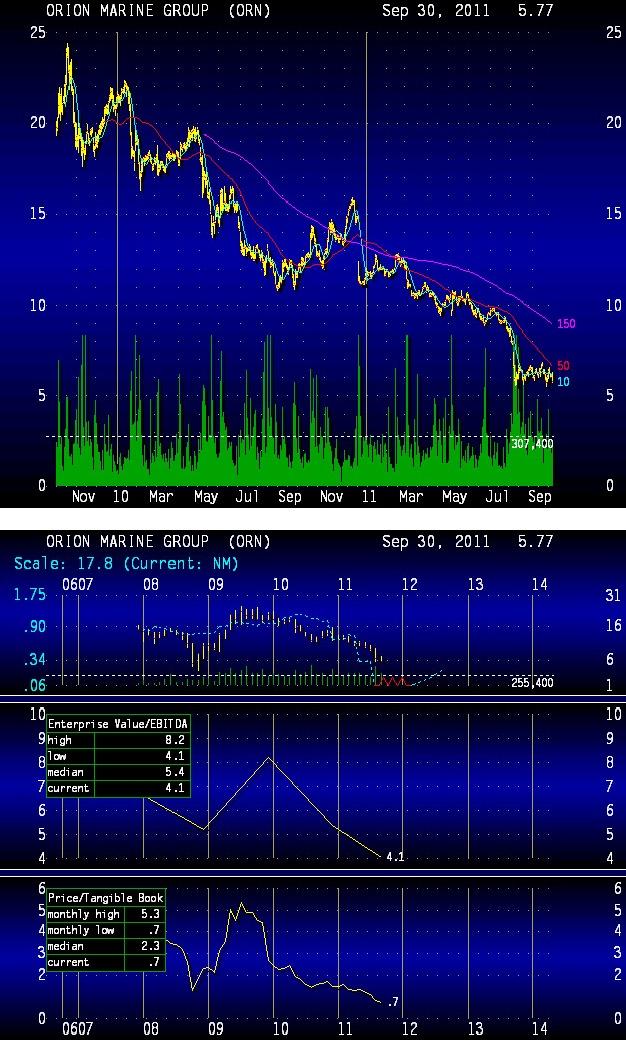 So, we have briefly examined 4 beaten down names in terms of price and valuation that may be due for at least a bounce. While I am somewhat concerned about APOG, the other three look appealing to me. Even in the event the market stays weak, some of these stocks may at least tread water after having been in extended downtrends.

Disclosure: LOW is in one or more models at Invest By Model.