Mohnish Pabrai is the managing partner of Pabrai Investment Funds. As per the 13F filing of June 30, 2011, the overall value of the reported stock investments (spread over four funds) stood slightly above $307 million. These funds are, Pabrai Investment Funds I through IV.
Mohnish Pabrai, a value manager, has earned quite a following among value investors due to many reasons:
Over a term of five years or more, his funds have consistently surpassed the major indexes by a handsome margin. This out-performance was huge during the early years (1999 to 2004) although there have been individual years when the funds lagged these indexes by substantial amounts.
Pabrai is among the minority managers that run concentrated portfolios making large bets on a small number of stocks. To his credit, many investors consider his selections as good hunting-ground, when looking to add to their own portfolios.
He has marketed himself extremely well especially with a couple of popular books on value investing theme:

Mosaic: Perspectives on Investing
The Dhandho Investor: The Low-Risk Value Method to High Returns

In June 2007, he made headlines by bidding $650,100 for a lunch with his guru Warren Buffett. The actual lunch happened almost a year later.
In the hedge fund industry, his funds follow a unique fee structure: there are no management fees – instead, a 25% performance fee applies after a 6% annual hurdle. The fee structure is patterned after the original Warren Buffett partnership of the 1950s.
Pabrai Investment Funds I was launched in 1999 with $1 million in assets. Prior to 2004, the annual meeting and communication to partners were the few sources of information regarding his positions. Like Buffett, Pabrai is averse to discussing equity trades. He emphasized this point by quoting Buffett in his 2005 annual letter:
Despite our policy of candor, we will discuss our activities in marketable securities only to the extent legally required. Good investment ideas are rare, valuable and subject to competitive appropriation just as good product or business acquisition ideas are.
From the public information available, it is therefore impossible to gather a complete picture of Mohnish Pabrai investments over the years. There is no SEC requirement to discuss portfolio positions. The funds crossed the 13F filing threshold of $100 million, when it ended 2004 with $145 million in assets under management. Pabrai's 13F filings since January 2005 are a wealth of information. The market values of investments in Mohnish Pabrai's 13F filings from the last five years are summarized below:
click on image to enlarge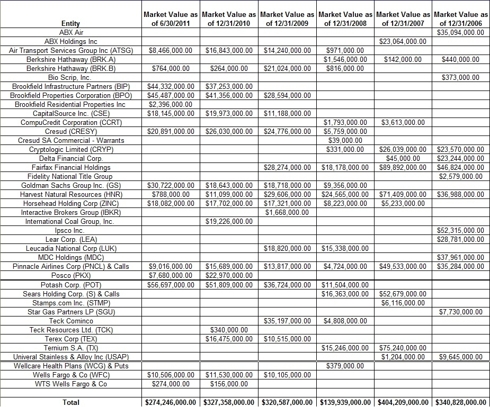 Below are some observations:
2008 was the toughest year for Pabrai Funds as it lagged most market indexes by losing 60% of its value. Mohnish Pabrai implemented a couple of changes to portfolio allocation and stock selection starting in the third quarter of 2008:
He switched from the "10x10" model of diversification to a "2-5-10" model. "10x10" model means holding 10% positions in each of the ten most compelling ideas. "2-5-10" model means typically holding 5% positions, sometimes holding 2% positions, and once in a while holding up to a 10% position.
Started working with a check-list.
The former change essentially decreased the concentration of securities from an average of 10 to an average of 25. The latter is an attempt at reducing errors in stock selection by employing a check-list to filter stocks. The shift to a large-cap bias appears to be another philosophical change, although it is not spelled out.
We will look into Mohnish Pabrai's evolution as a highly successful hedge fund investor and the effect of changes to portfolio allocation and stock selection in future articles.
Disclosure: I have no positions in any stocks mentioned, and no plans to initiate any positions within the next 72 hours. I have written cash-covered puts on BRK.B (Jan 2012 75) and WFC (Apr 2012 22).