In August and September, I wrote about research that identified characteristics of consistent dividend growth stocks that historically outperformed the overall market. I created three model portfolios (DCC-DA+, DCC-SmallCap, DCC-IncomeGrowth) based on these traits, effective August 16, 2011. This is the first quarterly update, which reports on the total return performance of each portfolio, some winners/losers, and other related statistics. Note that for this quarter, there was only 7 weeks of data based on the inception date.
Performance Summary - (click to expand)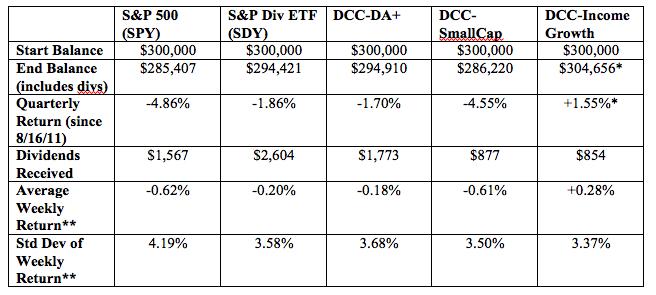 Click to enlarge
*This portfolio gained approximately $10,000 from the buyout of HGIC. Without this event, the return is comparable to the returns of SDY and the DA+ portfolios.
**Note: This is based on just 7 data points, so I wouldn't draw too many conclusions from this information just yet, but it will be interesting to examine this after another quarter or two.
The table above highlights the performance from the Q3 timeperiod. All of the DCC model portfolios outperformed the S&P 500 (NYSEARCA:
SPY
), though just barely for the SmallCap portfolio. However, it did perform better on a risk-adjusted basis as it has one of the lower standard deviations. All of the dividend portfolios had higher total return and lower standard deviations than the S&P 500.
I listed the dividends paid during the quarter, but since this period does not cover a full quarter, the dividends do not accurately represent a quarter's income. Next quarter will be the first full quarter reviewed, so we will get a better sense of the income generated by each option at that time. From my previous articles that defined the DCC models, each portfolio yielded over 4% (DCC-IG was close to 4.5%) as of the inception date.
The DCC-IG model received a $10,000 gain from the buyout of Harleysville Group (NASDAQ:
HGIC
). I wasn't expecting to have to deal with rebalancing issues so soon, so my temporary decision is to sell 50% of HGIC in that portfolio (~$10,000), which is effectively the buyout premium. This restores HGIC to ~3.3% of the portfolio, its original amount, and a full rebalance will occur at the end of the year as originally planned. Since DG investors are less concerned about capital gains, I believe this is a reasonable decision, as the 100% premium is already far more than we expected this stock to deliver in a year.
Going forward, I may need to consider rebalancing in June or investing dividends and gains from buyouts in another stock. For dividend cuts, I plan to sell the stock and then reinvest the proceeds in a new selection (one-for-one swap), though I could still have a weighting problem unless I add some cash from dividends to the proceeds (target weighting = ~3.3%). I could also invest all dividends, buyout, and div-cut sales proceeds into a short-term TIPS fund for the balance of the year, and then stick to the original plan of an annual rebalance only. Obviously individuals would likely reinvest sooner; I'm trying to avoid the need to spend too much time maintaining these portfolios. In theory, the passive approached worked for the researchers, so I'd like to test that out. A third option is to expand the portfolio to 31 stocks, since the buyout premium provides enough funds to support another holding. Based on the model, Pepsi (NYSE:
PEP
) would be the next addition. Any thoughts are appreciated on the rebalancing topic.
Winners/Losers
This section lists the top 3 winners and losers for each portfolio, based on total return since inception date, as well as general comments about the performance of different sector holdings.
DCC-IG:
In general, industrials, basic materials, and consumer discretionary underperformed. Utilities, drug companies, and some consumer staples outperformed, along with the HGIC buyout. This portfolio had the highest upside stock and the least negative losers.
Winners:
Harleysville Group (
HGIC
) (+108.8%), Kimberly-Clark (NYSE:
KMB
) (+7.4%), Altria (NYSE:
MO
) (+4.3%)
Losers:
Meredith Corp (NYSE:
MDP
) (-13.2%), Avon (NYSE:
AVP
) (-10.2%), General Dynamics (NYSE:
GD
) (-8.4%)
DCC-DA+:
In general, industrials and basic materials underperformed, while utilities, telecom, and some consumer staples outperformed.
Losers:
Stanley Black&Decker (NYSE:
SWK
) (-19.6%), 3M (NYSE:
MMM
) (-12.7%), Emerson Electric (NYSE:
EMR
) (-10.4%)
DCC-SmallCap:
This portfolio's distribution has more info tech, industrial, and basic material stocks and fewer consumer staples than the other two models. This explains why it performed worse during this quarter, as well as its higher beta and more extreme losers. Utilities and small banks were the most positive groups for this model, with industrials, energy (just one holding), and some consumer discretionaries being the biggest losers.
Winners:
Scana (NYSE:
SCG
) (+4.8%), Black Hills Corp (NYSE:
BKH
) (+4.2%), Vectren Corp (NYSE:
VVC
) (+3.7%)
Losers: Orrstown Financial (NASDAQ:ORRF) (-20.4%), Stanley Black&Decker (SWK) (-19.6%), Murphy Oil (NYSE:MUR) (-15.9%).
Summary
Thus far, the DCC-IG portfolio has performed the best, though there is limited data. Even excluding the HGIC buyout, its performance is on-par with the SDY and DA+ portfolio, while having a lower standard deviation. We will see if this trend continues in Q4.
I welcome comments on the issue of rebalancing or reinvesting proceeds/dividends. Keep in mind that my goal was to create a simple, relatively passive model that would outperform the overall market. I'm not out to maximize profits (active management), but would like to find a good balance without making things too difficult to keep track of and to report on. Personally, I lean toward either investing dividends and any cash proceeds into a short-term bond fund until the next rebalance or purchasing an additional holding, Pepsi (
PEP
), until the next rebalance (back to 30). The cost of each rebalance is ~$270-$540, depending on how many stocks need to be trimmed/replaced, so I'd rather just do it once per year.