The worst quarter for the stock market since the financial crisis in 2008 ended on Friday, and data center related stocks were no exception to the trend.
To put some performances within the surrounding environment, the S&P 500 has lost 14.3% since July 1, and the DOW dropped 12.1% in the same time frame.
Click to enlarge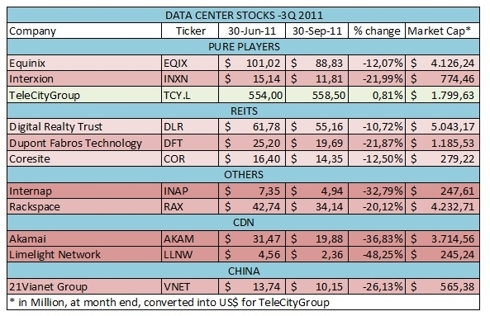 TeleCity Group is the only data center stock slightly in the green, having increased its share price less than 1% since the end of 2Q 2011. Three stocks, Equinix (NASDAQ:EQIX), Digital Realty (NYSE:DLR) and CoreSite (NYSE:COR), have performances that can probably be compared to the benchmarks, losing around 12% in the period. All other companies are bleeding between minus 20% and minus 48%, with CDN stocks representing the worse sub-segment in our analysis.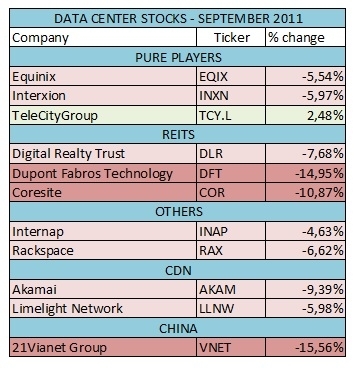 September itself saw most data center stocks in the red, with two REITs, Dupont Fabros Technologies (NYSE:DFT) and CoreSite, and 21ViaNet (NASDAQ:VNET) losing more than 10% in this month alone.
Year-to-date, the picture becomes mixed, with five stocks still in the green and six companies showing declines ranging from 7% to 59%.
Click to enlarge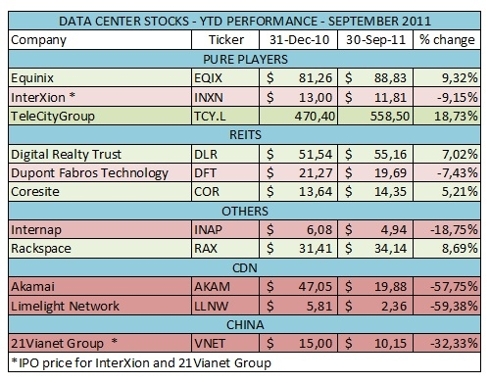 As a quick reminder, the situation was quite different at the end of Q2, when most stocks were showing large gains:
Has this bloody Q3 created good buying opportunities? Hard to say without knowing where the general market is heading. It is, however, interesting to notice that a few acquisitions were made, in the first half of the year, among "cloud computing related" companies, at healthy premiums compared to beginning-of-the-year valuations:
Click to enlarge



As some analysts and bankers tracking the industry predict, there may be more deals to come in the industry, and some valuations have decreased dramatically. Betting on finding some potential acquisition targets could represent a risky but rewarding investing strategy for the next few months.
Disclosure: I am long EQIX, INAP.