Silver and gold along with all other commodities were under immense selling pressure the last two weeks. Gold dropped almost $400 from a record high of $1,921 to a low of $1,550, while silver dropped $17 from over $43 to $26 in just a few days. The situation is reminiscent of the sell-off in 2008 when fearful investors were all heading for the exit.
The sell-off was in part due to rumors about a Greek default and part due to the Fed Chairman Ben Bernanke's announcement of "operation twist." In this new scheme the Fed will swap $400 billion of short-term maturing treasuries in exchange for an equal amount of long-dated maturing treasuries in order to flat-out the yield curve. This operation will not expand the Fed's balance sheet or increase the money supply and the market reacted negatively.
This sell-off was particularly painful for investors that had long leveraged positions. The correction was exacerbated as leveraged players were getting margin calls and forced out of the market. Cash buyers on the other hand were in a much better position.
So What Is Next For Gold And Silver?
Despite a significant setback for gold and silver the fundamentals for the shiny metals have not changed. The West faces great challenges with very weak economic growth, record debt levels, high unemployment, and the government's only answer to these problems has been bailouts and quantitative easing (money printing).
Gold and especially silver are very volatile and big price swings can make investors very nervous. However, it is important to look at the bigger picture and recognize that these wild price fluctuations do not affect the underlying fundamentals. To better illustrate the long-term trend, the chart below compares a collection of fiat currencies against gold. They are all significantly down against gold over the last 10 years. The U.S. dollar and the British pound have been the two worst performers.
The next chart compares fiat currencies against silver. These same fiat currencies have lost more against silver than gold over an equal amount of time and this trend is likely to persist. Although it is important to notice that silver is much more volatile than gold and subject to larger price swings.
Click to enlarge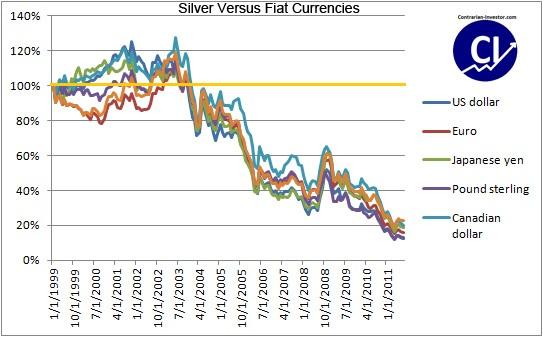 Click to enlarge
One of the chief reasons for the loss of value among fiat currencies has been excessive money creation and ballooning of debts worldwide. The trend toward higher debts has been in place for a long time but the problem has really been exacerbated over the last couple of years. Even countries such as Germany and Canada with more "stable finances" and strong exports have significantly increased their debt burden over the last couple of years.
Click to enlarge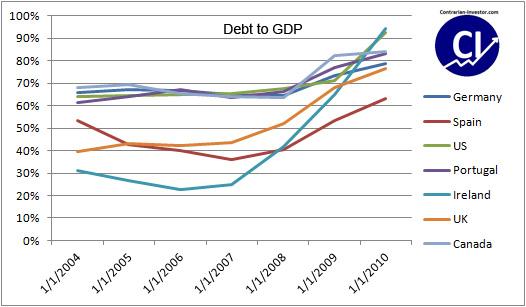 Click to enlarge
Investment Implications
The trend toward depreciating fiat currencies worldwide is intact, despite volatile price swings, and investors need hard assets for protection against inflation and devaluation. Gold and silver have both stood the test of time as an inflation hedge and a safe haven. I believe that this current sell-off is a grand opportunity to buy these assets at discounted prices. In addition to physical bullion the following equities offer exposure to both metals.
iShares Silver Trust (NYSEARCA:SLV) is one of the most popular silver ETF's. The trust holds physical silver in a custodian bank, and is designed to reflect the price of silver on the market less expenses and liabilities. Although you are subject to the risk of relying on a custodian to hold your silver, this ETF is a very cost efficient instrument and an excellent trading vehicle.
SPDR Gold Trust (NYSEARCA:GLD) is one of the most popular gold ETFs. The trust holds physical gold in a custodian bank, and is designed to reflect the price of gold on the market less expenses and liabilities. Although you are subject to the risk of relying on a custodian to actually hold your gold, this ETF is a very cost efficient instrument and an excellent trading vehicle.
The Central Fund of Canada (NYSEMKT:CEF) is heavily invested physical gold and silver bullion. The fund currently holds over 95% of its assets in gold and silver, which makes the fund highly impacted by the price movement of these two metals. This is a relatively safe and cost efficient way to invest in gold and silver.
Market Vectors ETF Trust (NYSEARCA:GDX) attempts to replicate NYSE Arca Gold Miners Index. GDX represent a mix of 30 small, mid tier and large capitalization gold mining companies. GDX's holdings include some of the biggest and best producers in the industry and they are far better positioned to withstand a downturn than many other gold mining companies.
Market Vectors Junior Gold Miners ETF (NYSEARCA:GDXJ) is made up of 72 junior gold miners. The index provides exposure to a wide range of small to medium capitalization gold mining companies globally that generate at least 50% of their revenues from gold and silver mining. Because of its holdings, GDXJ is more volatile than most other ETFs invested in precious metals. This ETF is suited for investors that wish to speculate on price movements in gold, but refrain from holding individual junior miners.
Silver Wheaton Corp. (NYSE:SLW) is the largest metals streaming company in the world. It generates its revenue primarily from the sale of silver. It buys streams at low fixed prices and sells the metal at market prices. The streaming strategy allows the company to significantly reduce its operating costs and keep its capital expenditures at a minimum, while still having access to a large amount of silver. The company at present has 14 silver purchase agreements and two precious metals agreements where, in exchange for an upfront payment, it has the right to buy all or a part of the silver production, at a low fixed cost, from high-quality mines located in various geographical regions. In 2010, the company generated sales of $423 million, and with an impressive 69% margin, SLW made $290 million in net income.
Disclosure: I am long SLV, GLD, GDX, GDXJ.