Walt Disney (NYSE:DIS) is a really good barometer of what is happening in worldwide consumer spending. It is into entertainment, TV, movies, travel and a host of other discretionary consumer spending enterprises. Lately the stock has taken a beating in spite of positive projections from analysts, as this Barchart graph of the daily trading prices over the last 9 months shows: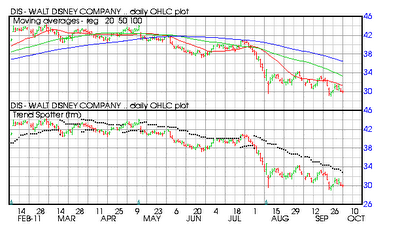 Walt Disney Company owns 100% of Disney Enterprises, Inc. which, together with its subsidiaries, is a diversified worldwide entertainment company with operations in five business segments: Media Networks, Studio Entertainment, Theme Parks and Resorts, Consumer Products and Internet and Direct Marketing.
Factors to consider:
Barchart technical indicators:
A sell signal in a company with positive fundamental projections may signal a bargain
80% Barchart technical sell indicators
Trend Spotter sell signal but it is slightly weakening
Below its 20, 50 and 100 day moving averages
The stock is 32.52% off its one year high
The Relative Strength Index is 37.85% and falling
Barchart computes a technical support level at 29.40
The stock recently traded at 30.01 which is below its 50 day moving average of 33.41
Wall Street brokerage analysts project that revenues will increase by 7.30% this year and another 6.10% next year
Earnings are estimated to increase by 20.30% this year, 16.90% next year and continue to increase by 14.81% annually for the next 5 years
These forecasts have resulted in brokerage analysts releasing 1 strong buy, 14 buy, 13 hold and no negative recommendations
Japanese amusement parks should be back on line soon
A new park in China and development of the Chinese markets should prove successful
New resorts are planned for Hawaii and should draw not only from the US but also from the Japanese and Chinese tourists as well
General investor interest:
I use the readership of Motley Fool to get insight into what the individual investor is thinking and the 4,703 readers expressing an opinion are very high on this stock
99% of those voting voted that this stock will beat the market
The more experienced and savvy All Stars are in agreement with a 96% vote for the same result
Competitors and sector leaders:
Disney is down over 11.65% in the past year but its main competitors haven't fared as badly with News Corp (NASDAQ:NWS) up .5% and Time Warner (NYSE:TWX) down 3.5%: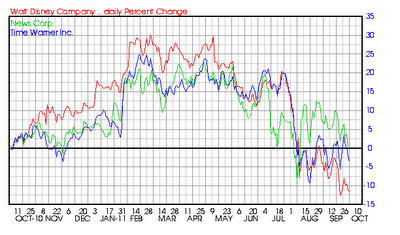 Disney is also a member of the Media Conglomerates sector and has not been as favored by the markets as Pearson (NYSE:PSO) up 11% in the past year, Viacom (NYSE:VIA) up 15 and CBS Corp (NYSE:CBS) up 18%: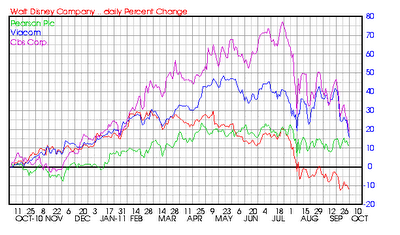 Summary: Disney has really taken it on the chin. Analysts look for increased revenues and double digit earnings growth. Disney is diversified in to parks, resorts, cruise lines, movies and broadcasting. My personal belief is that the market has overreacted and wish on this star will pay off in the long run.
Disclosure: I have no positions in any stocks mentioned, and no plans to initiate any positions within the next 72 hours.