IT reseller Datalink (NASDAQ:DTLK) had been one of the bright spots in a rocky 2011 for technology stocks. The stock opened the year at $4.67, then proceeded to surpass expectations for each of its three quarterly earnings report, gapping up each time and eventually reaching a peak around $11 in early August, well past double its year-opening price.
The stock faded after testing those highs, hit resistance again around $11 in mid-August, and then appeared on track to re-test that level as September dawned. And then the bottom fell out.
From September 16th to September 29th -- over just ten trading days -- DTLK stock fell from $10.21 to $6.35, a nearly 38% drop. The stock was punished on consecutive days, paused, and then on the 27th fell 11.5% on twice the stock's average daily volume. Finally, on Friday, the stock jumped 7%, closing at $6.80, still more than one-third off its August highs. Here's the chart, showing the three quarterly earnings beats, the failure to break resistance around $11, and the subsequent collapse: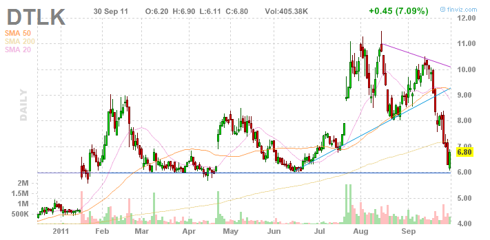 (Click to enlarge)
chart courtesy finviz.com
What is peculiar about DTLK's collapse is that the stock is not inherently all that volatile. Its beta is somewhere between 0.65 and 0.85, depending on the source. The company is a value-added reseller (NYSE:VAR) of information technology products, with its focus on data centers, storage and so-called "cloud computing". The company re-sells products from large companies such as EMC Corporation (EMC), Oracle (NASDAQ:ORCL), Cisco (NASDAQ:CSCO) and VMWare (NYSE:VMW) in the process of designing company-specific installations of storage and cloud computing solutions. Like most re-sellers, the company has low margins, but increased flexibility as the lack of inventory and a variable-cost structure allow the company to respond to changing economic conditions. In theory, this should make the stock price a bit more resistant to economic worries than the manufacturers of the products it helps install.
Yet what is most mysterious about the stock's rapid downturn is that there was absolutely no news that seemed to cause the drop. The only media coverage of the company in September was a glowing review of the company's growth, published in the hometown St. Paul Pioneer Press. SEC filings were limited to insider transaction disclosures, announcing stock option grants in the total sum of 2,750 shares. Earnings are still two weeks away, and none of the company's suppliers have had any newsworthy items over the past month that would have changed Datalink's long-term story or short-term profitability. The company's customer base is rather diversified; according to the most recent 10-K, its top five customers combined accounted for 12% of sales in 2010. As such, there seems to be no rumored change in a business partnership that would justify a one-third haircut.
Message board chatter has focused on the possibility of a large institutional owner dumping shares; the company is a bit over 51% institution-owned, and this is a possibility. Yet even the largest current holder (according to SEC data as of June 30), Sparta Asset Management, holds only 800,000 shares, or less than two days' of average volume. If a large institution were to sell its holdings, why sell so briskly into such an accelerated decline?
If there is a piece of information to which individual investors are not privy, it seems nearly impossible to guess what it might be. The company's business model simply shouldn't allow for a 35% short-term drop without a massive drop in the broader market, or a similar change in the IT sector. (The S&P 500 dropped 4% amidst DTLK's 38% decline, and the Bloomberg S&P 500 IT Index fell 5% in the same time period.) Nor does the company's mere $119 million market capitalization make it a likely target for manipulation, a trading desk rumor, or a pre-earnings "whisper number" campaign that might damage the stock price.
All this matters, because at Friday's close of $6.80, DTLK looks like a solid buy. Including the company's third quarter guidance of 15 to 19 cents in non-GAAP earnings, trailing twelve-month earnings should be 76 cents at the midpoint, giving the company a P/E just below 9. Backing out the company's $1.86 in net cash per share, the enterprise value-to-earnings ratio sits at a very attractive 6.5.
These valuations seem low for a company with Datalink's potential for growth. The company's sales were up 31% in the first two quarters of 2011, despite the fact that 2010 was the company's highest-revenue year ever. The company's focus on data centers positions it firmly in a high-growth industry; the company's balance sheet is debt-free; and its 9 straight quarters of profitability, and consecutive record-setting quarters give the appearance of a company that is firing on all cylinders. Yes, the company has to challenge the direct sales forces of competitors such as IBM (NYSE:IBM) and Hewlett-Packard (NYSE:HPQ), and, yes, fears of a continued slowdown in corporate IT spending may impact short-term earnings. But those issues appear to have been priced in by the recent drop -- unless there is something out there that we just don't know yet.
Disclosure: I have no positions in any stocks mentioned, and no plans to initiate any positions within the next 72 hours.