Last week, Amazon (NASDAQ:AMZN) announced a new line of Kindles. In addition to releasing e-readers it released its new tablet, the Kindle Fire. Many of have been talking about how the Fire will take market share away from Apple (NASDAQ:AAPL). Although this is reasonable, Apple should not be worried about Amazon, even though its tablet is almost $300 cheaper than an iPad 2.
I believe the real company that should be concerned is Barnes & Noble (NYSE:BKS). It seems many investors are already bailing and the stock price has taken a huge hit since the announcement. Barnes & Noble is popular for its Nook e-reader, but with the introduction of Amazon's lighter and cheaper $79 Kindle, Barnes & Noble may take a huge hit on the margins. Borders Group (OTC:BGPIQ) announced bankruptcy recently after it had a tough time remaining competitive. Barnes & Noble has also been experiencing losses.
The company has been profitable for ONLY two out of the last eight quarters. Not to mention this company pays an 8.5% dividend and based on its cash flow, it may be slashed soon.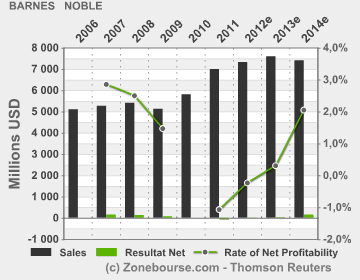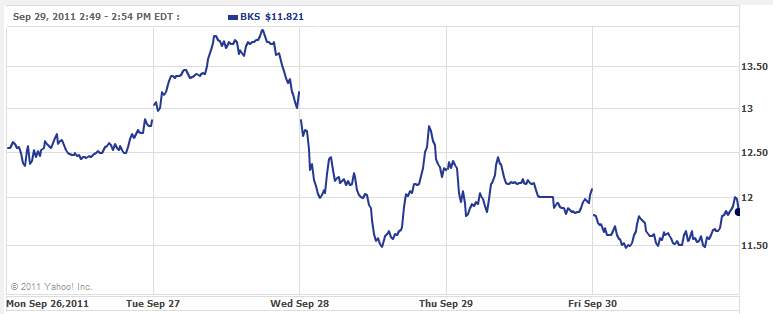 The market is saying that this new line of Kindles will have a negative impact on Barnes & Noble's earnings. It may not be farfetched to believe that BKS could actually follow the path of its former competitor, Borders Group, unless it is able to innovate or find a way to compete in the e-reader market. One last major point to note is that Barnes & Noble has been increasing its debt load and may be using these funds to pay a dividend as the company's free cash flow is not enough to cover the payments. I recommend investors to take a hard look into this company and its operations. Barnes & Noble would be a great short candidate as any dividend cut would cause yield-seeking investors to bail.


Disclosure: I have no positions in any stocks mentioned, and no plans to initiate any positions within the next 72 hours.