Discount retailer Family Dollar Stores (NYSE:FDO) recently named Edward Garden of Trian Partners to the board under the agreement that his fund both withdraw its hostile bid and not acquire more than 9.9% of the outstanding stock without board approval. Trian currently owns 8.29% of the stock, while fellow activist investor Pershing Square owns 9.23%. Bill Ackman believes that the company is an LBO target and is said to be pleased with the board change.
With the enterprise value trading at 7.9x EBITDA and a low dividend yield 1.4%, the company is not tremendously undervalued compared to peers, if at all. While it has a strong brand name, margins and productivity savings have largely been maximized and are expected to decline slightly in the next few years as the company expands to lower margin goods. I am slightly more optimistic than other analysts and believe that EBIT margins will actually improve by roughly 20 basis points to 7.5% in 2013. SG&A will decline by roughly 30 basis points as a percent of revenue, according to my forecasts given the company's plans.
Family Dollar is trying to reinvent itself through opening new stores and aggressively remodeling current ones. It is aiming to renovate up to 600 stores after the holiday and may spend up to $130K per store. In addition to these costs being unreasonably high, the execution is difficult to swallow when it will disrupt sales for 3 weeks. One has to wonder whether the $35K-a-year shopper will even care about the remodeling. As someone interested in business, I remain highly skeptical of the plan's outcome given consumer prioritization for lower costs. It is my hope that Trian Partners, known for its "operational activism", will curtail unnecessary costs and focus on boosting the top line.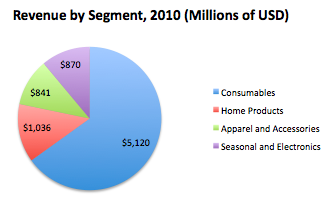 On the other hand, the retailer has impressively grown its product categories over the years, particularly in consumables, and is starting to attract higher income consumers as a result. In a previous article, I presented the case that this will squeeze market share out of Walmart and I still maintain that position. Towards that end, increased scale through more openings and higher marketing expenses would be a better use of cash at this point than redesigning store layout. Walmart has succeeded with its admittedly depressing environment, because it has enabled them to reduce costs and pass the savings onto consumers, hence the effectiveness of "Always Low Prices, Always". There is no reason to expect any differently from Family Dollar.
I further see the discount retailer benefiting from offering more private label options in order to take away market share from larger merchandisers. The company has a target for one quarter of sales to come from private labels, as opposed to one fifth currently.
Overall, I too anticipate Family Dollar performing in line with the market. Consensus estimates for EPS are that it will grow by 16% to $3.62 in 2011 and then by 15.2% and 12.9% in the following two years. I forecast revenue growing by 9.3% to $8.6B in 2011 and then by 7.9% the next year. With a beta of 0.21, the stock is relatively safe to double dip and even offers decent upside considering the current strategic activism.
On a concluding thought, a potential sale to a larger retailer could maximize shareholder value by growing the portfolio of consumables, home products, and electronics, while expanding offerings to a larger market.
Disclosure: I have no positions in any stocks mentioned, and no plans to initiate any positions within the next 72 hours.