TransAlta Corp. (NYSE:TAC) is Canada's largest non-regulated electric generation and wholesale-marketing company. TransAlta has about $10-billion in assets and 10,000-megawatts of capacity in operation or in construction. The company offers a 5.4% dividend yield. It is established with $3-billion in annual revenue. TransAlta has operations in Canada, U.S., and Australia. The core business, power generation, is a business needed during all economic cycles.
TransAlta Dividend
TransAlta's 2nd quarter dividend, 29 cents, was paid on October 1st. The dividend is paid in Canadian currency. This equates to an annual $1.16 dividend payout.
TransAlta Earnings
TransAlta's benefited from higher gross profit margins, for the six months ending June 30th. This was due to lower power outages at its Alberta coal operations, higher hydro margins, and higher wind volume output. The company's earnings, per quarter, are 1-2 cents above the dividend payout. The projects in development will provide the growth catalysts for future earnings growth.
TransAlta Management
TransAlta's current Chief Financial Officer (CFO) Dawn Farrell will become the Chief Executive Officer (CEO) in 2012. Stephen G. Snyder, the current CEO, will retire at the year end of 2011.
Pending TransAlta Projects:
The company's new power generation projects are continuing as expected. The Bone Creek facility began commercial operations in the recent second quarter. The Keephills 3 plant has started its testing period. The Sundance 7 facility, a natural gas-fired facility, is making progress. The commercial output should be available in 2015. These are all significant projects which will add to the total power available to consumers.
Business Summary:
TransAlta has transformed over the past hundred years from an insignificant local power company into one of the most experienced and well respected names in the energy generation world.
Economists, and the general public, recognize the need for future power generation sources. TransAlta will provide this need via traditional and alternative energy sources. Its approach towards making this possible includes constructing a clear and orderly strategy based on fiscal and operation principles that carry low or moderate risks.
It also includes a thoroughly maintained balance sheet which would reinforce its financial strength along with investment worthy credit ratings, lasting contracts and achieving equilibrium in capital allocations.
TransAtla also plans to attain its fuel from diverse sources, extending its renewable energy repertoire as well as investing in the largest carbon capture and storage facility that the world has to offer. It is also relying on its loyal and skilled team of professionals to help them break ground for future power generating enterprises.
Business Model:
TransAtla continuously strives for the production of reliable, inexpensive and secure power which is the basic requirement for everyone these days which it makes possible through maintaining mastery over all of its operations.
Its rapidly evolving portfolio of resources make use of various forms of energy which are required for the upkeep of a solid supply of electricity. These sources include wind, geothermal heat, coal, natural gas, hydro and biomass, which are being produced simultaneously through more than 70 power plants in America, Australia and Canada operating expertly.
TransAtla plans to increase its production capacity by making the most use of its new power which is generated through renewable sources. It is also developing an inspiring new technology with Project Pioneer which is expected to convince and enable the potential for carbon capture and storage at a large industrial scale.
TransAlta's Utility And Energy Peer-Group Comparison
click on image to enlarge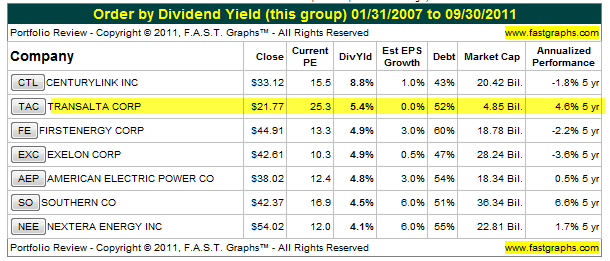 Click to enlarge
Exelon Corp. (NYSE:EXC)
Exelon is a utility services holding company with three core subsidiaries:
Generation
ComEd
PECO
Generation's business consists of its owned and contracted electric generating facilities, its wholesale energy marketing operations and its competitive retail supply operations. Generation has three reportable segments consisting of the Mid-Atlantic, Midwest, and South and West regions.
ComEd's energy delivery business consists of the purchase and regulated retail sale of electricity and the provision of transmission and distribution services to retail customers in northern Illinois, including the City of Chicago.
PECO's energy delivery business consists of the purchase and regulated retail sale of electricity and the provision of transmission and distribution services to retail customers in southeastern Pennsylvania, including the City of Philadelphia, as well as the purchase and regulated retail sale of natural gas and the provision of distribution services to retail customers in the Pennsylvania counties surrounding the City of Philadelphia.
Southern Company (NYSE:SO)
Southern Company Southern Company is a holding company of Alabama Power, Georgia Power, Gulf Power, and Mississippi Power, each of which is an operating public utility company. The traditional operating companies supply electric service in the states of Alabama, Georgia, Florida, and Mississippi.
CenturyLink, Inc. (NYSE:CTL)
CenturyLink is currently digesting two significant acquisitions:
The $12.2-billion purchase of Qwest Communications.
The $2.5-billion deal for Savvis.
As a CenturyLink subscriber, I am personally very pleased with the customer service and service through present date. Savvis offers CenturyLink an entry into the cloud computing market which has higher gross profit margins and room to expand in future years.
NextEra Energy, Inc. (NYSE:NEE)
NextEra Energy is a holding company for:
Florida Power & Light.
NextEra Energy Resources.
Florida Power & Light provides electricity to 4.5 million customers in a 27,000-square mile area in eastern and southern Florida. NextEra Energy Resources is a non-regulated power generator with wind, nuclear, and gas operations.
FirstEnergy Corp. (NYSE:FE)
FirstEnergy is a utility holding company for Ohio Edison, Pennsylvania Power, Cleveland Electric, Toledo Edison, Metropolitan Edison, Penelec, Jersey Central Power & Light, West, Penn Power, and Potomac Edison. The company has 6-million customers. The dividend yield is 5.2%.
American Electric Power Co., Inc. (NYSE:AEP)
American Electric Power has 10-operating utilities. These locations are based in Arkansas, Kentucky, Indiana, Louisiana, Michigan, Ohio, Oklahoma, Tennessee, Texas, Virginia, and West Virginia. The company has about 5.5-million customers. The market cap is approximately $18-billion. The dividend yield is approximately 4.8%.