A commenter on my article on McDonald's asked me about the MCD's payout ratio. That question inspired me to take a look at that company's payout percentage over the past decade – and to look at some of the other consumer-oriented stocks in the Dow Jones Industrial Average.
The payout ratio is essentially the percentage of earnings the company pays in the form of a dividend. If the company is paying out most of its earnings to investors, that could be a sign that the company might have trouble maintaining or raising its dividend if its business sours.
On the other hand, investors don't always like to see low payout ratios because that means the company may be holding back on returning cash to shareholders.
So here are charts that show both the dividend payments (with scale at right) and payout percentage per Value Line (with scale at left) for 6 consumer-oriented stocks in the Dow.
Note that the purple lines and the green columns in each chart are simply a matter of the scales I selected, so each should be interpreted separately.
Kraft (KFT)
Current Dividend Yield 3.50%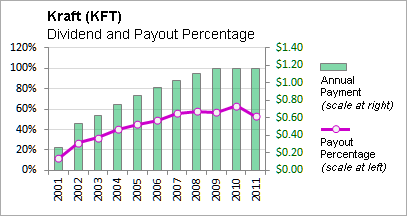 This company's payout percentage had been rising throughout the decade even as dividend growth has stalled.
Procter & Gamble (NYSE:PG)
Current Dividend Yield 3.30%
Coca Cola (NYSE:KO)
Current Dividend Yield 2.80%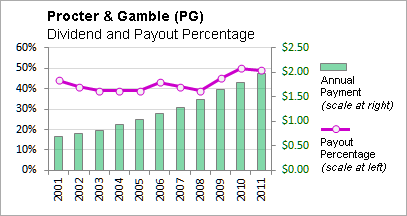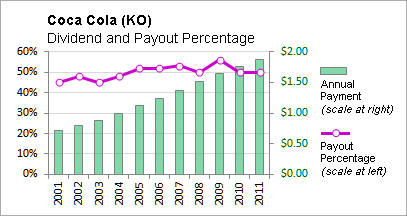 Both of these companies have been raising payments with consistent payout percentages.
McDonald's (NYSE:MCD)
Current Dividend Yield 3.20%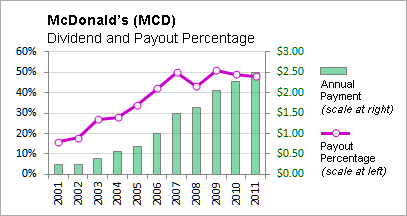 McDonald's has been raising its dividend payments, although less rapidly than earlier in the decade – with a payout percentage that's been rising although not excessively so..
Wal-Mart (NYSE:WMT)
Current Dividend Yield 2.80%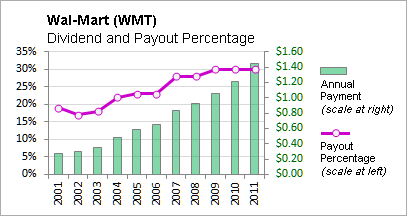 Wal-Mart has yet to get even close to paying half of its earnings out to investors, but the dividend itself has soared over the decade.
Home Depot (NYSE:HD)
Current Dividend Yield 3.00%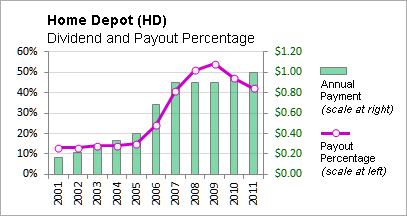 Some may not consider HD as a consumer stock. And that's a fair point. Although the company is a large retailer, it's heavily linked to the homebuilding and remodeling sector. And as you can see, the company is paying out more of its earnings, but the payments haven't been raised much in the past 5 years.
Of these 6, I own Procter & Gamble and Coca-Cola. I might want to get into McDonald's or Wal-Mart on a pullback, but I'm steering clear of Home Depot and Kraft at least for now.