Verizon (NYSE:VZ) has begun to act like a real blue chip stock with it terrific price stability persistence even as the rest of the market falls. Compare how Verizon is up and the Value Line Index of 1700 stocks is down over the past year in this Barchart graph.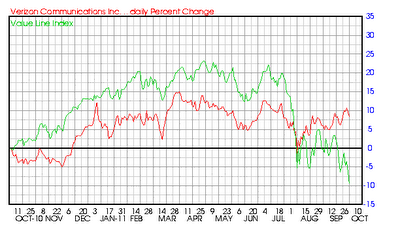 Verizon Communications, formed by the merger of Bell Atlantic and GTE, is one of the world's leading providers of high-growth communications services. Verizon companies are the largest providers of wireline and wireless communications in the United States. Verizon is also the world's largest provider of print and on-line directory information.
Factors to consider:
Barchart technical indicators:
60% Barchart short term technical buy signal
Trend Spotter buy signal
Trades above its 20, 50 and 100 day moving averages
10 new highs and up 2.50% in the last month
Only 3.98% off its one year high while the market as measured by the Value Line Index is 26.51% off its one year high
Relative Strength Index is 53.62% and almost steady
Barchart computes a technical support level at 35.89
Recently traded at 36.33 which is above its 50 day moving average of 35.63
Fundamental factors:
Wall Street brokerage analysts project revenue will increase by 3.90% this year and another 4.50% next year
The analysts estimate earnings will decrease by .40% this year but reverse and increase by 16.10% next year and continue to increase by 9.92% annually for the next 5 years
Those sales and earnings consensus have resulted with 7 strong buy, 9 buy, 18 hold and 3 negative recommendations
The stock pays a solid 5.25% dividend which is about 75% of projected earnings is pretty good when compared to the 2.4% dividend return of the Value Line Index
General investor interest:
As gauged by the readers of Motley Fool 4,813 readers have ventured an opinion on this stock
Of those voting 94% feel the stock will beat the market
The more savvy and experienced All Stars voted 96% for the same result
Competitors and sector leaders:
Verizon has held up nicely when compared with A T & T (NYSE:
T
) which is down 3% for the year and Sprint Nextel (NYSE:
S
) down 37% for the one year period: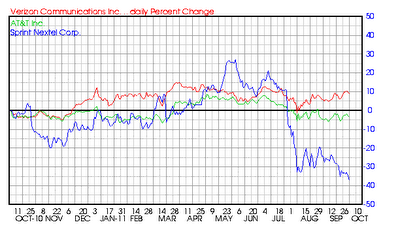 Verizon is a member of the SIC 4813 Telephone Communications sector and some other members of the sector have done quite well this past year like 8X8 (NASDAQ:EGHT) gained 75%, Global Crossing (NASDAQ:GLBC) up 86%, Level 3 Communications (NASDAQ:LVLT) up 60% and InContact (NASDAQ:SAAS) up 59%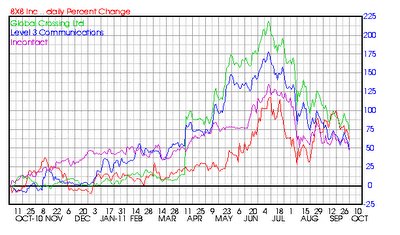 Summary: Verizon is a great stock that belong in conservative investors' portfolios not only for its generous dividend but its great price stability as well
Disclosure: I have no positions in any stocks mentioned, and no plans to initiate any positions within the next 72 hours.