Medtronic is the global leader in medical technology — alleviating pain, restoring health, and extending life for millions of people around the world. We are committed to offering market-leading therapies to restore patients to fuller, healthier lives. With beginnings in the treatment of heart disease, we have expanded well beyond our historical core business and today provide a wide range of products and therapies that help solve many challenging, life-limiting medical conditions. We hold market-leading positions in almost all of the major markets in which we operate. (Company Description)
Medtronic (NYSE:MDT) has a long history of producing steadily increasing earnings per share. Over the last five years the earning growth rate has been 9.2%. Recent growth has been slower than historical rates due mainly to fewer medical procedures being performed and a slower economic environment. New products coming to market should help growth rise at a faster pace going forward. The company has initiated a new strategy to increase growth by improving R&D and moving into the emerging market countries. Street opinion is evenly divided between buys and hold opinions at present. Since street opinion is weighted more to accelerating earnings than valuation, a neutral opinion should be expected. Estimates for next year (2012) is $3.45 compared to $3.37 for 2011 while the mean estimate for 2013 is $3.72. The graph below illustrates the past earnings per share growth history of Medtronic.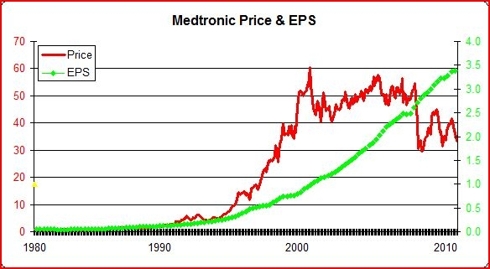 Click to enlarge
The graph below plots the dividend growth for Medtronic since 1980. Dividends per share have grown at a 20% pace over the previous 5 years. The shares currently yield 2.9% with a payout ratio of only 29% and a cash flow coverage of 3.7 times the dividend for 2011.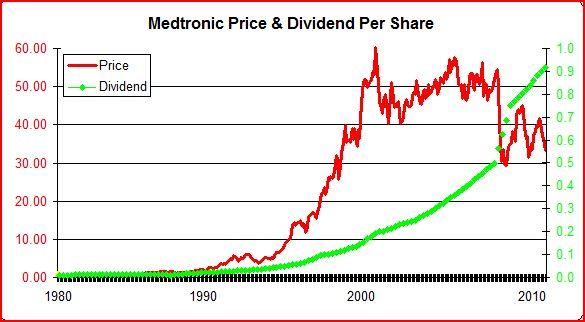 Click to enlarge
Current valuation is the key component in consideration of Medtronic for ownership. As the graph below illustrates, the PE of Medtronic relative to the S&P 500 is at levels previously not seen in 25 years. This valuation measure does not suggest a bottom in price since a fall in the general market might keep the relationship the same, but prices of both would likely decline.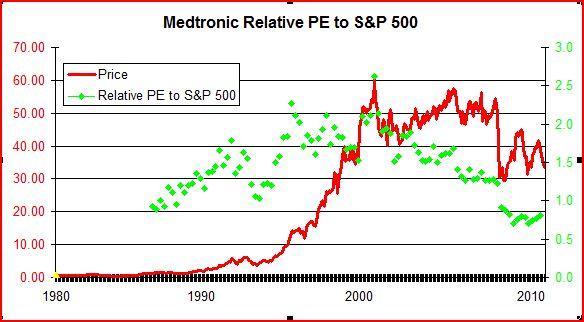 Click to enlarge
The plot below of the historical PE and yield is, in my opinion, the signature graph marking a rare valuation in Medtronic shares. The PE, the red line, is at levels only seen one other time at the major bear market bottom in the early 80's. The current yield at nearly 3% is also at a level not witnessed since the early 80's. The great decade of no return in the stock market has given us great valuations in stocks like Medtronic.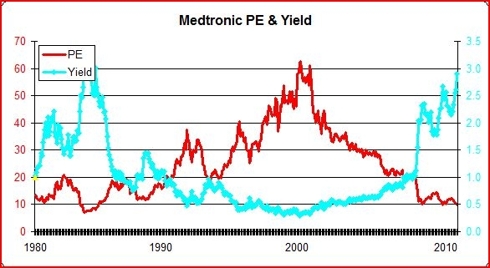 Click to enlarge
Technical Picture: The one year chart is clearly in a downtrend with initial support at current levels and secondary support at 30-31. The sell off in August was accompanied with a large volume increase that signals capitulation, often signaling a potential bottom.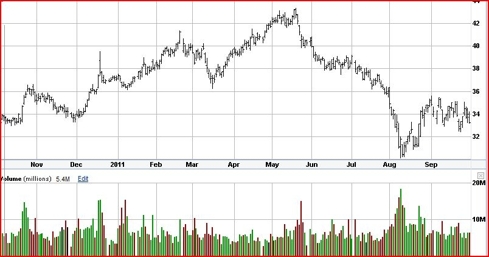 Click to enlarge
We get a clearer picture viewing the longer term chart below. For the last six years the shares are range bound between 30 and 60. Strong support at the 30 area gives us a great place to initiate positions with a high confidence that this level will continue to support price.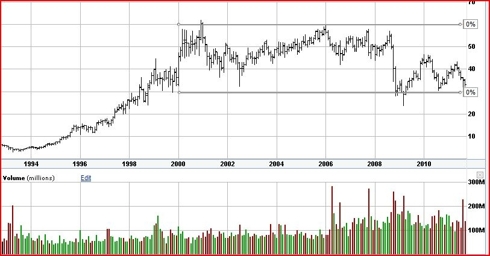 Click to enlarge
Conclusion: Despite the slower growth in EPS over the last year, the shares have reached compelling levels of valuation due to no price appreciation over the preceding six years. From the beginning of the 6 year trading range, earnings per share has increased from $1.48 a share reported in 2005 to the estimate for 2012 of $3.45. The dividend has increased from 29 cents a share to 97 cents today. Medtronic shares represent strong value whenever it trades close to 30.
Disclosure: I have no positions in any stocks mentioned, but may initiate a long position in MDT over the next 72 hours.