As we witness the advancement of stem cell therapies, positive results from clinical trials, and big pharma slowly getting their feet wet with investment into these therapies, the realization is upon us that medicine is changing, and changing forever. How doctors treat patients in the future is going to be very different than from how they do today. What's upon us is a shift, a big one, and that shift is to cell-based medicine.
Resetting a person's immune system as standard of care
Human cells can be made to do many things - to reset a person's immune system, to make a vaccine against cancer, and to repair tissue that's damaged. It is likely that cell-based therapies will become standard of care for medicine, and the normal treatment of the day when a patient sick with disease needs care. There are a relatively small amount of biotech firms and cell-based therapies under development (as compared to say big pharma's host of firms and prescription drug treatments. But early stage developments of cell therapies that include the multiple phases of clinical trials and results are promising. The general direction is progressive and the pathway for clinical trials is widening, in many new instances with the investment of big pharma.
Once past the research and development, proof of concept, and clinical trial stages, a company has to determine how to manufacture these cell-based therapies. This requires an entirely different set of expertise, experience, and resources. Many firms do not have that expertise in-house and subsequently contract it out at significant expense, eating into available investment and profit. The manufacturing process is as important as any stage of the development process and can make or break an entire developmental project.
The company as integrator approach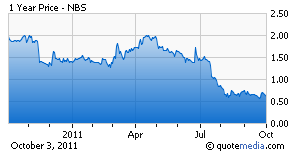 Some companies in the stem cell market space focus on the collection of cells, others develop therapies, others manufacture them--- all different things requiring specific expertise, resources, and much valued experience. When reviewing the various biotechs in the market place, their value, what is apparent and not, one company--Neostem (AMEX: NBS) has followed an integrator approach and has assembled a host of assets along the way to take a cell therapy or drug from concept to patient delivery.
Neostem has integrated the progression from collection, processing, storage, manufacturing and actual delivery into the patient. A significant focus of the company is on manufacturing the therapies themselves. One of several keys is the ability to make cells, then get batch-to-batch consistency, and subsequently have them be alive by the time they get to the patient - the gate limiting factor in developing a cell therapy. Some companies have reportedly had their clinical trials halted because of regulatory issues, and because of an inability to manufacture the cells safely.
A solid core
One of Neostem's acquisitions is the purchase of privately held Progenitor Cell Therapy (PCT). PCT is now the core of NeoStem. PCT is a contract manufacturing company that has an industry-leading reputation and industry-leading clients. PCT has assisted clients in moving their products from one phase of clinical development through the next and has been active in this since 1999.
PCT possesses specific expertise and know-how, and has valuable historical knowledge including an understanding of the cell therapy, the composition of matter needed to produce it, and knowledge of varied cell types etc. Dr. Robert Preti and his staff run PCT, with over 150 years of combined experience in developing cell therapies, and experience with many firms in the U.S. and Europe. This experience has provided them with an eyeglass into what's going on with other companies around the world in cell therapy, a very unique edge in the field.
Some notable contracts that PCT has worked on include Dendreon's (NASDAQ:DNDN) PROVENGE product, (which got FDA approval) and a host of other firms in cell therapy manufacturing, from inception through clinical trial pathway. PCT participated in Dendreon's approval by providing the majority of their Phase 3b products to patients on both the east and west coast and now Dendreon has an approved cell therapy. PCT did their Phase 1 and 2 work as well. Prima Biomed is another firm which PCT worked with. It's working on Phase 3 ovarian cancer drug using dendritic cells.
PCT possesses a knowledge set that encompasses what it takes to make a drug, considerations for reimbursement, transport of those cells, regulatory, biologic, cost of goods etc. It's been able to see what doesn't work, to know what does work, and then to develop in a much more cost-effective way. In the end, Neostem's PCT unit has a roadmap to follow on how to do it, and because of that roadmap it's more cost efficient. On the experience side of things, PCT has been in the business of actually providing cells to patients for many years, and this is a valued knowledge set.
Other beneficial asset holdings
Other key assets poised for growth are Amorcyte, which Neostem announced a definitive agreement to acquire (subject to shareholder approval) in July of 2011, and with it Amorcyte's lead product candidate, AMR-001, which is a well characterized cell therapy product candidate ready to initiate a Phase II study for the treatment of acute myocardial infarction (AMI). The sale is expected to close in Q4.2011. Another is Athelos Corp's T-cell treatment for a range of auto-immune diseases. NeoStem owns 80% of Athelos through Progenitor.
Market performance
In July, Neostem completed an underwritten public offering of stock that netted gross proceeds of $16,500,000 to be used for working capital purposes - including research and development of cell therapeutic product candidates and the Amorcyte-related transaction. However, its stock price plummeted since that offering and now trades at .069, down from a 52-week high of $2.15. Its market cap is 68.60M.
Overall, Neostem's strategy of acquiring assets to fill the role of a cell therapy integrator looks very smart and positive, which should prove to deliver a long term set of revenue drivers for the company and increase its value as an entity significantly. As the benefits of its asset acquisitions continue to materialize, notably the Progenitor Cell Therapy unit, it may become the envy in the biotech space.
Disclosure: I have no positions in any stocks mentioned, and no plans to initiate any positions within the next 72 hours.