Economic Environment
World Oil Demand
At the beginning of the 20th century crude oil supplied only 4% of the world's energy; decades later it became the most important energy source. Today oil supplies about 40% of the world's energy and 96% of its transportation energy. Since the shift from coal to oil, the world has consumed over 875 billion barrels. From now to 2020, world oil consumption is expected to rise by about 60%. Transportation will be the fastest growing oil-consuming sector. By 2025, the number of cars will increase to well over 1.25 billion from approximately 700 million today. Global consumption of gasoline is expected to double per the Energy Information Administration. The two countries with the highest rate of growth in oil use are China and India, whose combined populations account for a third of humanity. In the next two decades, China's oil consumption is expected to grow at a rate of 7.5% per year and India's 5.5%. (Compare to a 1% growth for the developing countries). It will be strategically imperative for these countries to secure their access to oil in the long term.
For the short term, the economic recovery is projected to continue at a slower pace in 2011. World oil demand is set to grow by 1.0 million barrels per day to average around 86.6 million barrels. According to U.S. Energy Information Administration, the oil demand growth is set to come from non-OECD countries, mainly China, India, Latin America and Middle East. In the OECD countries, the oil demand is expected to be slightly higher than 2010, as those countries will still be struggling in recovery from the financial crisis. The following table shows the world oil demand forecast for the year 2011 for all the OECD and non-OECD regions.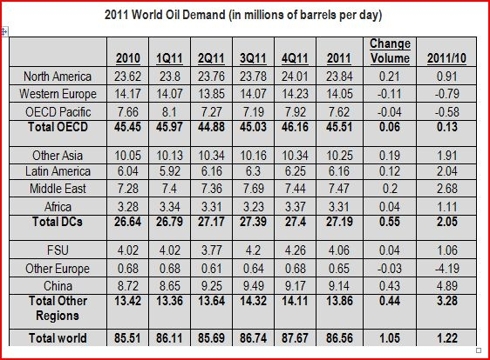 According to Organization of the Petroleum Exporting Countries, the products that will be showing the most growth in world oil demand will be gasoline, diesel and naphtha, given the fact that the industrial sector will be the sector that is projected to recover first. With moderate global recovery, jet fuel, which is linked to transportation, will lead to an increase in consumption as well. World oil demand is expected to sustain a growth of 1.05 mb/d to average 86.4 mb/d in 2011. (www.opec.org)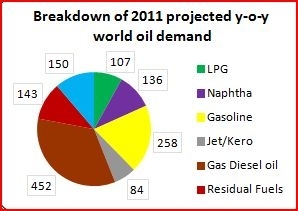 World Oil Supply Of the trillion barrels currently estimated, 6% are in North America, 9% in Central and Latin America, 2% in Europe, 4% in Asia Pacific, 7% in Africa, 6% in Russia. Today, 66% of global oil reserves are in Middle Eastern regions: Saudi Arabia (25%), Iraq (11%), Iran (8%), UAE (9%), Kuwait (9%), and Libya (2%). In 2011, countries that are not listed in OPEC, are expected to increase their oil production by 0.36 mb/d to 52.42 mb/d. The majority of the growth is concentrated in Brazil, Canada, Azerbaijan, Colombia, and Kazakhstan, while some of the noteworthy laggards in growth are Norway, UK, and Mexico. From the first quarter to the fourth of 2011, the forecast for non-OPEC countries was expected to average 52.31 mb/d, 52.19 mb/d, 52.27 mb/d, and 52.91 mb/d respectively.
Based on the estimates on WOO's preliminary data, world oil supply averaged around 86.08 mb/d in August. OPEC crude is estimated to have a 33.9% share in the global supply. OPEC oil production, not including Iraq averaged around 26.80 mb/d, down by 0.04 mb/d from the previous month. Production from Angola, Saudi Arabia, and Venezuela are expected to increase by more than 0.01 mb/d while crude output from Iran, Kuwait, Nigeria, and the UAE are expected to decrease by more than 0.01 mb/d. Taxes
Oil Prices
Significant oil price increases can deter growth in the business environment. Five of the last seven U.S. recessions were preceded by significant increases in the price of oil. From the late 1940's to the early 1970's, the price of oil was very stable, moving up slightly. From the early 1970's to the early 1980's, the price of oil rose dramatically with the rise of OPEC and disruptions in the supply of oil in the Middle East. Oil prices have been substantially volatile due to the financial crisis in 2008. In July of 08' prices have catapulted up to $141/barrel before tumbling down to $33/barrel and then stabilizing at $70/barrel range.
Miles Driven
According to the secretary of Federal Highway Administration, Americans drove 9.6 billion fewer vehicle-miles traveled (VMT) in May 2008 than in May 2007. This was due to the financial economic crisis, which put millions of people out of work and reduced the overall economic activity. As Americans drive less and rely increasingly on mass transit, carpooling or other options, the federal Highway Trust Fund receives less revenue from gasoline and diesel sales – 18.4 cents per gallon and 24.4 cents per gallon, respectively. In general, people in households with children drive more, and those with driving-age children traveled the most vehicle-miles of any category in 2010: 29,900 miles. First, the presence of children of driving age tends to increase the number of drivers in the household and, therefore, to increase the number of vehicle-miles traveled. Secondly, older children may create additional travel demands than do younger children. In households with younger children, the number of vehicle-miles driven is similar to the number of miles driven in households with two or more adults with no children and in which the householder is younger than 60.
Inflation
Empirical evidence suggests that a 10% increase in the price of oil causes approximately 1.4% drop in the level of U.S. real GDP. Interestingly, increases in oil prices have no significant effect on U.S. inflation. Historically, the U.S. economy has tended to perform poorly following major disruptions in the supply of oil that coincide with large increases in the price of oil. Normally, these disruptions have been associated with conflicts in the Middle East that significantly affected the world supply of oil. The nature of these conflicts is that they are external to developments in the U.S. economy. These facts provide evidence that oil price increases may directly cause slower real output growth, both for U.S. and for other industrial countries.Gross Domestic Product
World economic growth for OECD (Organization for Economic Co-operation and Development) countries for the medium and long term has been moderately revised due to the ongoing global financial crisis. Understanding different regional growth rates is the key for an accurate projection of real GDP growth. In 2008, North America and Western Europe were considered to be the largest economies of scale, representing a 25% and 23% of the global economy respectively. China was in third place at the same time, but it accounted for just 11% of the world's total economy. Real GDP is expected to approximately double by 2030, and China is expected to surpass North America and Western Europe by doubling its share of the world economy to 22%. However, there are various uncertainties in terms of fertility rates and population age that will directly affect China's GDP and energy demand. It accounts of a standard deviation error of 0.3%, which translates into an error from its low variant of 1.2 billion people to a high variants account of 3 billion people by year 2050.

In the short term, the possibility of a global prolonged recession cannot be avoided. In 2010, a recovery roughly started in some sectors, but with a fear of a double dip recession in the horizon. Per World Oil Outlook analysts, if by 2012 the recession is assumed to be over, a major question will be how the liquidity injection, quantitative easing, and other fiscal incentives such as cash for clunkers and real estate tax breaks will affect inflation, interest rates, productivity and potential growth.
World Demographics
Various pools of working age groups could have negative effects on the labor force, expansion rates, and can have a host of implications towards healthcare costs, state pension expenditures as well as savings rates. Demographics are an imperative link between expected population growth trends and future interest rates. Interest rates will adjust accordingly due to these shifts in demographics. In addition, too robust of a population growth can be a hindrance towards a sustainable development.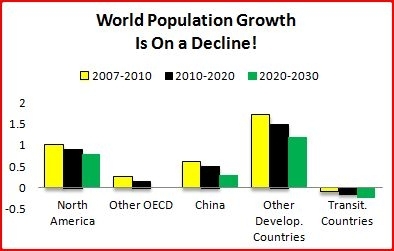 The world's population currently stands at 6.8 billion people. The population boom that we experienced since 1970's with an average growth of 2% per year will not be seen for quite some time. The population growth rate has been steadily declining in almost all the world regions and by WHO 2010 estimates, it will continue to decline due to lower fertility rates. The chart shows the estimated declines of expected population growth of numerous regions such as North America, OECD, China, Developing and Transitional Countries.
Energy Industry Analysis
Global Energy Consumption: Growth in global energy consumption remains strong and is expected to remain above average when taking into consideration the growth in alternative energy segments. In the current outlook provided by the Energy Information Administration, the projected growth in world real GDP (weighted by oil consumption) is 3.9 percent in 2010. Continued upward revisions in this year's world oil consumption have led to an expected world consumption growth of 2.0 million bbl/d for 2010. EIA expects this consumption growth to be met in almost equal parts by a 1.0 million bbl/d increase in production from OPEC and 1.0 million bbl/d increase in non-OPEC supply. EIA believes that the projected gradual reduction in OECD oil inventories over the forecast period should lend support to firming oil prices.
Solar: Photovoltaic production has been increasing by 20% each year since 2002, making it the world's fastest-growing energy technology. At the end of 2009, total global photovoltaic installations surpassed 21,000 megawatts. According to the China Greentech Report 2009, jointly issued by the PricewaterhouseCoopers and the American Chamber of Commerce in Shanghai, the estimated size of China's green technology market could be between $500 billion and $1 trillion annually, or as much as 15% of China's forecasted GDP in 2013.
Wind: Although the wind power industry was impacted by the global financial crisis in 2009 and 2010, a five year forecast up to 2015 projects substantial growth. Over the past five years the average growth in new installations has been 27.6% each year. In the forecast performed by BMT Consulting agency, the expected average annual growth rate is 15.7%. More than 200 G.W. of new wind power capacity could come on line before the year 2013. Wind power market penetration is expected to reach 3.35%
Crude Oil: EIA has revised world oil consumption growth in 2010 upward in response to stronger-than-expected growth in European oil demand during the second and third quarters of 2010, as well as continued strong growth in China. The non-OECD regions, especially China, the Middle East, and Brazil, represent most of the expected growth in world oil consumption in 2011. Among the OECD regions, EIA expects North America to show almost all the oil consumption growth in 2011, with a gain of nearly 0.4 million bbl/d. In 2011, EIA expects global oil consumption growth of 1.4 million bbl/d.
Other Threats: Speculative Futures Market
Per OPEC's outlook report, a lesson could be learned from the 2008 record price levels. The rise in crude prices was not solely based on supply and demand fundamentals, but merely the factors of unregulated speculative investment. Throughout the period of the high oil prices, the market was actually well supplied, therefore it's important to recognize an unregulated oil futures market as a possible threat against the disruption of the petroleum prices.
Threat of Substitutes: Future Energy Policies
The US Energy Independence and Security Act (EISA) and the European Union (EU) climate and energy legislative packages are the main energy policies that will impact the crude oil outlook. Their main agenda is to rapidly increase car fleet efficiencies, move United States toward a greater energy independence and security, increase the production of clean renewable fuels, increase efficiency of products, buildings, and vehicles,
to promote research on and deploy greenhouse gas capture and storage options, in hopes of reducing gasoline consumption by 20% in 10 years.
Strategies involving hedges of a spread between revenues and expenses.Furthermore, CAFE (Corporate Average Fuel Economy) standards are projected to reduce demand by 1.1 mb/d by 2020, and 2.1 mb/d by 2030 in United States. In Renewables Fuels Standard, there are also minimum use targets of 36 billion gallons of alternative and renewable fuels. The initial growth will primarily spur from corn-based ethanol, but after year 2015, all of the increase should come from second generation biofuels. These projections are full of doubts and constraints in terms of the negative impact possibilities on food prices, land and water availability, as well as negative full-cycle greenhouse gas balances due to large scale corn based ethanol production.
Chevron Overview: Strong International Presence
Chevron's success is due to its involvement in every facet of the energy industry. Chevron (NYSE:CVX) explores, produces and transports crude oil and natural gas in more than 35 countries. It refines, markets and distributes transportation fuels and other energy products. Chevron manufactures and sells petrochemical products, generates power and produces geothermal energy, providing energy efficiency solutions for the future.
The company manages its investments in subsidiaries that provide administrative, financial, management and technology support to United States and international subsidiaries that engage in fully integrated petroleum, chemical, mining, power generation and energy services.
Its business activities are comprised of two primary segments, which are categorized as upstream or downstream businesses. Exploration and production (upstream) operations consist of exploring, developing and producing crude oil and natural gas. Refining, marketing and transportation (downstream) operations relate to refining crude oil and converting natural gas into finished petroleum products, also marketing crude oil and the many products derived from petroleum, and transporting crude oil, natural gas and petroleum products by pipeline, marine vessel, motor equipment and rail card. The company is also strong in chemicals operations such as the manufacturing and marketing of commodity petrochemicals, plastics for industrial uses, and fuel and lubricant oil additives.
Key Players
There are currently five major oil refineries that are competing with Chevron at similar revenue levels: BP, Exxon Mobil (NYSE:XOM), Royal Dutch Shell (NYSE:RDS.A), Total S.A (NYSE:TOT), and Conoco Phillips (NYSE:COP). Following is a chart of their market share in terms of capitalization, revenues, gross margins, net income and earnings per share for the most recent year.

Differentiation Strategy: TECHRON Chevron continues to be the global leader in the additive business. Through its subsidiary "Oronite", it develops and markets quality additives such as Techron and the additive F310 that improves the performance of fuels and lubricants. Oronite manufactures hundreds of additive packages for all types of diesel, gasoline and natural gas engines. It is a worldwide market leader in areas such as Marine, Railroad and Natural Gas Engine Oils and Tractor Hydraulic Fluids.
In 2004, Chevron with Techron was the first gasoline to meet the rigorous "Top Tier" fuel standard set by BMW, GM, Honda (NYSE:HMC) and Toyota (NYSE:TM). For over thirty years, Chevron gasolines have been used by Detroit's Big Three automakers to help them meet tough US EPA and California emissions requirements. Since Chevron doesn't market gasoline anywhere near the Michigan area, the auto manufacturers don't mind buying it in Kentucky and paying to truck it all the way to Detroit area, since they value the extra effort for a quality product.
Funding Risk
The bonds that are issued by Chevron Corporation and its merged company Texaco Capital Inc, are all rated AA by Standard and Poor's Corporation and Aa1 by Moody's Investors Service. Its commercial paper is rated A-1+ by Standard and Poor's and P-1 by Moody's. All of these ratings depict high-quality, investment-grade securities.
Chevron does not foresee any funding risks with borrowing due to its long standing commitments with its lenders. It currently borrows at relatively low fixed interest rates on its short term notes, which make up roughly $5 billion. As you can see below, majority of Chevron's borrowing consists of long term debentures that have competitive rates, resulting in moderate interest expenses.

Chevron vs. Exxon Mobile
Operating Margins
By comparing EBIT to sales, operating profit margins shows us how successful a company's management has been in generating income from the operation of the business. Chevron was within its industry peers in having effective control over its costs and operating profits before 2008.
In 2009, both Chevron and Exxon saw diminishing operating profit margins due to lower crude oil and natural gas prices that began in mid 2008. Chevron, however, had company specific problems.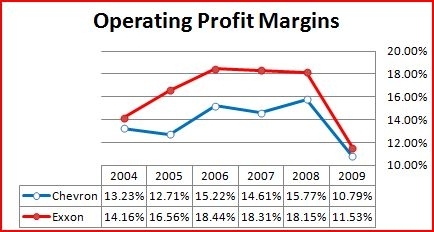 Despite that, Chevron managed to decrease its operating costs by 15% from its 2008 levels, there was a weighed concern on its year-over-year increasing depreciation levels as seen below.
Income Taxes
Exxon and Chevron are considered multinationals and have an array of tax shelters abroad. Chevron enjoyed relatively lower tax rates from 2004-2006 partially due to its international operations having different tax rates from the US statutory rates, and partially from tax deferrals. Company's effective tax rate increased from 41.9% in 2006 to 44.3% in 2007. The greater proportion of income being earned in 2007 was in tax jurisdictions with higher tax rates as opposed to the lower tax rates paid in 2008 on its sale of downstream assets in Europe.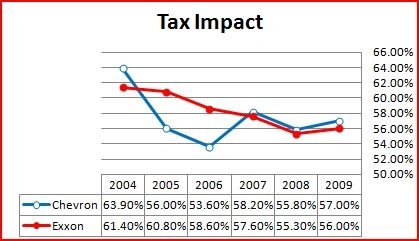 Leverage: A Double-Edged Sword
Chevron is an industry leader when it comes to using leverage to generate shareholder equity. Leverage is a double-edged sword since it can often magnify gains and losses. Company's management does a phenomenal job in controlling its interest expense, and steadily decreasing its debt to equity ratio.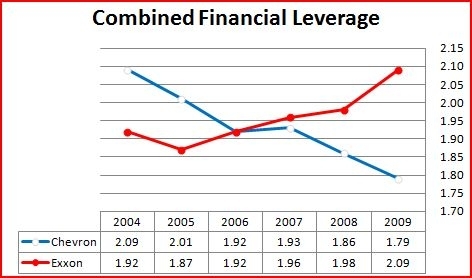 It uses derivatives and interest rate swaps, hedging a portion of the company's fixed rate and floating rate debts. Comparing the line graph to Exxon's, one can clearly see the advantage Chevron has in managing its assets to increase shareholder equity.
The chart paints a perfect picture of why large institutions such as Blackrock (NYSE:BLK), Vanguard Group and Bank of New York Mellon (NYSE:BK) hold major stakes in the company with a long term horizon.
Growth Opportunities
Capital Investments
Chevron has invested $22.9 billion in 2008 to deliver major projects to meet growing world energy demand. This capital and exploratory spending program marks a 15% increase from outlays of $20 billion in 2007.
About 75% of the investment budget has been invested in upstream oil and gas exploration and production projects worldwide. Another 20% is allocated to the company's downstream businesses that manufacture, transport, and sell gasoline, diesel fuel, and other refined products. The total budget for expenditures in the US is approximately $8 billion.
The $17.5 billion upstream spending was in the US Gulf of Mexico, US Mid-Continent, Nigeria, Angola, Kazakhstan, Western Australia, Thailand, Brazil, Indonesia, and Canada. The capital spending of $4.1 billion budgeted for global downstream operations included projects to upgrade the company's refineries in Mississippi and California. An expenditure of approximately $1.3 billion was estimated for chemicals, technology, power generation, and other corporate activities.
These investments aim to develop new technology, bring on new upstream projects, increase the company's base refining capacity, and grow its chemical business.
Increasing demand for refined products in China
The demand for refined petroleum products in China is expected to rise sharply in the coming decades. China, despite substantial additions to refining capacity over the next three decades, is expected to remain a net importer of refined products in 2030. The refining capacity in China is forecast to increase from 6.2 million barrels per day in 2006 to 14.6 million barrels per day in 2030.
Over the next 10 years, about 60% percent of the world's petrochemical demand growth is expected to occur in Asia, with more than one-third in China alone. The company has exploration interests in China. In December 2007, Chevron's main Chinese subsidiary signed a 30-year production-sharing contract with China National Petroleum Corporation (CNPC) for the joint development of the Chuandongbei natural gas area in central China. Under this agreement, Chevron would assume the role of an operator and hold a 49% participating interest with CNPC will hold a 51% interest in the project. The Chuandongbei gas development area covers nearly 2,000 square kilometers in the Sichuan province.
Chuandongbei, which includes the Tieshanpo, Dukouhe-Qilibei and Luojiazhai gas fields, has an estimated resource base of 5 trillion cubic feet of natural gas. Design capacity at the proposed gas plants is expected to be 740 million cubic feet of natural gas per day.
China has always been a key market in the company's long term growth strategy. Furthermore, Chevron plans to undertake a multiphase work program with CNPC's subsidiary PetroChina Southwest Oil and Gas Field Company to evaluate additional reserves in the contract area and commence front end engineering and design work.
These investments in China would enable the company to export refined products or establish fresh refining capacity and take advantage of the increasing demand for liquefied natural gas (LNG).
Gorgon LNG Project in Australia
Barrow Island is Australia's largest onshore producing field. With the help of Dr. Harry Butler, a renowned naturalist, Chevron has been working for the last 45 years to develop and maintain a crude oil field on Barrow Island in an environmentally responsible way. Barrow island will be the site of a domestic natural gas plant and a three-train, 15 million-metric-ton-per-year liquefied natural gas facility. It will also accommodate the world's largest, most advanced carbon-dioxide injection program, making Gorgon one of the most greenhouse gas-efficient LNG developments anywhere. Gorgon contains approximately 40 trillion cubic feet of natural gas resources and is expected to be a major contributor to Chevron's growth over the next four decades, as well as to the economic growth of Australia. First LNG deliveries are expected in 2014.
In Angola, Chevron has interest in the LNG project designed with a capacity to process 1 billion cubic feet of natural gas per day and would provide a commercial option for Angola's natural gas resources. Chevron has a 36% interest in the Angola LNG affiliate. The plant is expected to start-up in 2012. Such investments place the company in an ideal position to exploit growing demand for LNG.
Strategic Partnerships: Catchlight Energy
In 2008, Chevron formed a 50-50 joint venture company with Weyerhaeuser Company (NYSE:WY). This joint venture, Catchlight Energy, would develop the next generation of renewable transportation fuels from nonfood sources. The joint venture would engage in research activities to develop technology for converting cellulose-based biomass into economical, low-carbon biofuels. The two companies would contribute resources, including funding, background technology and employees, to Catchlight Energy. Catchlight's initial focus will be on developing and demonstrating novel technologies for converting cellulose and lignin from a variety of sources into biofuels.
This is a significant step taken by Chevron to create a sustainable, economic, nonfood biofuels business at commercial scale. This move provides an opportunity for Chevron to realize its focus on developing and commercializing the energy resources of the future including biofuels and other renewables.
Disclosure: I have no positions in any stocks mentioned, and no plans to initiate any positions within the next 72 hours.