Except in times of severe stress, US demand for power has risen steadily over the years. During the past decade alone, rapid penetration of sophisticated electronics - from gaming devices and flat-screen televisions to cellular phones and laptop computers--has pushed electricity's share of total energy consumption to more than 40 percent.
Although this secular growth trend has remained in play for some time, the utility industry itself has changed immensely. Prior to the mid-1990s, state authorities regulated the production and distribution of electricity, setting prices that ostensibly guaranteed operators a reasonable rate of return on their investments. But some states opened the door for unregulated utilities that sell their electricity on the spot market, an experiment that came to a screeching halt when Enron collapsed in late 2001.
Today, a hybrid system prevails. The business of transmission and distribution (T&D) remains a regulated monopoly in all 50 states. However, 16 states allow consumers and businesses to choose from a list of officially sanctioned power generators and marketers. Independent power producers also sell electricity directly to utilities in almost every state.
The majority of publicly traded utilities boast both regulated and unregulated operations, though the business mix varies. All else being equal, the greater the percentage of overall revenue that a firm generates from its regulated operations - where rates are guaranteed - the better protected that company is against a recession.
Industry observers estimate that US power utilities will need to invest $1.5 trillion over the next 20 years to meet rising demand for electricity, address environmental concerns and update or replace aging infrastructure.
But investors must ask one basic question when evaluating utility stocks: Can the company earn a fair return on these investments? Regulated utilities that secure rate increases to support these needed capital projects will enjoy solid earnings growth and rising dividends, catalysts that typically send stock prices higher.
A decade ago, US electric utilities faced their toughest trial by fire since the Great Depression, largely because of excessive leverage taken on to support unregulated operations. By the time the sector bottomed in late 2002, more than two-dozen companies had declared bankruptcy or were on the brink of insolvency.
But the lessons learned during these dark days made for a bright future. Electric utilities slashed debt and sought to repair frayed relations with regulators.
When the 2007-09 recession and credit crunch hit, utilities were well-positioned to handle the shocks. Of the roughly 60 power providers with regulated operations, more than two-thirds increased their dividends during the crisis.
Nevertheless, investors give power companies little credit for their resilience and relentless dividend hikes over the past two years:
The Philadelphia Stock Exchange Utility Index is still roughly 25 percent off its 2007 high.
In another example, shares of Exelon Corp (NYSE: EXC) trade at less than half their July 2008 high, weighed down by weak spot prices for output from its nuclear reactors. But conservative financial policies cushion the company's dividend even in the worst-case scenario. Meanwhile, a proposed merger with Constellation Energy (NYSE: CEG) would reduce costs and limit the impact of lower power prices on earnings.
Higher wholesale electricity and natural gas prices would give a big lift to Exelon Corp's bottom line next year. So would the expected early 2012 close of its merger with Constellation Energy Group and the certain shutdown of a raft of 50-year-old coal plants in the Northeast US.
Four factors have prevented superior performance from showing up in Exelon's share price to date: overall stock market weakness, the wait until the close of the Constellation deal, a prospective "earnings cliff," when price hedges expire on power sales starting in 2012, and the cost of potential new Nuclear Regulatory Commission (NRC) rules for nuclear plants, following its post-Fukushima review.
Happily, the only real remaining challenge to the Constellation deal is Maryland regulators' OK, which now seems a matter of working a mutually acceptable deal on rates. That merger, in turn, will offset the earnings cliff with savings.
Market conditions will weigh heavily in the near term. But solid earnings and the resolution of these issues will ultimately break Exelon shares out of the low 40s range it's held for more than two years.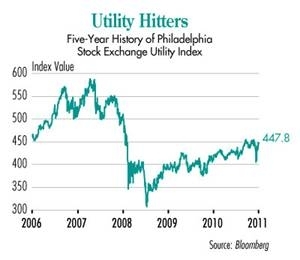 Why have utility stocks lagged the broader market? Despite the sector's reputation for defensive growth, the group has rallied when the economic outlook improves and slid when fear of a second recession picks up steam. With valuations still at bargain levels, now is a great time to pick up our favorite utility stocks, and lock in remunerative dividend yields.
Moreover, as I said in my InvestingDaily.com article on dividend investing:
low-debt, low-payout-ratio companies with revenue-secure businesses do weather recessions--and do keep paying and increasing dividends in the bargain. You may see some ups and downs in share prices. But they're a far better place to sit out a recession than cash, which is a guaranteed loser after inflation and taxes.
Disclosure: I am long EXC.