Bank of America (NYSE:BAC) shares fell nearly 10% on Monday and pulled down financial exchange traded funds, which led the overall stock market lower.
B. of A. shares were pummeled while technical difficulties shut down the bank's website, again.
Financial Select Sector SPDR Fund (NYSEARCA:XLF) was down 4.5% at last check Monday and SPDR KBW Bank ETF (NYSEARCA:KBE) was down 4.8%.
B. of A.'s website problems began on Friday, a day after the bank announced it will be charging a $5 monthly fee for customers using its debit cards. The problems were supposedly fixed on Sunday, but the site was down again on Monday.
The new debit fee has raised the ire of many loyal customers and consumers. Speculators and security experts believe the problems may be a result of a denial-of-service attack, which floods a server with data traffic, reports David Benoit for Dow Jones Newswires.
"We do take proactive steps to manage customer traffic during peak hours," Tara Burke, a spokeswoman for Bofa, stated, reports Hugh Son for Bloomberg. "Because of that, you are seeing some customers having slowness or access issues. It's not malware, it's not hacking, there is no compromise to customer information. I know there's people out there saying that. It's not true."
The financial ETF is down 27% over the past three months on recession worries and the Eurozone debt turmoil.
Financial Select Sector SPDR ETF

click to enlarge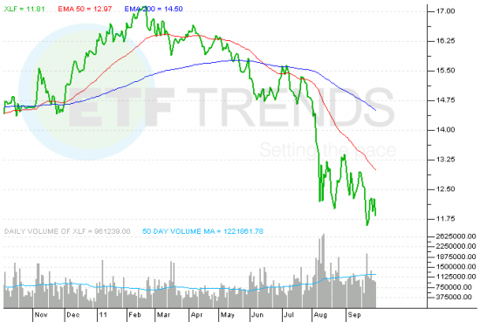 Max Chen contributed to this article.
Disclosure: None