An exchange traded fund that follows the airline industry is facing significant headwinds as AMR Corp. (AMR) shares lost a third of their value Monday on speculation that the parent of American Airlines is filing for bankruptcy.
Guggenheim Airline ETF (NYSEARCA:FAA) ended down about 9% on Monday.
AMR was down as much as 35% on Monday after rumors circulated that management may voluntarily file for bankruptcy to renegotiate labor costs, the Financial Times reported. AMR shares ended down 33%. [Can United Outlook Boost Airline ETF?]
"AMR needs to get its costs down in line with the rest of the industry. That is why I suggest a pre-packaged bankruptcy filing would be the best thing," Ray Neidl, airline and aerospace analyst at Maxim Group, commented in the FT report.
However, an American Airlines spokesman assured that a Chapter 11 filing was "certainly not our goal or our preference."
The company is currently sitting on $5 billion in cash. Neidl also noted that the airline was not at risk of an imminent bankruptcy, given its current balance sheet. The broad sell-off in airlines in stocks Monday was "a signal that people think we are heading for a recession," Neidl added.
Guggenheim Airline ETF
click to enlarge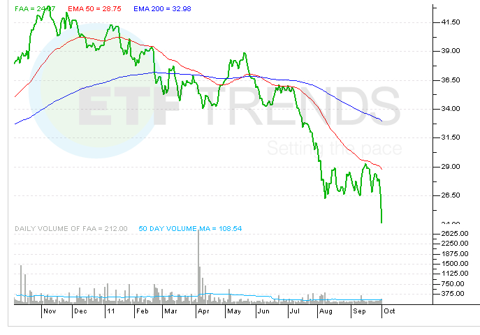 Max Chen contributed to this article.
Disclosure: None