I came across the article "October: 'A Great Time to Buy Stocks' " and quickly did further empirical research to see if the claims were verified. I downloaded the monthly data for the Dow Jones Industrials from yahoo finance and made monthly returns from January 1929 - September 2011.
The data for the whole sample did not show a statistically significant bias in the October or November data. One * means significance at the 10% p-value level (90% confidence), ** means significance at the 5% p-value level (90% confidence), *** means significance at the 1% p-value level (99% confidence).
dm1 is January, dm2 is February, etc...
click to enlarge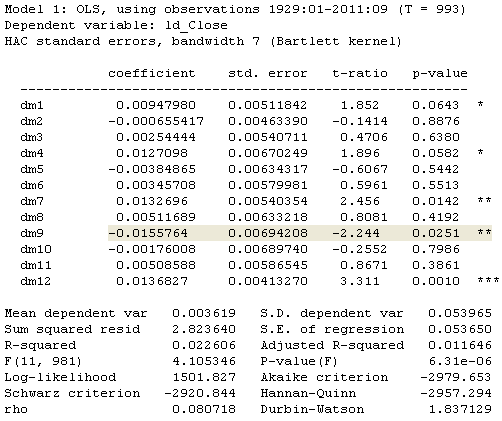 One can see that over a period of 80 years the month of September has not rewarded stock investors while the month of December has. September lost 1.56% on average over this time period while December gained 1.37% on average.
I then looked at other periods to see if this changed the data any.
From 1950, after WW II to present.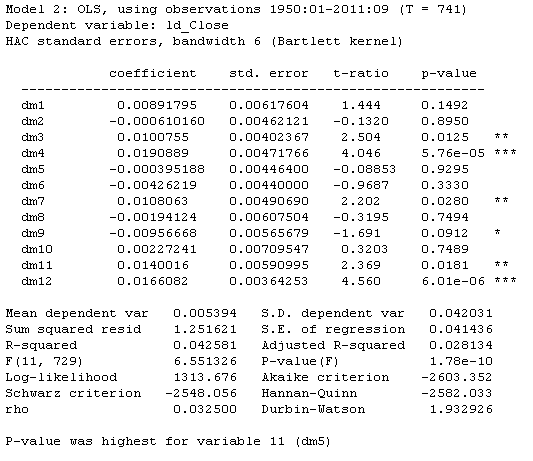 From 1970, the start of a period of economic stagnation, to present: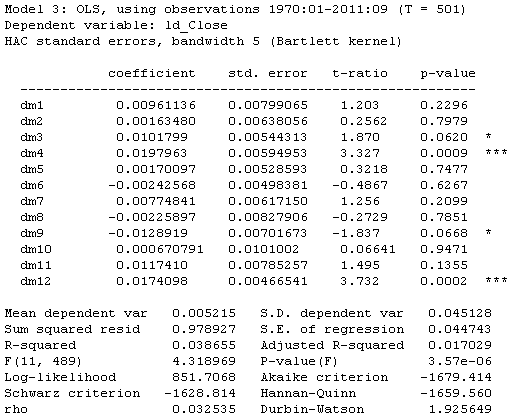 Finally, from 1990 to present: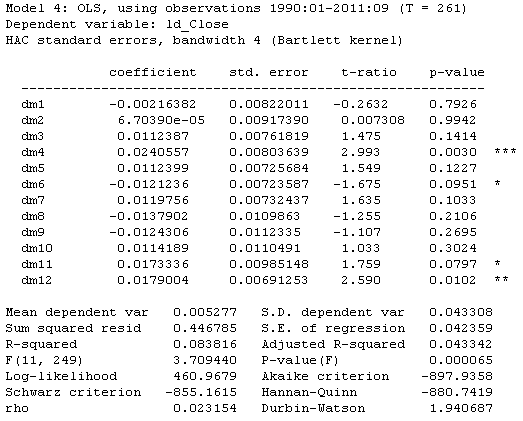 One can see that the upside bias in the month of December is always present.
The month of November for the whole sample is not statistically significant. But from 1950-2011 it is. Then from 1970-2011 it is not. And again from 1990-2011 it is again.
"(October) Best Dow, S&P, and NASDAQ month from 1993 to 2007"
The above statement is true. That said, the month of October never reaches statistical significance, up or down, for any of the four sample periods. I even used a dummy variable of the October 1987 crash, to exclude its effect, and the results (not shown) did not change.
The conclusion about October stock returns seems to lead one to the old saying, "Lies, damned lies and statistics"!
Disclosure: I have no positions in any stocks mentioned, and no plans to initiate any positions within the next 72 hours.
Additional disclosure: I have a position in QQQ options