"All of our reasoning ends in surrender to feeling." - Blaise Pascal
As promised, despite continued declines over the past two days in equities, I continue to believe we are very close to the end of the decline in risk assets, and that conditions favor a "Fall Melt-Up" scenario past the Summer Crash call I made on June 8 here on Seeking Alpha. I can point to a number of reasons aside from my traditional approach to inter-market analysis which suggests now is a good time to think about being contrarian. First, nearly everyone you hear on financial news websites is stunningly bearish, and investors have fallen back in love with bonds. I don't know where these people were back in June when I first started writing about the "Great Re-Adjustment" in the relationship of bonds to stocks.
Second, markets worldwide have behaved like Lehman has already happened once again, when in reality it has not. This is not to say a Lehman-like event still can't happen. My point is that markets have behaved like it already has, making the "payout" for a counter-trend rally much higher than the payout of betting on the event. Finally, I would argue we have been in a bear market since February of this year. I say this because for all intensive purposes, internal market dynamics began to behave like a bear market was underway, even though the S&P 500 (IVV) was still hanging around its highs. Defensive sectors and bonds all began to outperform then. And as obvious as it may sound, the longer something outperforms for, the more likely it is to reverse.
Let's take a look below at what I believe is capitulation in the relationship of small-cap high beta stocks as proxied by the Russell 2000 ETF (IWM) relative to the S&P 500 ETF (IVV). As a reminder, a rising price ratio means the numerator/IWM is outperforming (up more/down less) the denominator/IVV.
Click to enlarge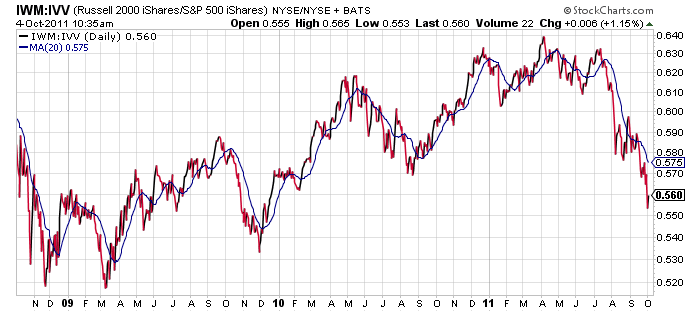 Yes – there has been a complete relative collapse in small-cap stocks against large-cap stocks. The ratio level of around 0.56 off of the 0.64 peak sent the small-cap outperformance/alpha back to early 2009 levels. I believe we are close to the end the decline in this ratio. If I'm right, then the trend abruptly ends and that the ratio stages a strong comeback in which small caps once again begin to outperform large caps. This would confirm a move back into risk assets, and a Fall Melt-Up.