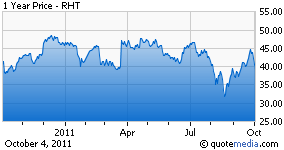 Red Hat (NYSE:RHT) has agreed to buy Gluster, a privately-held open source data storage company, filling out its OpenShift cloud offering.
Gluster software runs on commodity storage hardware, as opposed to the proprietary data stores offered by competitors like EMC (EMC), IBM (NYSE:IBM) and HP (NYSE:HPQ). Combined with Red Hat's own cloud stack, it provides a more cost-efficient offering.
Clouds are naturally cost-efficient. They let any job take over the whole system, and they let work be distributed across a lot of hardware. Enterprise companies now want to run cloud tools on their own hardware, and call that platform a requirement for cloud.
It's not. The whole idea of a cloud was that you could use commodity hardware to simulate the demands placed on a high-end system. The idea of Gluster was that this should extend to data storage as well, that specialized systems should not be necessary, and that software should allow commodity hardware to do just as well.
Or as the company's FAQ on the deal puts it, "Open source software is widely used today for cloud computing on commodity servers, so it is a natural evolution to leverage open source for cloud computing on commodity storage."
Part of the idea is that, as the number of clouds expands, and as clouds become more of a commodity, auction markets will develop for cloud capacity. In such an environment, a cloud company's costs become a key issue, and thus maintaining a cloud entirely on commodity hardware becomes a critical advantage. Red Hat is trying to deliver that commodity hardware capability through this deal.
Given that OpenShift and Gluster are both open source, competitors may feel free to use the software themselves. This may have motivated Gluster to sell to Red Hat, since that company has scaled a competitive support infrastructure, including a sales effort, needed to get contracts.
The price of the deal is $136 million in cash. That's sofa cushion money for Red Hat's rivals, like VMWare (NYSE:VMW), but it's nearly 20% of the cash Red Hat had on hand at the end of August.
Disclosure: I am long IBM.